Kolkata Style Veg Biryani
Kolkata Vegetable Biryani
is the veg version of the flavorful and delicious Kolkata Chicken Biryani. I made the recipe from
Sharmistha's blog
and replaced the chicken with mixed vegetables. The biryani tasted amazing as it should be with all the spices and aromatics.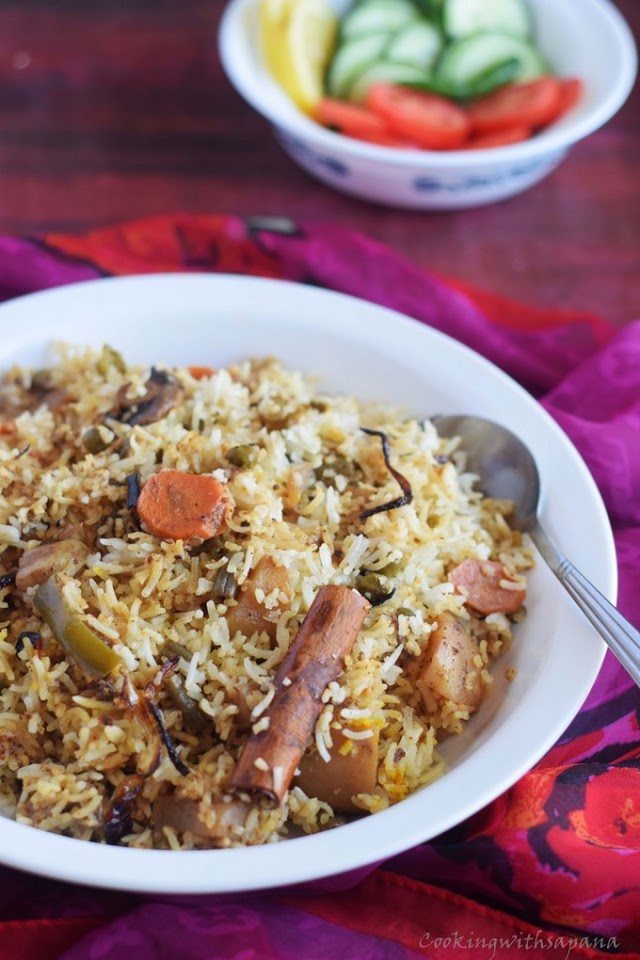 Source–Here
Ingredients:
For masala
1 teaspoon cumin seeds
2 blac cardamom
2 -3 green cardamom
1 nutmeg
2-3 mace
4-5 cloves
1 cinnamon stick
1 teaspoon black peppercorn
2 tablespoon coriander seeds
For biryani
2 cups royal basmati rice
2-3 cloves
2-3 cardamoms
1 cinnamon stick
2 cups mixed vegetables,chopped (mushroom,carrot,beans,capsicum,cauliflower)
1 big potato,cubed
1 cup yogurt
3 onions,sliced
1/4 cup ginger garlic paste
1/4 cup milk
few saffron starnds
1 teaspoon red chilli powder
salt to taste
1 teaspoon sugar
1 tablespoon biryani masala
1/2 cup oil
1 tablespoon ghee
water as required
Method:
For masala
Dry roast all the ingredients.Cool and grind in food processor or coffee grinder.
Place in with tight container.
For biryani
Wash and soak rice in 4 cups of water.
Cook rice in a cup of water,a teaspoon oil,with a teaspoon of salt ,cloves,cardamoms and cinnamon stick.
Place them in big plate and separate the grains with fork.
Soak saffron in warm milk.
Heat oil in a pan and add potatoes.Fry the potatoes until golden.Drain them on paper towel.
Now add onions.Fry them until golden.Take out 1/2 a cup of onions and keep aside.
Now add all the vegetables,biryani masala,salt,sugar,chilli powder and yogurt.Stir and add 1/2 a cup of water.
Cook covered until veggies are soft.
Now in another pan arrange a layer of veggies,fried potatoes,rice ,fried onions and saffron milk.
Repeat the layers alternatively.Top up with a tablespoon of ghee.
Cook covered on sim for 30 minutes.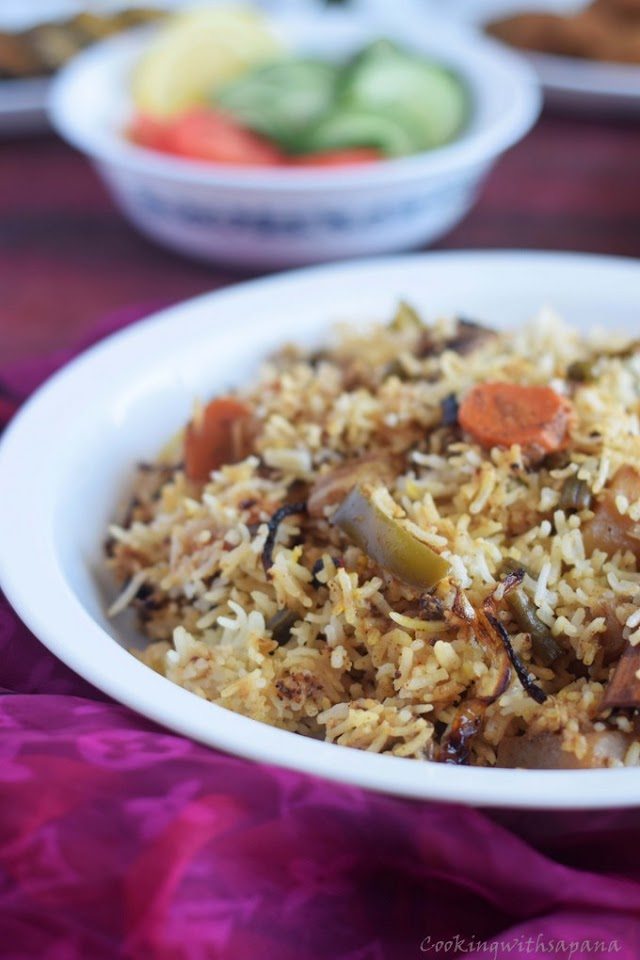 Remove from heat,stir and serve hot.
Serve-4 Cooking time-45 minutes
Best regards,
Sapana Behl