Knish
Knish
is a European crispy snack made of potato and plain flour dough and filled with any vegetarian or meat filling For this month's
Baking Partners
challenge ,we have been given the recipe for Knish by Sweatha J of
Experiments,Emotions and Experience with Food
.It is either made by baking ,grilling or sometimes deep frying and the shape can be varied from round to rectangular to square.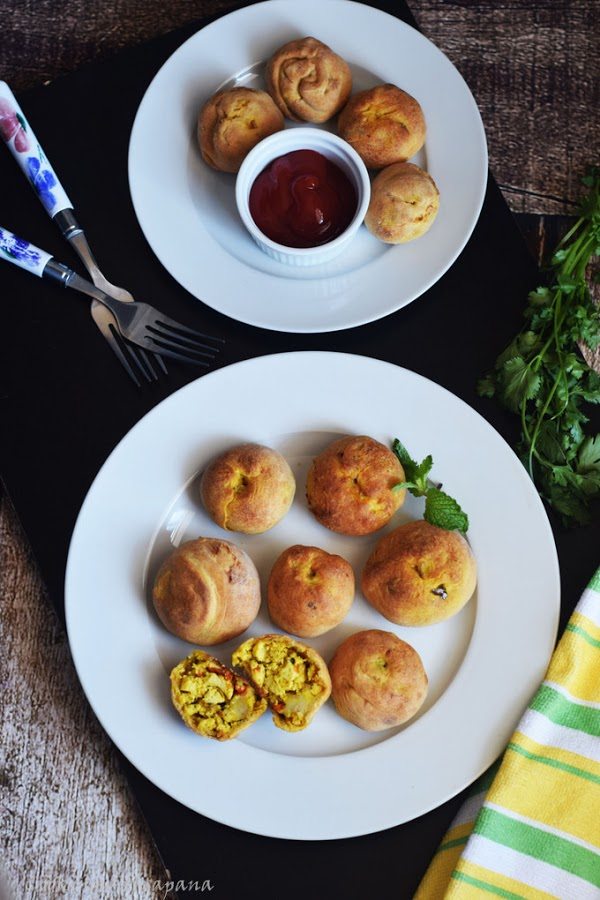 I chose to make the round shape and baked version of Knish as suggested by Sweatha. This was the first time I used mashed potato to make the pastry,but I am glad I tried making them as they turned out perfect crispy outside and soft inside.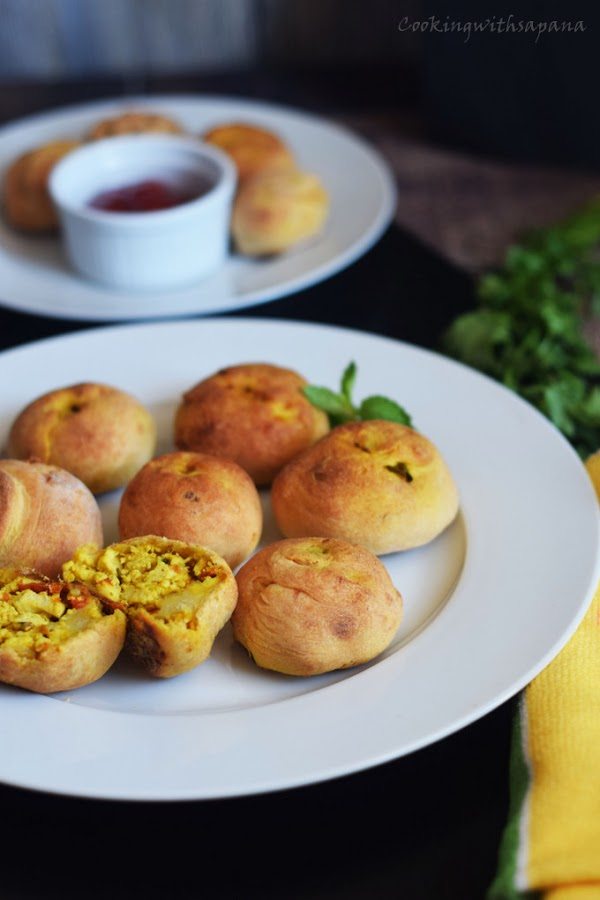 I made the filling with tofu and very mild spices.They tasted amazing and we had them as our evening snack with tea and some ketchup.I am going to try making them again with a filling of sauteed vegetables.Thanks Swathi and Sweatha for this wonderful challenge.
Ingredients:
For pastry
2 medium sized potatoes,boiled and mashed
1 1/2 cup all purpose flour+more for dusting
1 tablespoon olive oil
1 teaspoon salt
1 teaspoon baking powder
cold water as required

For filling
8 oz package tofu mashed or scrambled
1 onion,chopped
2 green chillies,chopped
1 tomato,chopped
1 teaspoon turmeric powder
salt to taste
1//4 teaspoon garlic powder
1/2 teaspoon garam masala
1 tablespoon olive oil
2 tablespoon coriander leaves,chopped
Method:
In a mixing bowl add mashed potatoes,oil and salt.Mix well until combined.
Now add in the flour and baking powder.Knead a smooth dough using enough water.Cover the dough and let it rest for 30 minutes.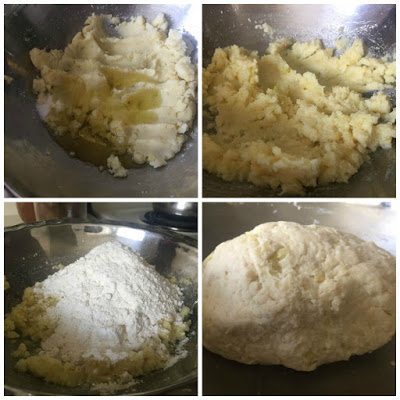 For filling
Heat oil in a pan and add onions and green chilli.
Saute till onions are light brown in color.
Now add tomatoes,salt ,turmeric powder,garlic powder, and garam masala.
Stir and add tofu.Cook for 5-7 minutes.
Remove from heat and add chopped coriander leaves.
Making Knish
Preheat oven to 350 degree F and line a baking tray with parchment paper or grease it with oil.
Divide the dough into four parts.Make round balls from the divided portions.
Take one ball of dough .Dust it with dry flour and roll it as much thin as you can using a rolling pin.
Add a layer of filling on one edge of the rolled disc.
Roll it along with filling 2-3 times to cover the stuffing.
Cut it into 3 or 4 small pieces depending on how much big or small you want to make the knish .
Pinch the ends of the dough logs and push it down to form a cylinder like or round shape.
Place them in the greased baking tray .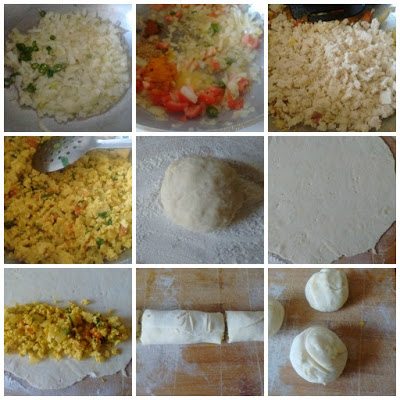 Bake in preheated oven for about 30 to 35 minutes or until golden and crispy.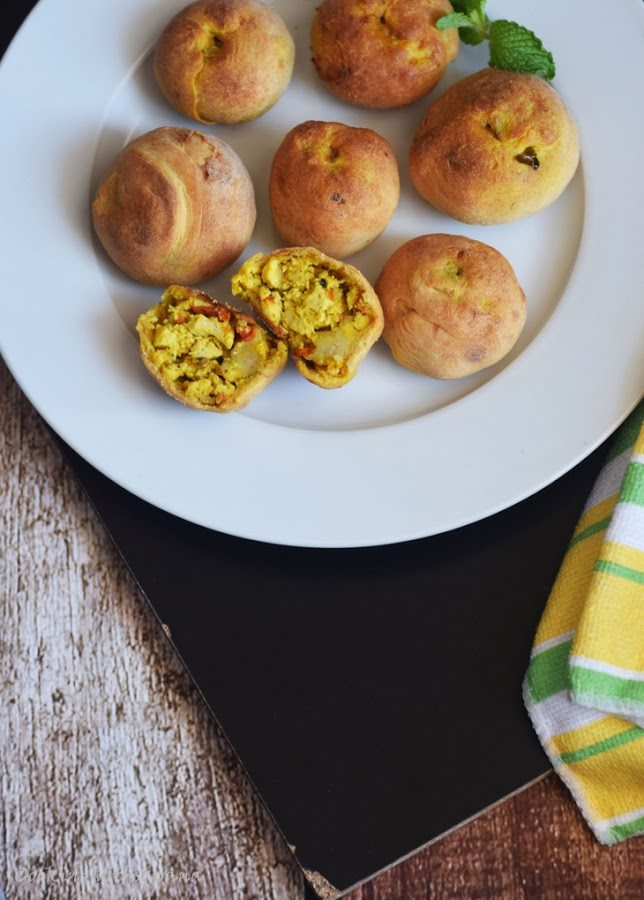 Remove from oven and serve warm with any dip or ketchup.
Enjoy!!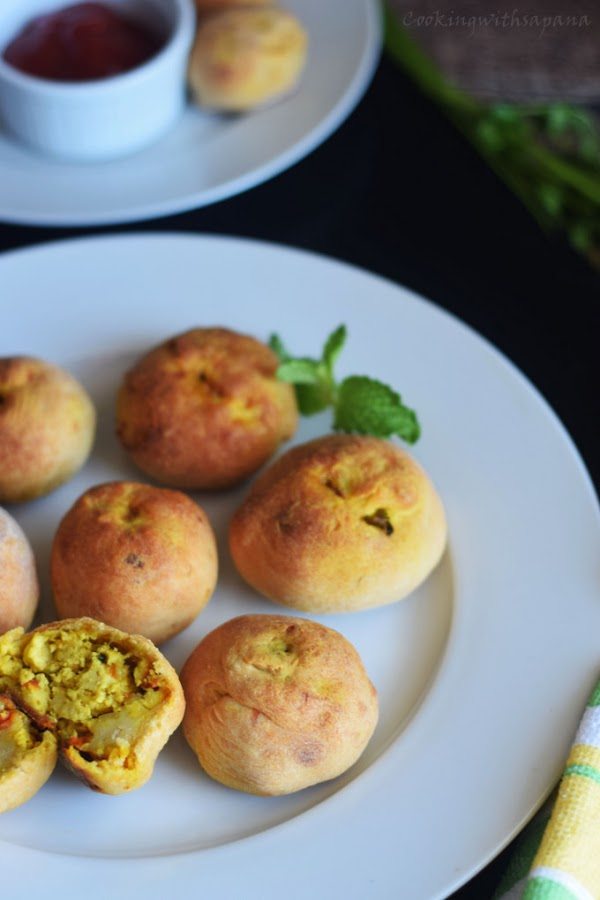 Serve-10 or 12 knish Baking time-305 minutes
Best regards,
Sapana Behl