Fulkopir Alur Poshto
Fulkopir Aalur Poshto
,is a delicious Bengali cauliflower and potato curry cooked in poppy seeds.It's almost impossible to think about Bengali food without poppy seeds and fish.Bengalis love the poppy seeds as much they love their fish and potatoes.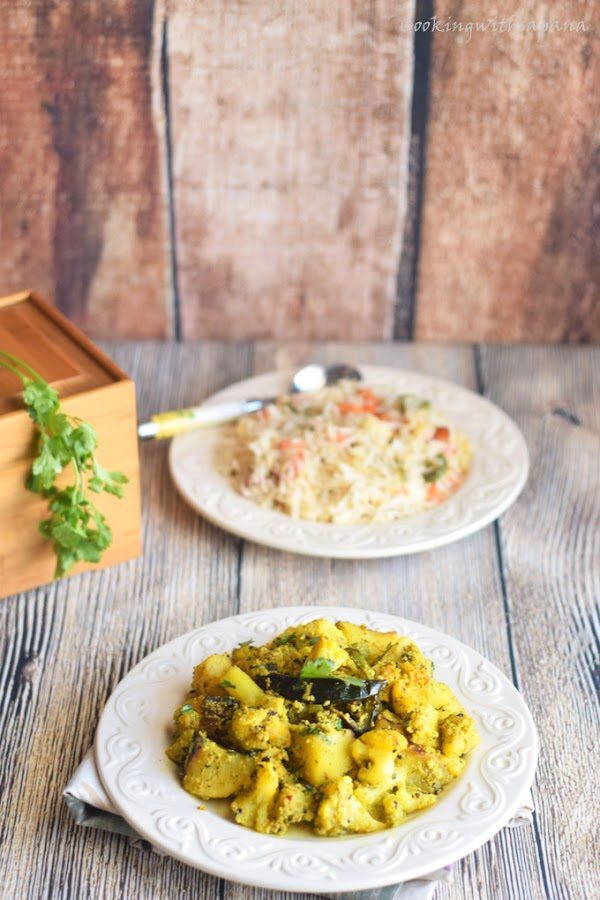 Before this poshto ,I have only once used the poppy seeds in making a curry.I even have forgotten the taste of poppy seed paste and was not sure if my Punjabi dals and sabzis eating family would like it or not.But let me tell you,I am so glad I made this poshto as it was a hit in the family.The poppy seeds gave the dish a wonderful texture and taste.I served it with rice and it was a filling and delicious meal for us. In this Bengali cooking series,everyday I have learned a new and interesting dish and I am so overwhelmed about it.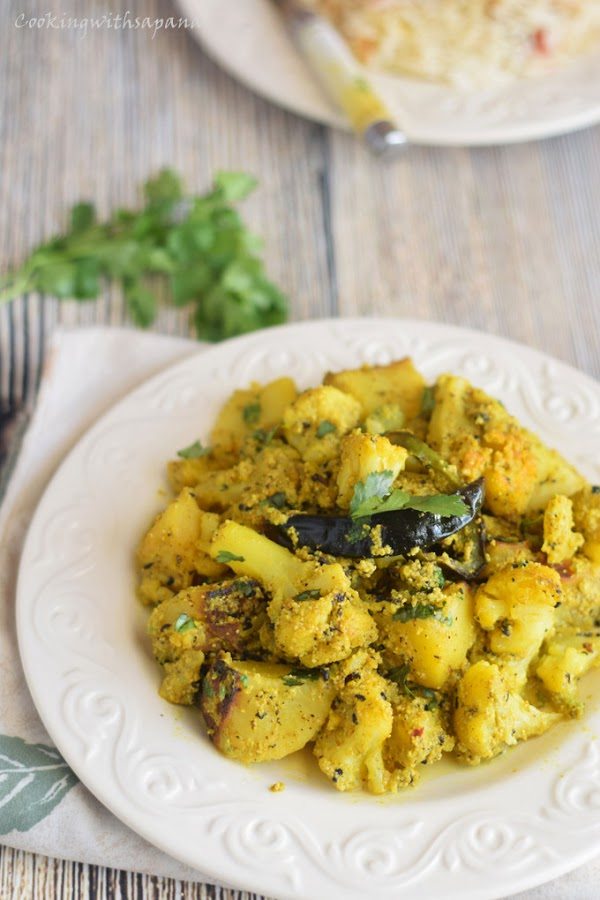 On a sweet note, I have become Bua /aunt yesterday.My brother and his wife are blessed with a cute little baby boy and what makes it more special that it was our 10th wedding Anniversary.I am so excited and happy that from now on we would be celebrating April 5th for two reasons 🙂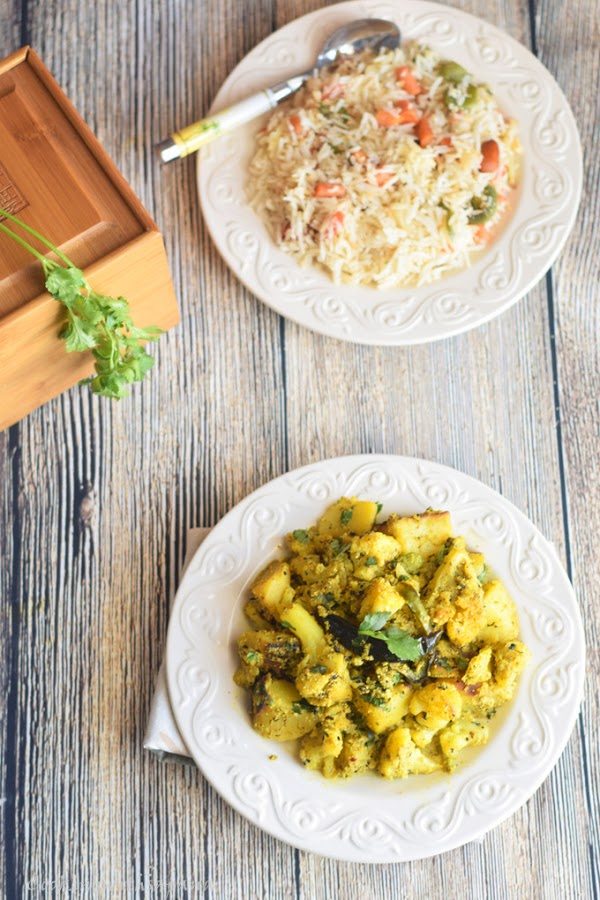 Blogging Marathon#63 Day 6
Cuisine-Bengali
Dish-Fulkopir Poshto
Source–Here
Ingredients:
1 small sized cauliflower head,cut in florets
2 medium sized potatoes,cut in cubes
2 green chillies
1-2 dry red chilli
2 tablespoon poppy seeds
1/4 cup milk
1 teaspoon nigella seeds/kalounji
1/2 teaspoon turmeric powder
salt to taste
1 teaspoon sugar
2 tablespoon mustard oil
Method:
Soak poppy seeds in milk for about 2-3 hours.Grind to make a paste with green chillies.
Heat oil in a pan and add cauliflower pieces.Sprinkle with a little salt and turmeric powder.Cook covered until cauliflower is soft.
Into the same oil add nigella seeds,dry red chilli and potato cubes.
Sprinkle with salt,sugar and turmeric powder.Cook covered until potatoes are tender.
Now add cooked cauliflower ,poppy seeds paste and 1/2 a cup of water.Cook for 3-4 minutes more.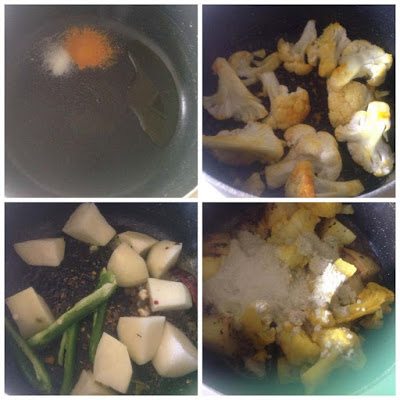 Remove from heat and garnish with coriander leaves.
Serve warm with luchi ,rice or roti.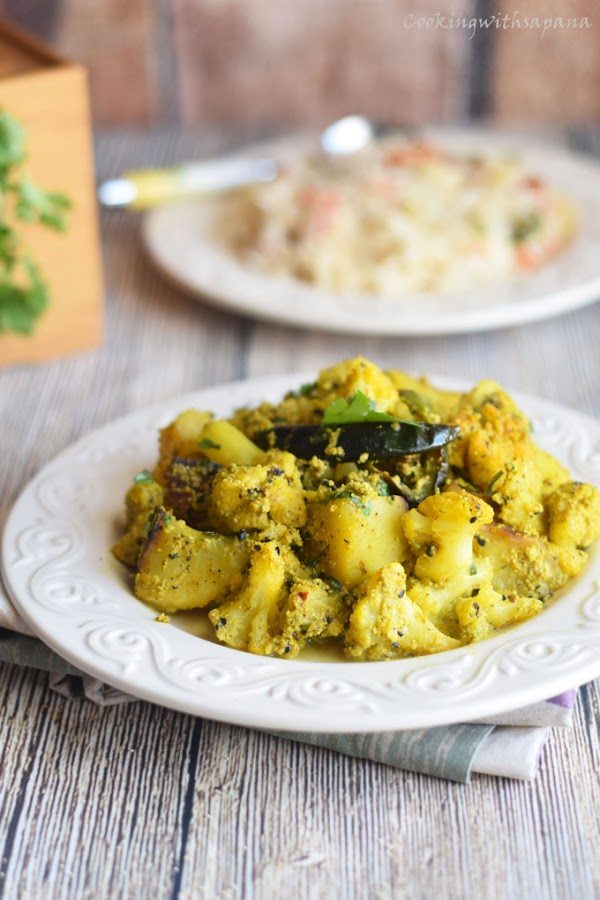 Enjoy!!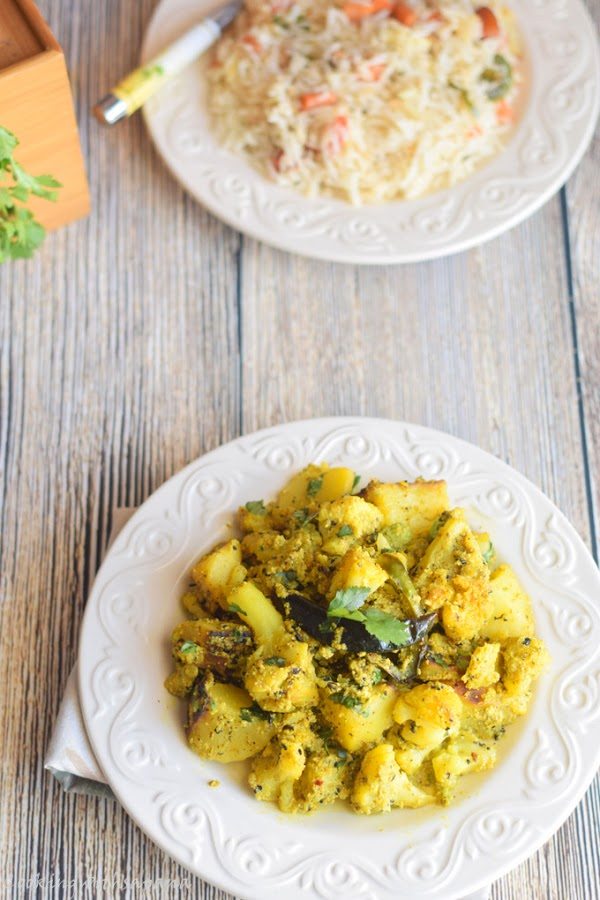 Serve-4 Cooking time-30 minutes
Check out the Blogging
Marathon page for the other Blogging Marathoners doing BM# 63
Sending this post to A to Z April 2016 Challenge
Best regards,
Sapana Behl
YB