Aalur Malaikari
Aalur Malaikari
the name itself tells that the dish is from West Bengal or you could say from Bengali Cuisine.But why all of a sudden I am posting a Bengali recipe .The reason is Mega BM ,yes another inviting ,wonderful and outstanding edition of one month long mega marathon. This time
Srivalli
has given us with A to Z regional cooking from Indian states or from Worldwide countries.
If you remember last September we did
Buffet on Table
month long marathon featuring recipes of the world cuisine.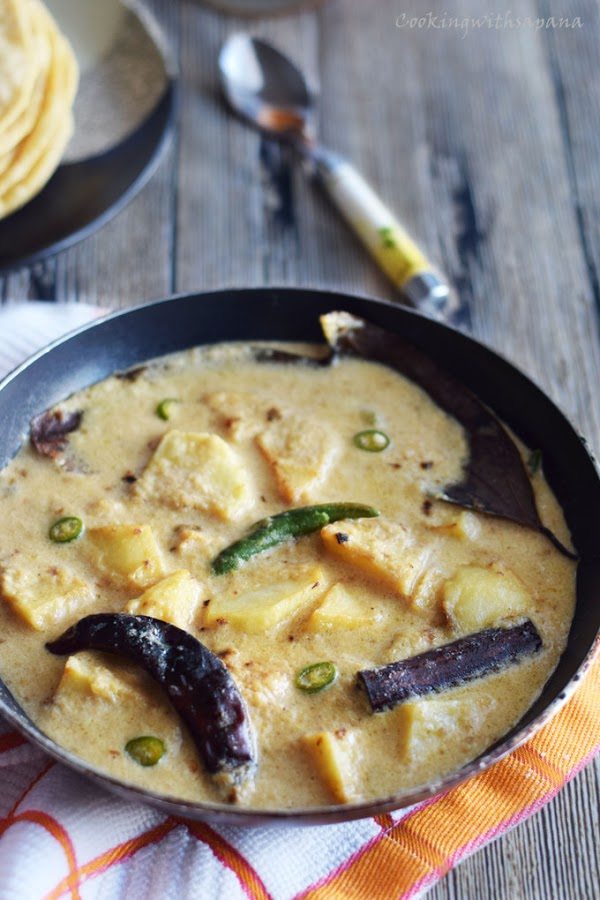 In our journey through cuisines I decided to go Eastern India and chose Bengal State to cook for one month.Bengali cuisine is one of the most popular cuisine throughout the country and needless to mention the mouth watering sweets.Although the main staple is fish but lentils and vegetables also take part in the complete meal.
The dish,Aalur Malakari ,after a lot of searching became live on my blog.I made my list at least three times.First time I went with Maharashtra cuisine,but later on skipped as I was stuck on more than 6 alphabets.Second time I made my list with Gujarati cuisine,but again dropped the idea.Finally,after a lot of thinking and searching Bengali cuisine has become my fella for one month.I am going to cook very simple and basic recipes that don't need so much effort or time.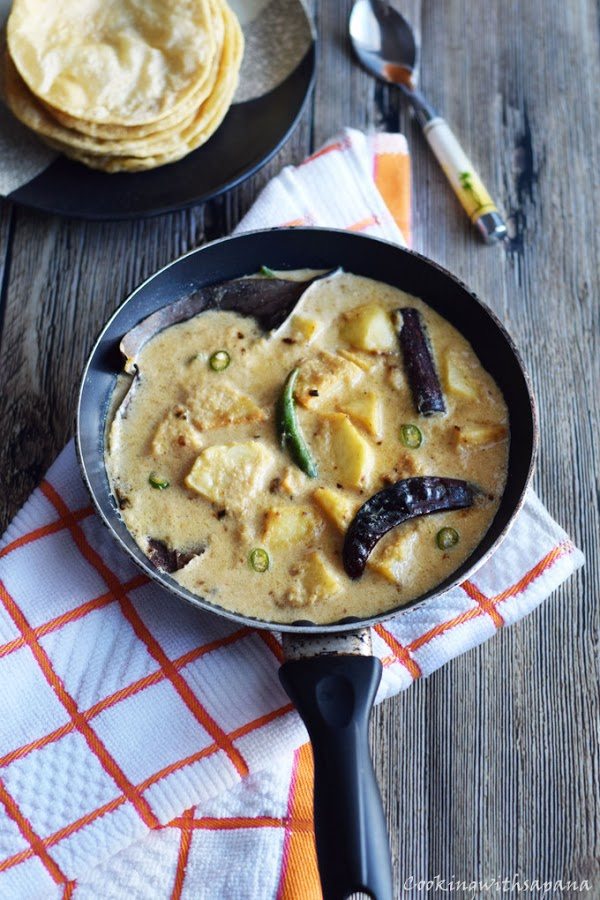 Aalur malaikari is basically potatoes cooked in coconut milk and mild spices.The green chillies and coconut when cooked with potatoes gave the curry a very nice flavor and texture.My family loved this curry with pooris. However,I wanted to make luchis to go with it but I was running out of plain flour so had to go with pooris.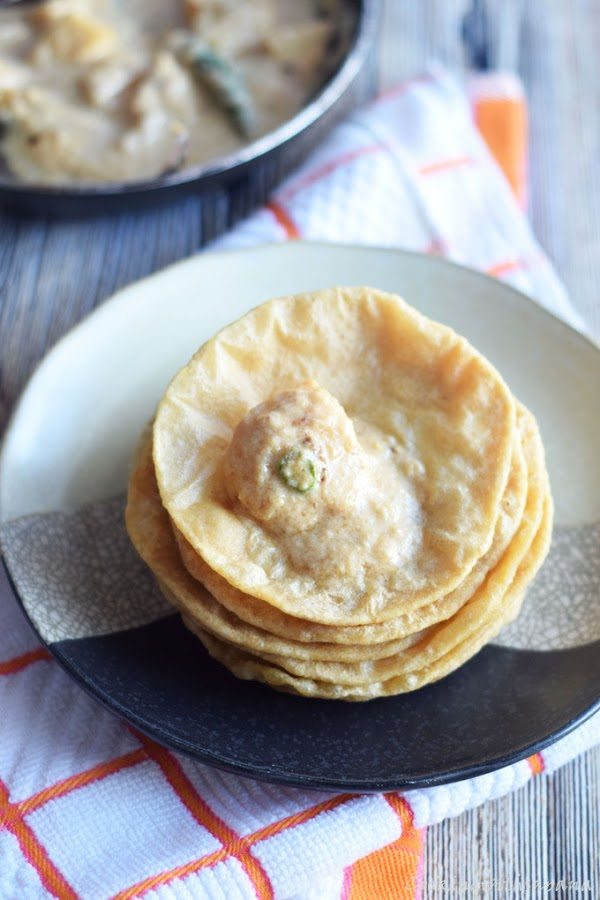 Blogging Marathon#63 Day 1
Cuisine-Bengali
Dish-Alur Malaikari
Source –Cook like a bong
Ingredients:
2 big potatoes,cut in cubes
1 onion,paste
1 teaspoon ginger paste
2 green chillies,cut in slits
2 dry red chilly
1 bay leaf
1 cinnamon stick
2 green cardamoms
2 cloves
1 cup coconut milk
1/4 cup yogurt
salt to taste
oil for frying
2 tablespoon mustard oil
Method:
In a wok heat oil for frying and deep fry the potato cubes until light golden in color.
In another pan heat 2 tablespoon of mustard oil and add cinnamon ,cardamom,cloves bay leave and dry red chilli.
Stir and add onion ginger paste and green chilli slits.Saute until light brown in color.
Now add the fried potatoes and salt.Stir until combined with onion mixture.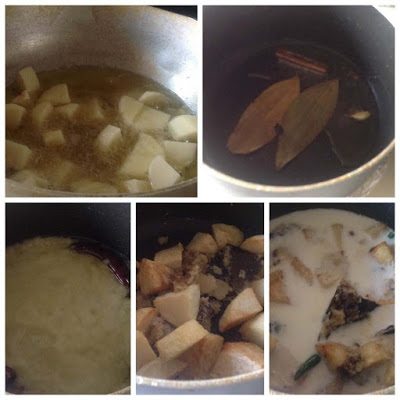 Add coconut milk,yogurt ,stir and cook for 2-3 minutes.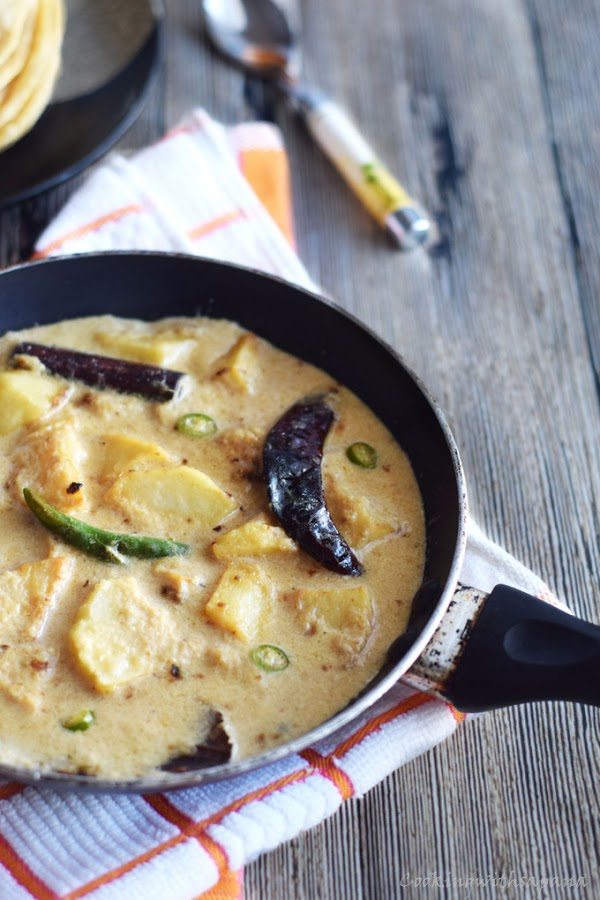 Remove from heat and serve hot with luchi or rice.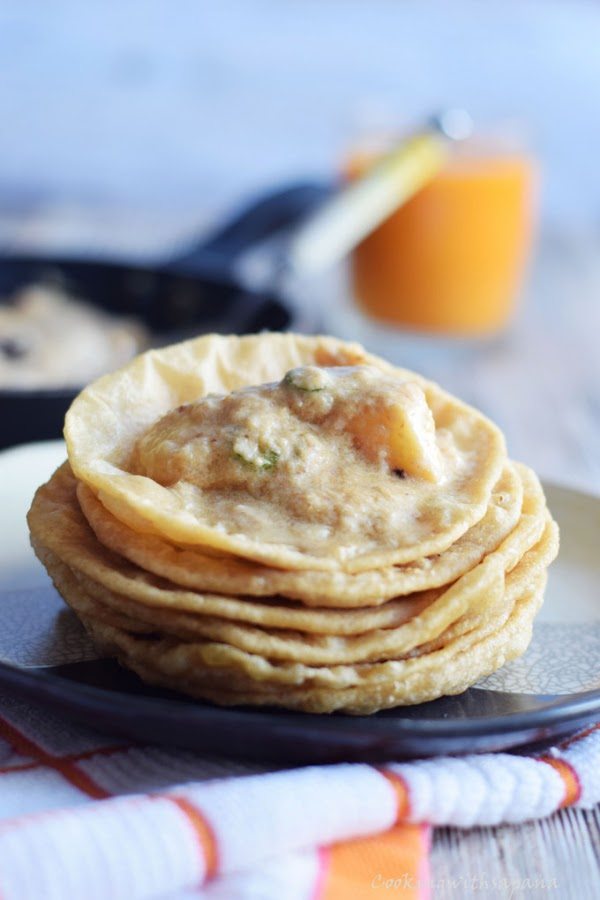 Serve-2 Cooking time-20 minutes
Stay tuned for many more exotic and mouthwatering Bengali recipes.I will be back tomorrow with new Benagli delicacy.
Check out the Blogging
Marathon page for the other Blogging Marathoners doing BM# 63
Sending this post to A to Z April 2016 Challenge