Schezwan Noodles
Schezwan Noodles
,today's recipe is the most popular Indo-Chinese schezwan fried noodles.If you have pre made
schezwan sauce
,then these noodles can be made in jiffy.Just gather all the ingredients together and you could have a nice fancy meal ready to eat in few minutes.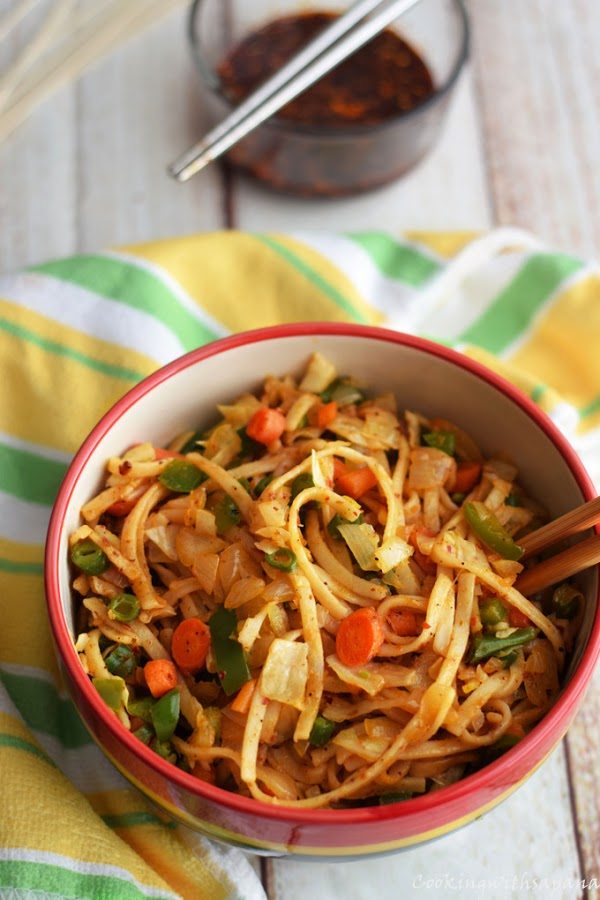 To make these Schezwan Noodles,I used Chinese San Dang style thin whole wheat noodles and low sodium soy sauce to make it a little guilt free.The vegetable chopping part was done by Mr husband.It's like a tradition or something whenever I make Indo-Chinese all the chopping part is his
responsibility.That is the price for demanding Chinese food and moreover,I always compliment him about how good he is in vegetable chopping.So most of the times I don't even have to ask him .He would start chopping as he sees me boiling the needles.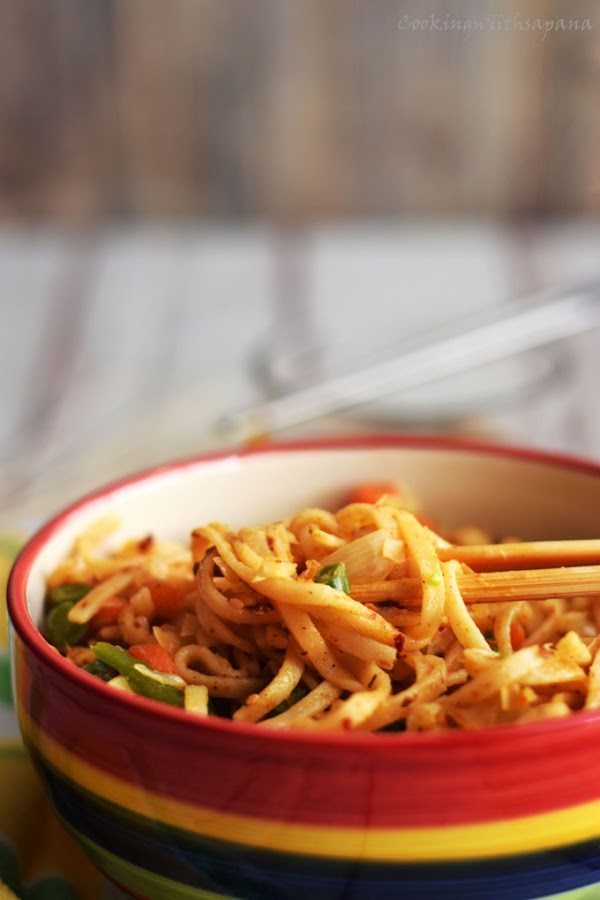 If you like Indo-Chinese recipes here are few ideas you might like
Veg Fried Rice

Vegetable Manchurian
Blogging Marathon#62/Week1
Theme-Quick Meals
Dish-Schezwan Noodles
Source-Here
Ingredients:
200 g Chinese noodles
1 onion,chopped
2-3 garlic cloves,chopped
2 spring onions,chopped
1/2 cup carrots,chopped
1/2 cup capsicum,chopped
1/2 cup cabbage,chopped
1/4 cup green beans,chopped
1/4 cup schezwan sauce
1 teaspoon low sodium soy sauce
1 teaspoon sugar
salt to taste
peppercorn,crushed,to taste
4 tablespoon sesame oil
Method:
Boil 2 liter water in a saucepan.Add the noodles and a teaspoon oil.Boil for 10-12 minutes or until noodles are tender.
Drain and wash the noodles under running tap water.Coat the noodles with a teaspoon of oil.
Heat the remaining oil in a pan or wok.Add onions and garlic,stir and add chopped carrots,capsicum,cabbage,beans and green onions.
Cook on medium high heat for 2-3 minutes.
Now add soy sauce,salt,sugar and schezwan sauce.Stir and add cooked noodles.
Cook for 2-3 minutes more ,stir occasionally until combined.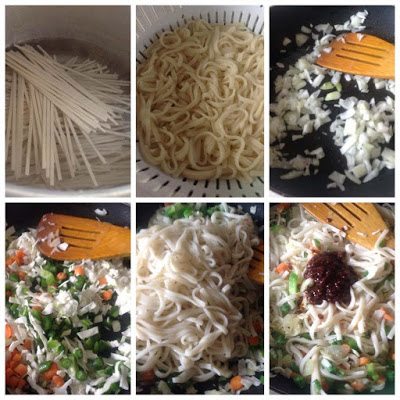 Sprinkle with crushed peppercorns and spring onion greens.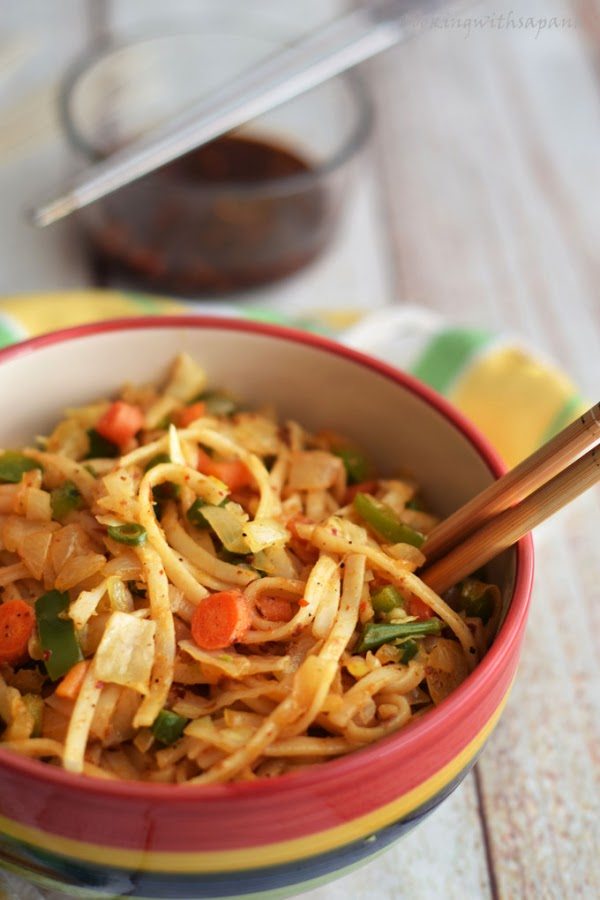 Serve immediately.For best results try to make two servings at a time.Enjoy!!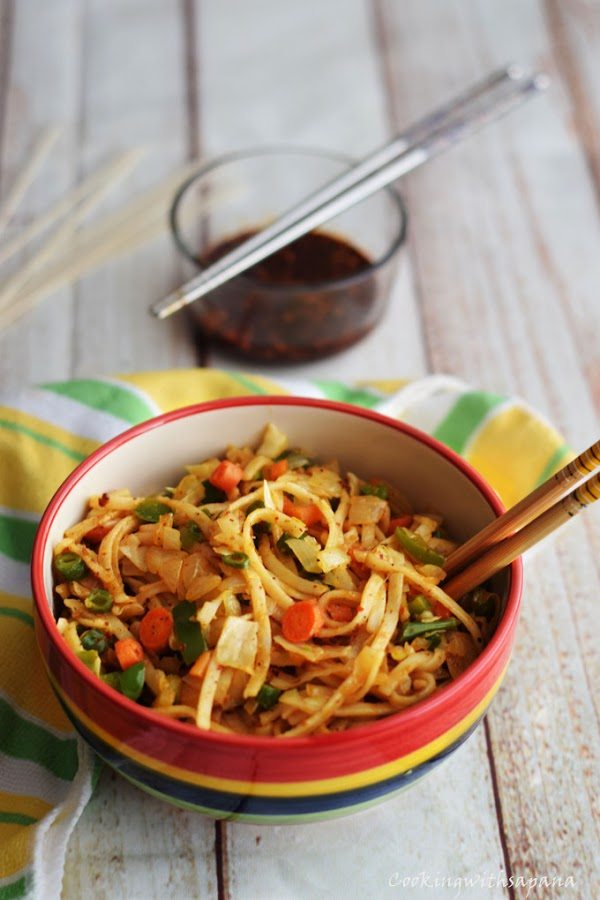 erve-4 Cooking time-20 minute
Check out the Blogging Marathon page for the other Blogging Marathoners doing BM#61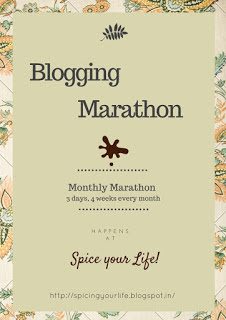 Best regards,
Sapana Behl