Paneer Pakoda
Paneer Pakoda
or Cottage cheese fritters are delicious,tasty and crispy fried fritters made of fresh cottage cheese and gram flour batter.We love making pakodas on rainy days or on the weekends to make the breakfast or brunch a little different from the regular one.

The pakoda recipe is from a popular shop"Billu de Mashoor Pakode" from a small city in Haryana-Delhi border called Bahadurgarh. These pakode are famous all over outer Delhi and Haryana and people come to relish them from far places.I remember we used to go to Bahadurgarh on weekends just to eat the mix pakode platters.There were a long queue at the shop and we had to wait at least an hour to eat them.I always saw them deep frying the pakodas twice to make them extra crispy and tasty.One time I asked the recipe from the main Halwai but he refused to tell the secret.The other time I asked from a boy who served the platters and he told me "ye masla wo masala aur do baar fry karo and pakoda ready".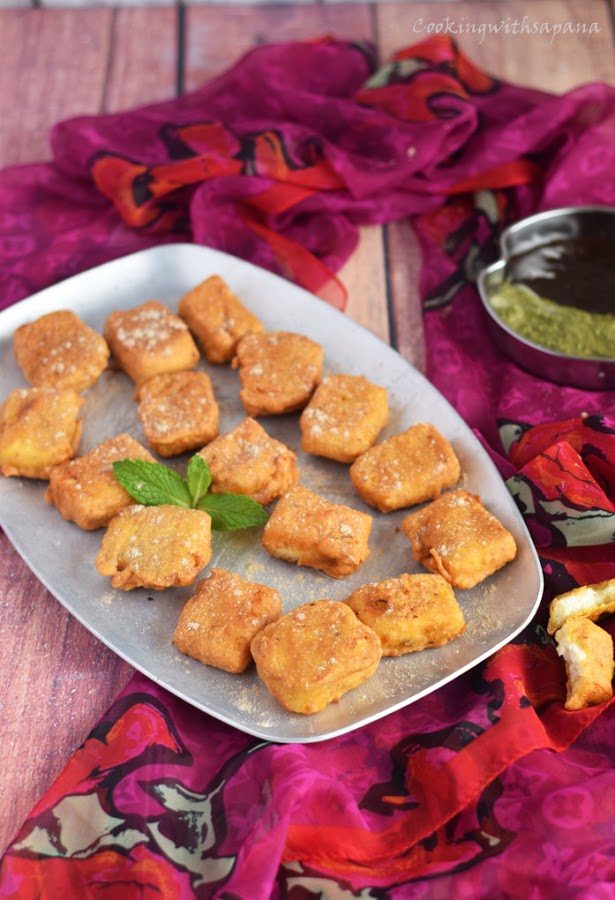 Since that day,we at my MIL's place are making the pakoda twice frying as it doesn't absorb too much oil and makes them more crispy and tasty.This recipe is for the last week of March CCChallenge.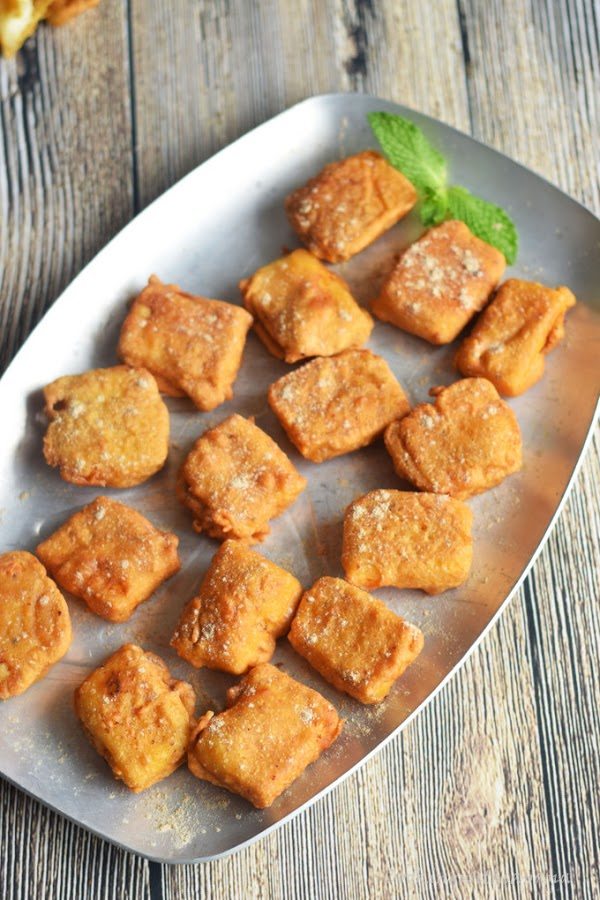 Ingredients:
For Paneer
250 gm paneer/cottage cheese,cut in rectangle pieces
dash of salt
1/2 teaspoon red chilli powder
For Batter
1 cup besan/gram flour
1/2 teaspoon carom seeds/aijwain
1/2 teaspoon red chilli powder
1/2 teaspoon garam masala
1/2 teaspoon chaat masala+more to sprinkle while serving
1/2 teaspoon amchoor powder+more to sprinkle while serving
1/2 teaspoon cumin powder
1/2 teaspoon fennel ,powder
salt to taste
1/4 cup yogurt/whisked
water as required
oil for deep frying
Method:
In a bowl add paneer pieces .sprinkle them with salt and red chilli powder and set aside.
In another mixing bowl add all the ingredients for batter except batter.
Whisk and slowly add little water at a time.Make a thick batter using enough water.
Heat oil in a wok.
Dip paneer piece one by one in batter and drop in hot oil.
Deep fry the paneer pieces until light golden from both sides.
Drain them on paper towel.
Now press the paneer pieces in between a piece of foil or tissue and drop them again in oil.
Fry them again until dark golden and crispy.Drain on paper towel.
Sprinkle with amchur powder or chaat masala.
Serve hot with green and sweet chutney.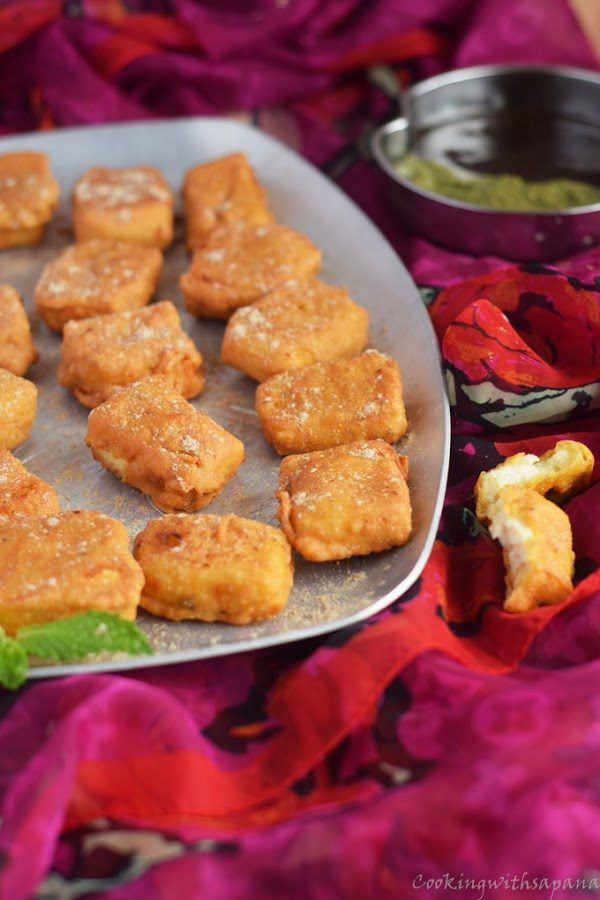 Enjoy!!
Serve-2 Cooking time 30 minutes.

Cooking from Cookbook Challenge