Oats Cranberry Banana Soft Cookies,
Oats Cranberry Banana Soft Cookies,
Mashed banana ,cranberries and oats together in the cookies make them soft and delicious.They are just the perfect snack for those always running ahead toddlers and chasing them behind mothers.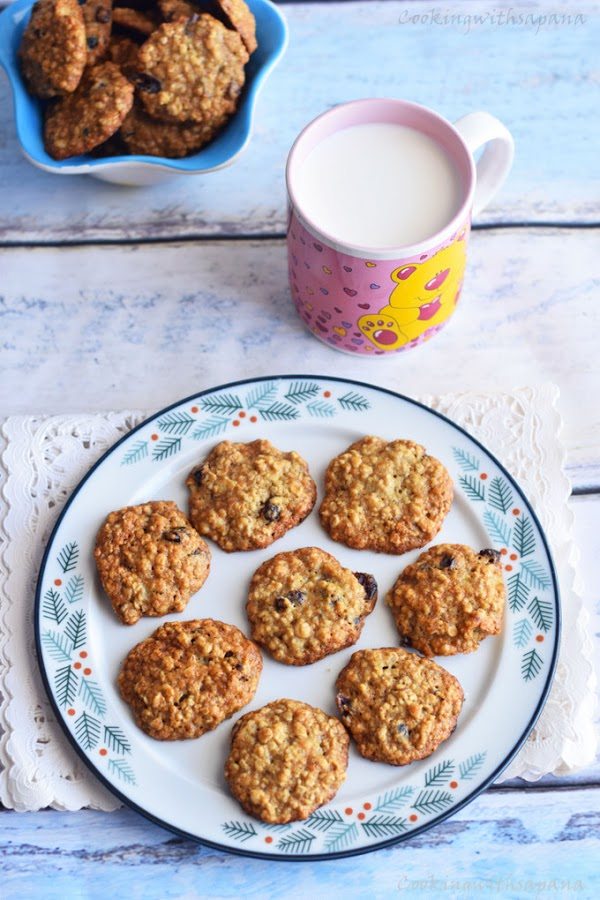 I tried these cookies from a cookbook "Baby Foods" which I recently borrowed from the library.The book is written by a Pediatrician doctor and author and contains a lot of good recipes for those tiny tummies.The book is a guide to nutrition,feeding and cooking for babies and toddlers.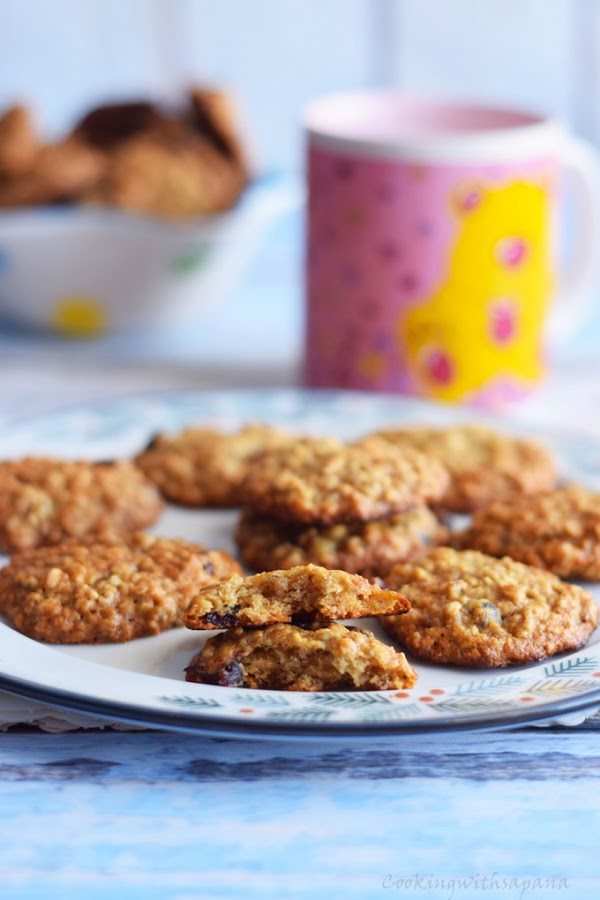 Frankly,I was a little skeptical about the taste of Oats cranberry banana cookies.But after trying them,we all fell in love with these soft cookies.My little one loved the cookies and eating two at a time.Even the elder one and Mr. Husband also gave them a big thumbs up.Since then I have been making them every alternate week as I know one good and healthy snack that my fussy eater princess like.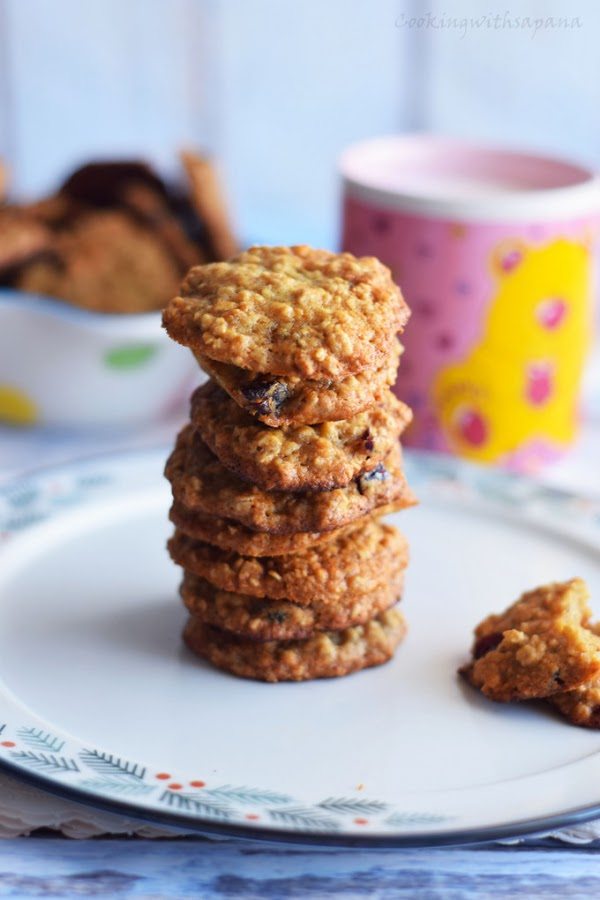 Blogging Marathon#62 /Week 4
Theme-Snacks for Toddlers
Dish-Oats Cranberry Banana Soft Cookies
Source-Cook Book Baby Foods
Ingredients:
1 cup rolled oats

1/2 cup cranberries
,dried
1 banana,mashed
1/2 cup whole wheat flour
1/4 cup apple juice
1/4 cup brown sugar
1 teaspoon vanilla extract
1 teaspoon baking soda
1/4 cup unsalted butter,at room temperature
1/4 cup milk
Method:
Preheat oven to 350 degree and grease a baking tray with oil or butter.
In a mixing bowl add cranberries ,mashed banana,apple juice,vanilla,,brown sugar and melted butter.
Stir in flour,baking soda and oats.Mix well until combined.
Drop a tablespoon of batter at a time on the baking tray,keeping them 2 inches apart from each other.
Bake for 10 minutes or until golden in color.
Remove from oven,cool the cookies on wire rack.
Store in air tight container.Stays fresh for 4-5 days.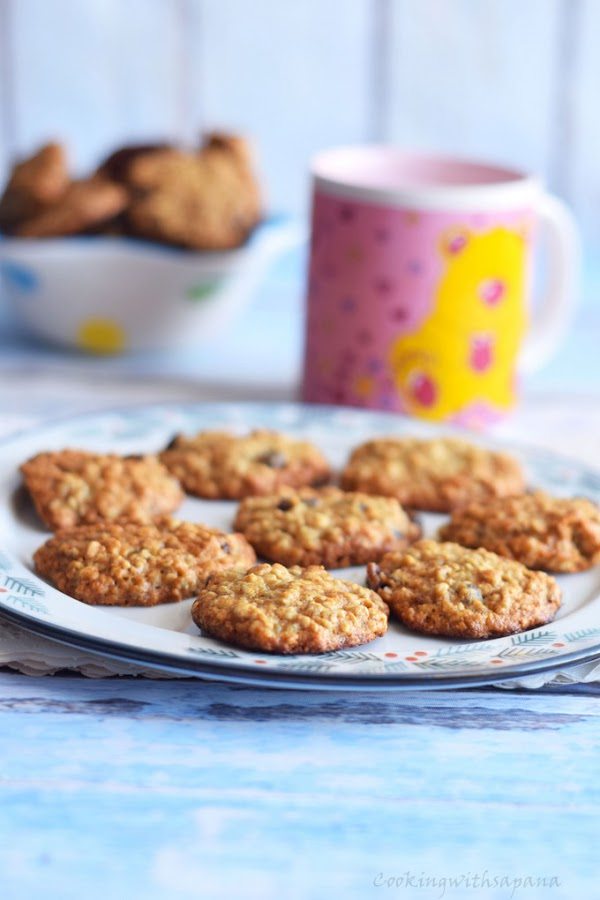 Serve with milk.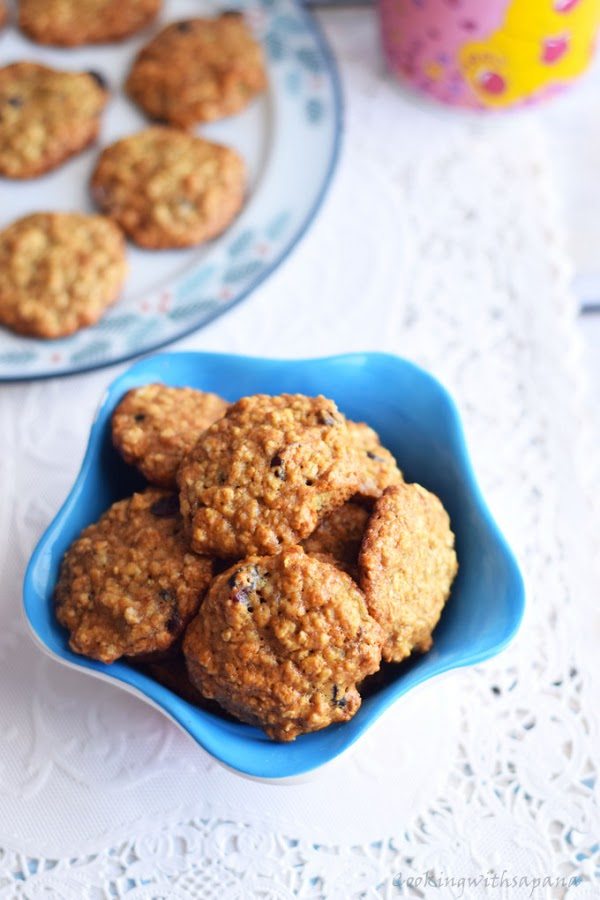 Serve-30 to 35 cookies Baking time-10 minutes

Sending the cookies to Kids Delight event themed "Toddlers Snacks" of Valli's happening at my space.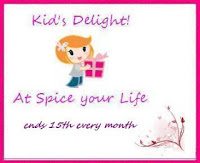 Check out the Blogging Marathon page for the other Blogging Marathoners doing BM#61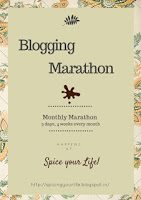 Best regards,
Sapana Behl