Tortilla Soup
Tortilla Soup
is hearty and filling one pot soup that is loaded with Mexican flavors.It is spicy yet mild,the combination of smoky chilli , corns and creamy avocado makes it perfect to slurp on cold winter nights.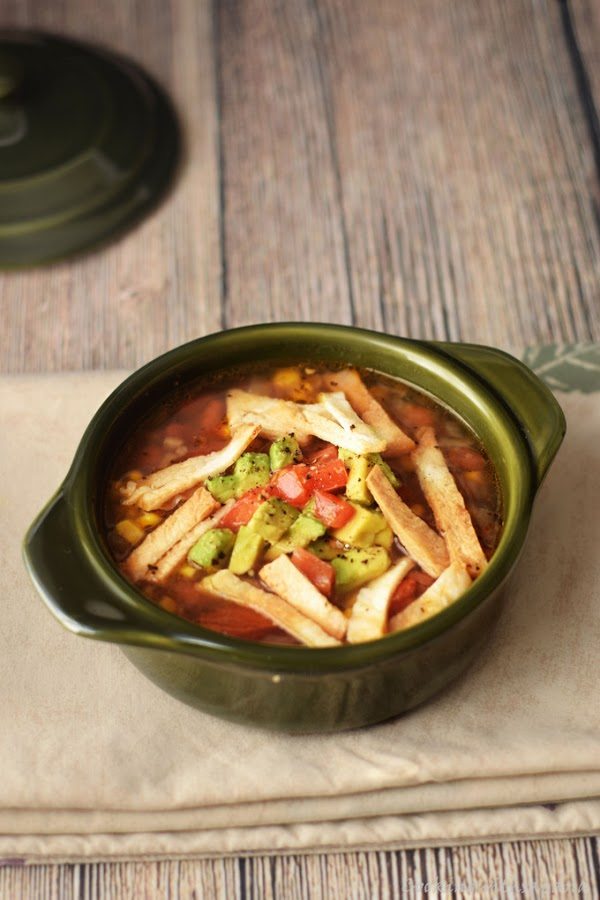 The tortilla soup recipe is from the same cookbook that I mentioned in the last to last CCChallenge post ,"Delicious and Dependable Slow Cooker Recipes".The original recipe stated to puree the pinto beans for a creamier version but I adapted the recipe to our taste and used the whole pinto beans .The soup tasted awesome and got full votes from the family.This recipe is for third week of CCChallenge for the month of February.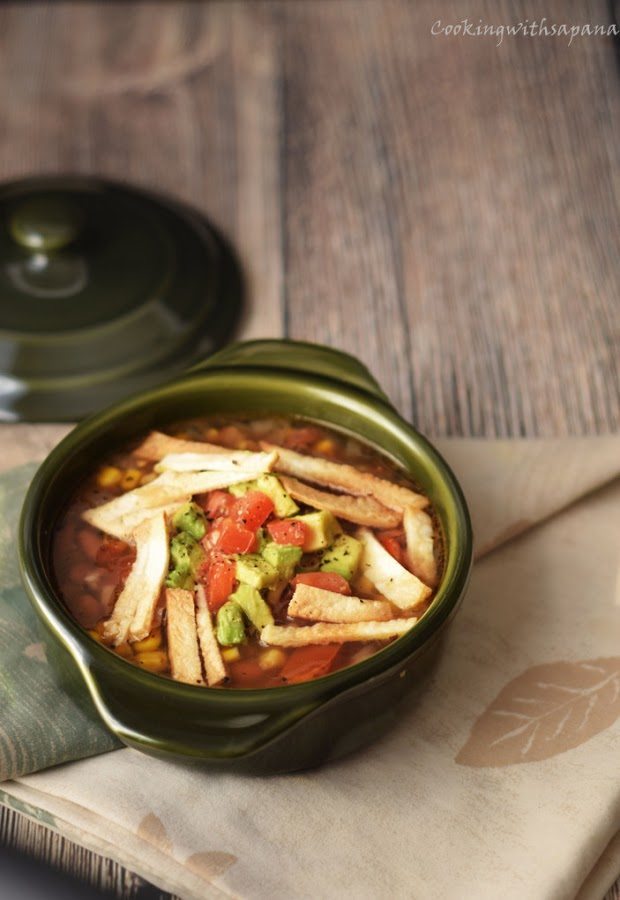 Ingredients:
1 can pinto beans,drained and rinsed
1 tomato,chopped+ more for topping
1 onion,chopped
4 garlic cloves,chopped
1/2 cup corn kernels
1 Mexican chilli pepper,chopped
1 teaspoon oregano
1/4 teaspoon lime zest
1/2 teaspoon ground cumin
salt to taste
peppercorn to taste
4 cups water or broth
1/2 cup avocado,chopped
1 tablespoon olive oil
Cilantro leaves to garnish
For tortilla
2 tortillas
salt t taste
1 teaspoon olive oil

Method:
Brush tortillas with olive oil and cut in thin strips.Preheat oven at 170 degrees.
Line a baking sheet with parchment paper.Arrange the tortilla strips in single layer and sprinkle them with salt.
Bake for 5 minutes or until light golden and crispy.
Remove from oven and set aside for later use.
Heat olive oil in a pan and add chopped garlic and onions.Saute till light brown in color.
Add cumin,Mexican chilli,lime zest,oregano,salt and peppers.Stir to combine.
Transfer the ingredients of the pan to slow cooker stoneware.
Add corn , pinto beans ,tomatoes and broth.Cover and cook on slow for 8 to 10 hours or on high for 3 to 4 hours.
Pour soup in serving bowls.Add tortilla strips ,avocado,tomato and cilantro leaves.
Serve immediately.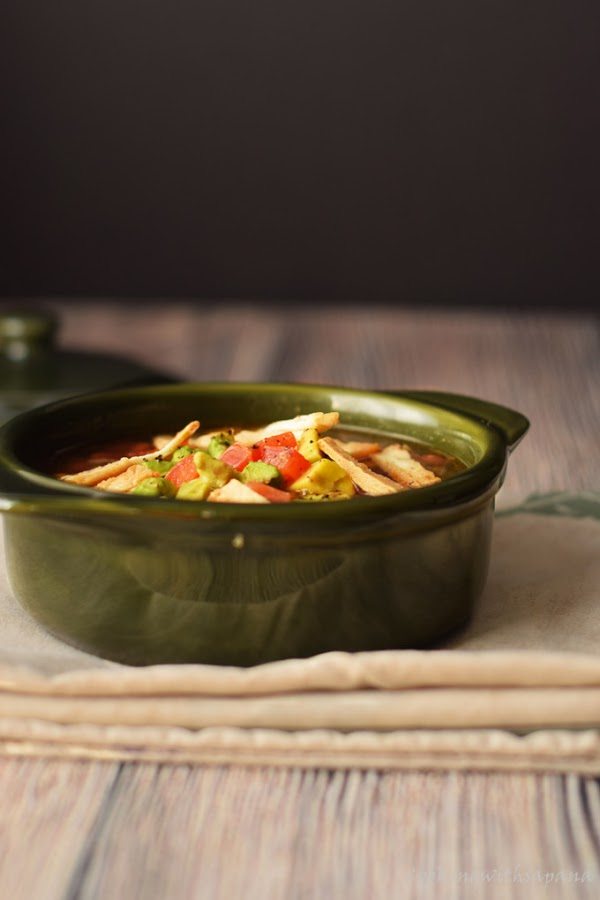 Serve 6 Cooking time 10 hours.
Notes:
You may also use dried and soaked pinto beans/kidney beans or Romano beans instead of canned ones.
Alternatively the soup can be prepared on stove top.
Cooking from Cookbook Challenge