Roasted Tomato Veg Soup
Roasted tomato and vegetable soup
,Today's recipe is the simple vegetable soup cooked slowly with vegetables and roasted tomato for 7 to 8 hours in slow cooker.I am loving the slow cooker and the dishes made in it.The process of simmer cooking in the ceramic pot makes everything taste so good.From three days continuously in a row we are enjoying the slow cooker soups that are Diabetic friendly also.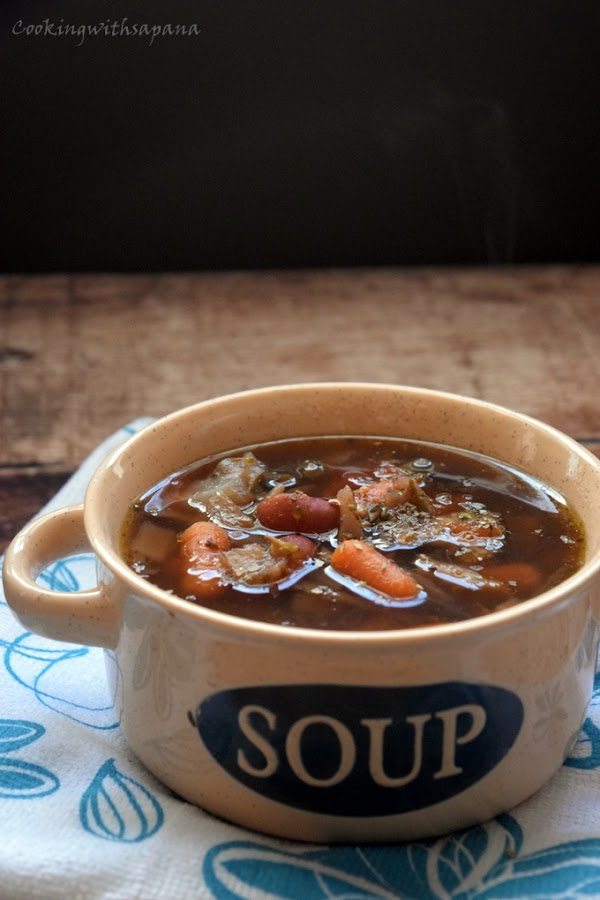 My husband is now very happy for my decision to buy the slow cooker and indulging all these soups.He even asked to make one soup daily for a balanced and healthy diet.
The roasted tomatoes in the vegetable soup gave the extra smoky flavor and took the taste of simple vegetable soup to another level.Addition of red kidney beans makes it more filling .This soup is a perfect protein packed one pot meal for Diabetic people.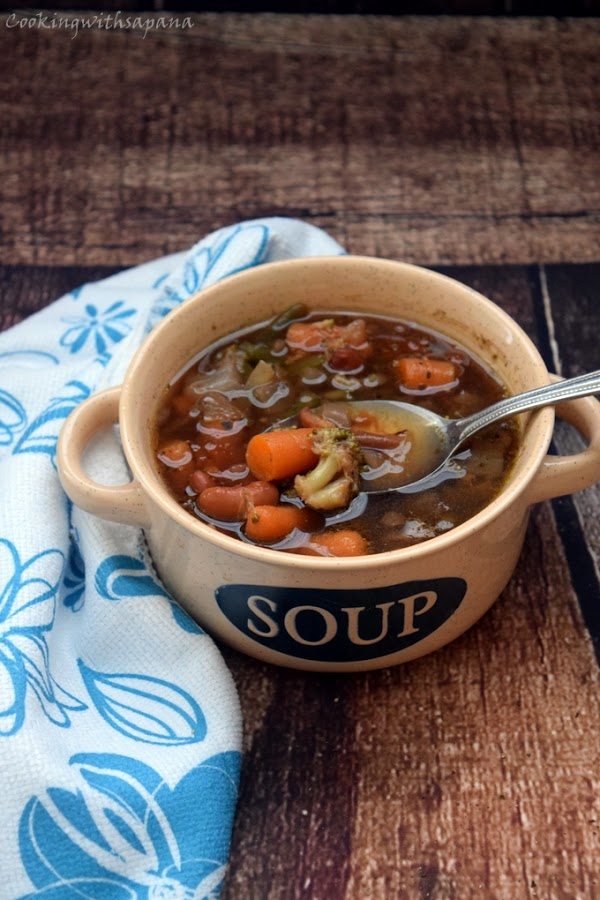 Blogging Marathon#60
Theme-Diabetic Recipes
Dish-Roasted tomato vegetable soup
Source–Here
Ingredients:
1 zucchini,cut in halves
1 cup baby carrots,halved
1/2 cup green beans,chopped
1 cup broccoli florets
1/2 cup red kidney beans
1 onion.chopped
3-4 garlic cloves,chopped
1 celery stick,chopped
2 tomatoes
2 teaspoon dried oregano
1/2 teaspoon black peppercorn,crushed
salt to taste
1 tablespoon olive oil
4 cups water /Veg broth
Method:
Heat oil in a pan and add garlic and onions.Cool until light brown in color.Remove from heat.
Make a slit in the tomatoes and roast on fire using a wire rack.Cut into pieces.
In a 4 quart slow cooker add red kidney beans,carrots celery,broccoli,zuccini,cooked garlic and onion.
Add roasted tomatoes,oregano and water or vegetable broth.
bbbbbbbbbbyu

Serve warm.Enjoy!!
Note:Alternatively you can cook the soup on stove top .Make sure to use boiled kidney beans for that.
You may use your choice of vegetables.
Check out the Blogging Marathon page for the other Blogging Marathoners doing BM#60
Best regards,
Sapana Behl