Moroccoan Vegetable Pasta Soup
Moroccan style vegetable and pasta soup
,Today's soup is blended with Moroccan flavors ,richness and spices.The vegetable pasta soup is one of the best soups that I recently tried for three days.Again,I made it in the slow cooker and as a Diabetic friendly meal but,believe me this soup will satisfy everyone's taste buds.My elder daughter fell in love with it and finished two big bowls. Otherwise,I would have to push her hard to finish the vegetables,but the one in the soup she ate all without forcing.I think because of the slow cooking the veggies tasted more delicious.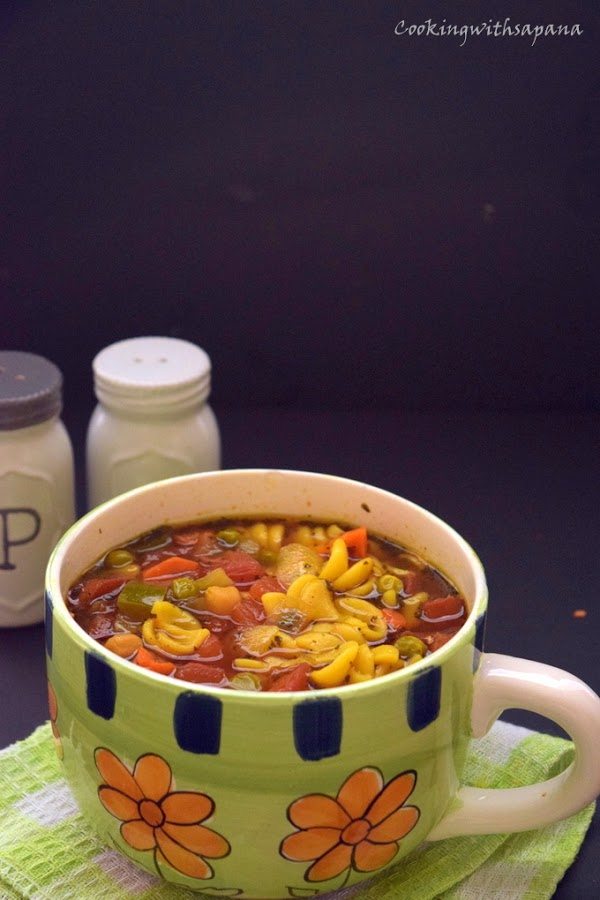 I adapted the recipe of Moroccan vegetable pasta soup from Betty Crocker and has tried it twice since.Little one is learning to speak and while giving her the soup(I kept a portion without paprika) I told her that it's a soup. The next day when she came into the kitchen,she asked "mamma souupp".While feeding her something is a big task ,I know what I can make for her often which is healthy too.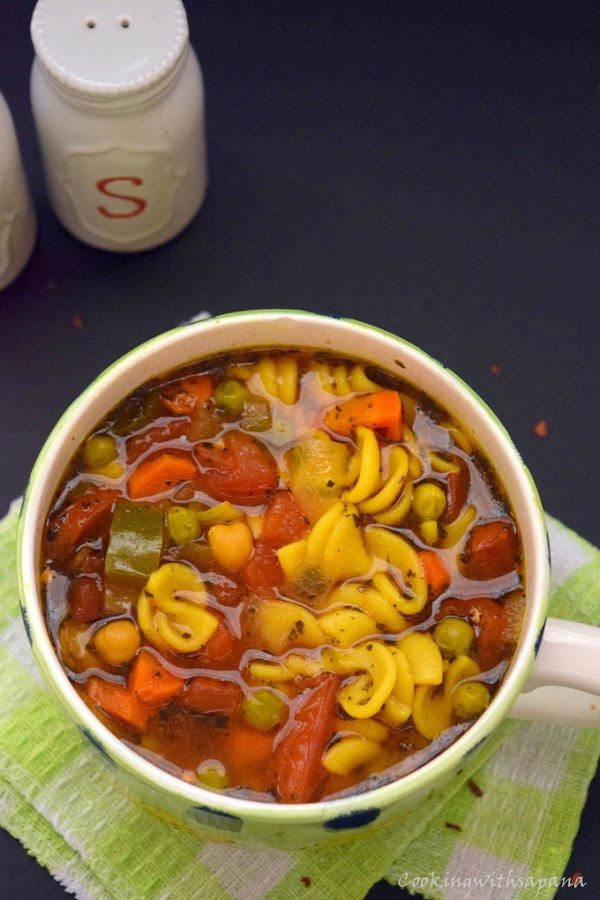 If you are looking for Diabetic friendly and Slow Cooker soups here are two of them-Brown Lentil Soup and Roasted Tomato Veg Soup.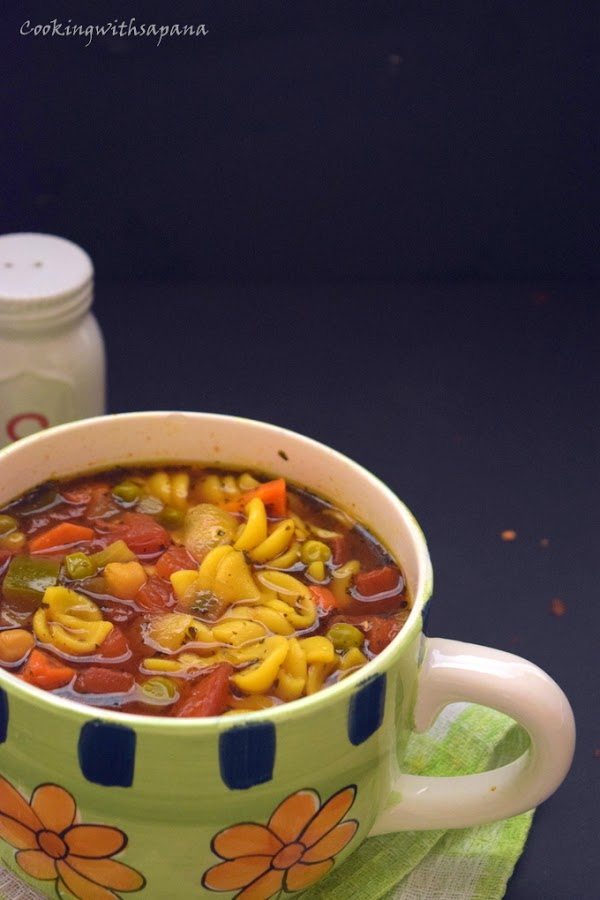 Blogging Marathon#60
Theme-Diabetic Recipes
Dish-Veg Pasta Soup
Source–Here
Ingredients:
2 cup mix vegetable/frozen or fresh
1 onion,chopped
3-4 garlic cloves,chopped
2 tomatoes,diced
1/2 cup whole wheat rotini pasta,uncooked
1/2 cup white uncooked chickpea/garbanzo beans or 1 can drained and rinsed if cooking on stove top
2 tablespoon tomato ketchup
1 teaspoon dried basil
1/4 teaspoon ground cinnamon
1 teaspoon paprika/red chilly flakes
1/2 teaspoon peppercorn,crushed
1/2 teaspoon turmeric powder
salt to taste
4 cups water
2 tablespoon olive oil
Method:
Stove top:
Heat olive oil in a pan and add garlic and onion.Cook for 2 minutes
Add all ingredients except pasta.Cook for 10 minutes or until vegetables are done.
Add rotini and cook for 8-10 minutes more .Season with salt and pepper if desired.
For slow cooker:
In a 3 1/2 or 4 quart slow cooker add all ingredients except pasta.
Cook on low heat for 6-7 hours or on high for 3 to 4 hours.
In the last 30 minutes add pasta .
Season with more sale and pepper if required.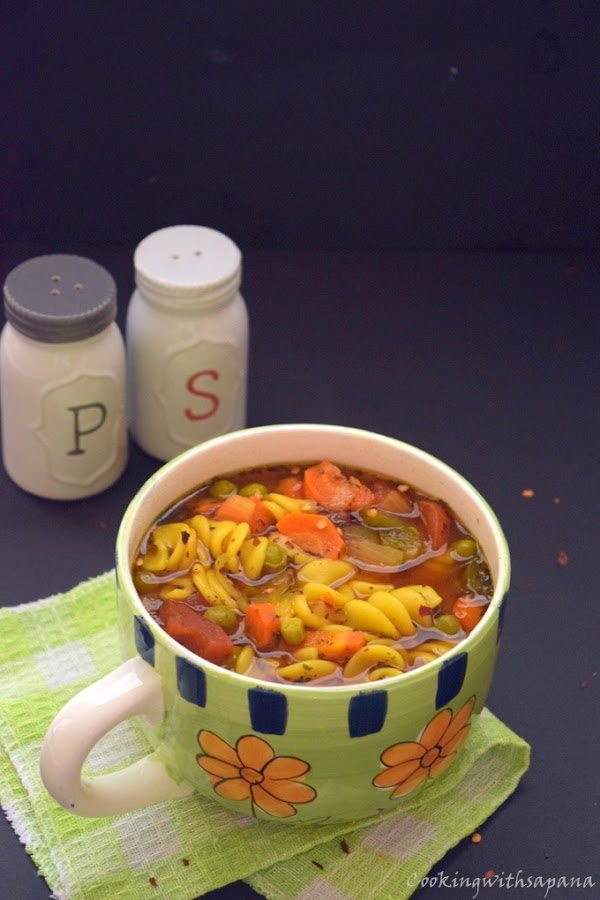 Serve warm and enjoy the winters.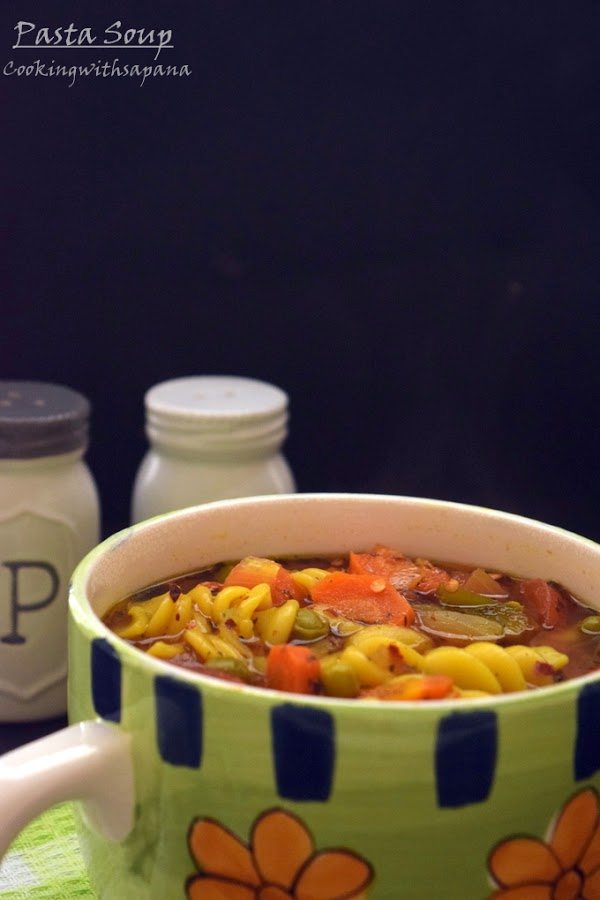 Serve-6 Cooking time Slow cooker-8 hours Stove top -30 minutes
Check out the Blogging Marathon page for the other Blogging Marathoners doing BM#60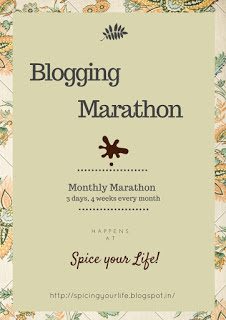 Best regards,
Sapana Behl