Spinach Paneer Pinwheels
I love spinach and cottage cheese filling cooked in mild spices and love to fill it in sandwiches ,toasts,paratha and pinwheels.This is one versatile that can be used to stuff or top any dish.So this time I made these simple and filling pinwheels for our Christmas day breakfast and totally loved them.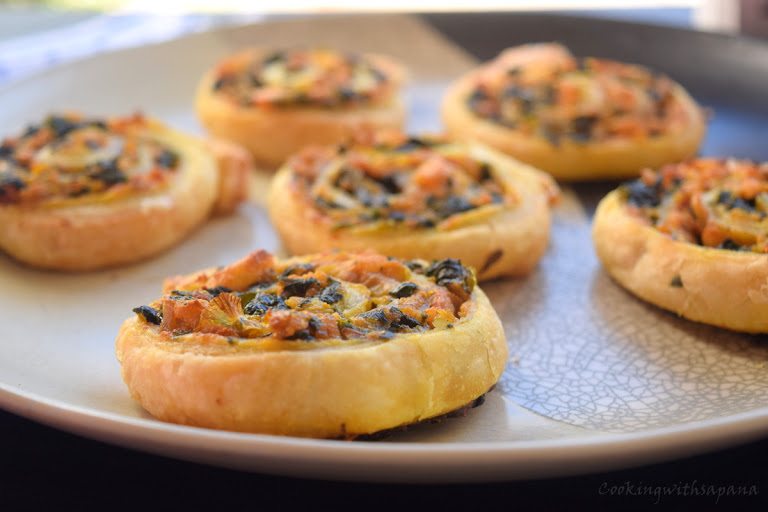 I used store bought puff pastry sheet alternatively you may use the home made dough or basic pizza dough to make them more interesting.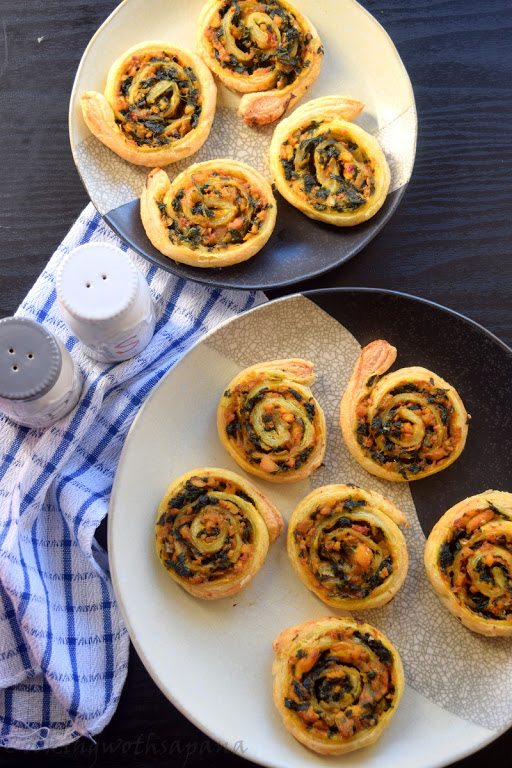 Blogging Marathon#59
Theme-Stuffed Dishes
Dish-Spinach cheese pinwheels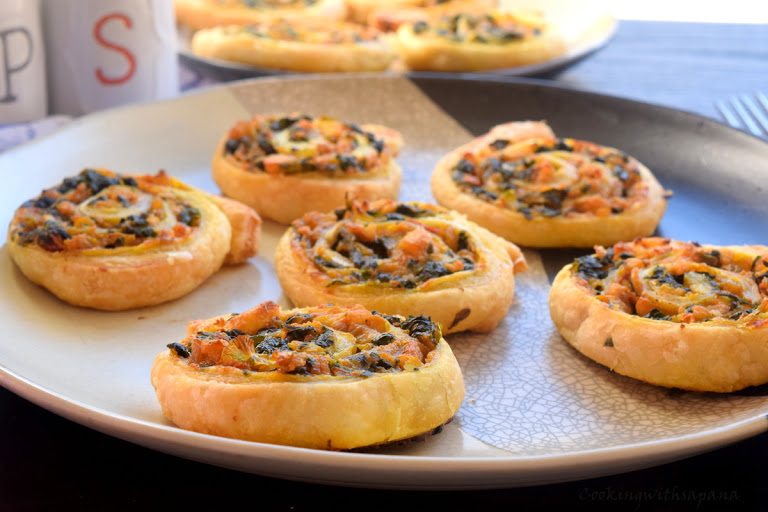 Ingredients:
1 frozen puff pastry sheet,thawed
1 tablespoon plain flour for dusting.
1 onion,chopped
2-3 garlic cloves,minced
2 green chillies,chopped
1 tomato,chopped
200 g spinach leaves,chopped
150 g paneer/cottage cheese,crumbled
1/2 teaspoon turmeric powder
1 teaspoon coriander powder
salt to taste
1/2 teaspoon garam masala
2 tablespoon olive oil plus more to brush the pinwheels
Method:
Heat olive oil in a pan.Add onion and garlic.Saute for a minute.
Now add green chili,tomato,salt,turmeric and coriander powder.Cook for a minute. Add chopped spinach,cook covered for 2 minutes.
Finally add crumbled paneer ,cook without lid for 5 minutes until all moisture evaporates.
Sprinkle garam masala and let the filling cool.Preheat oven to 180 degree C.
Sprinkle dry flour on work space and roll the puff pastry a little more lengthwise.
Spread the stuffing over the puff pastry sheet leaving an inch from the edges.
Start rolling from the short side all the way to the end.
Line a baking paper with parchment paper.
Cut into round slices.Lay the slices flat on baking sheet.Brush with olive oil.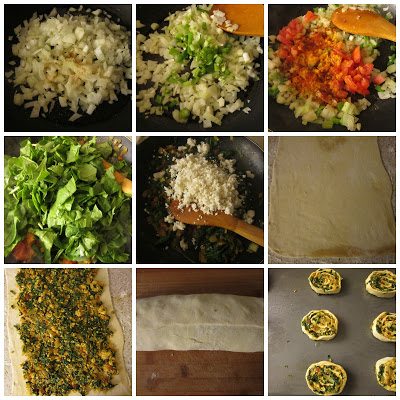 Bake for 15 to 20 minutes or until golden and crispy.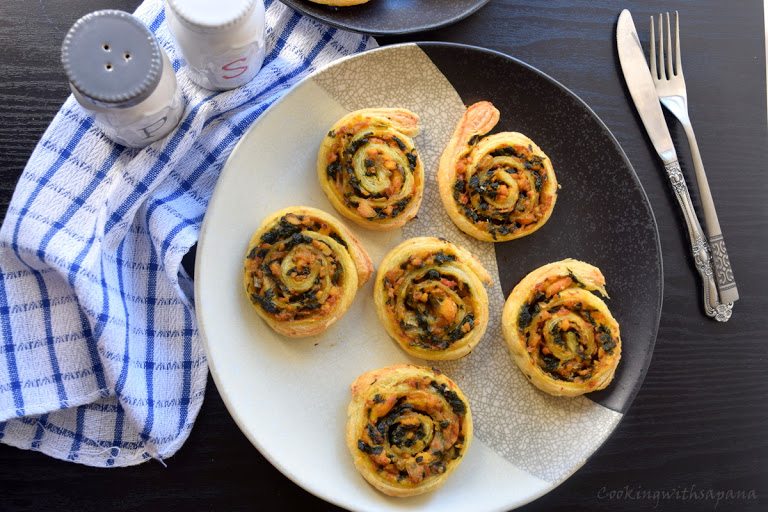 Remove from oven .Serve warm.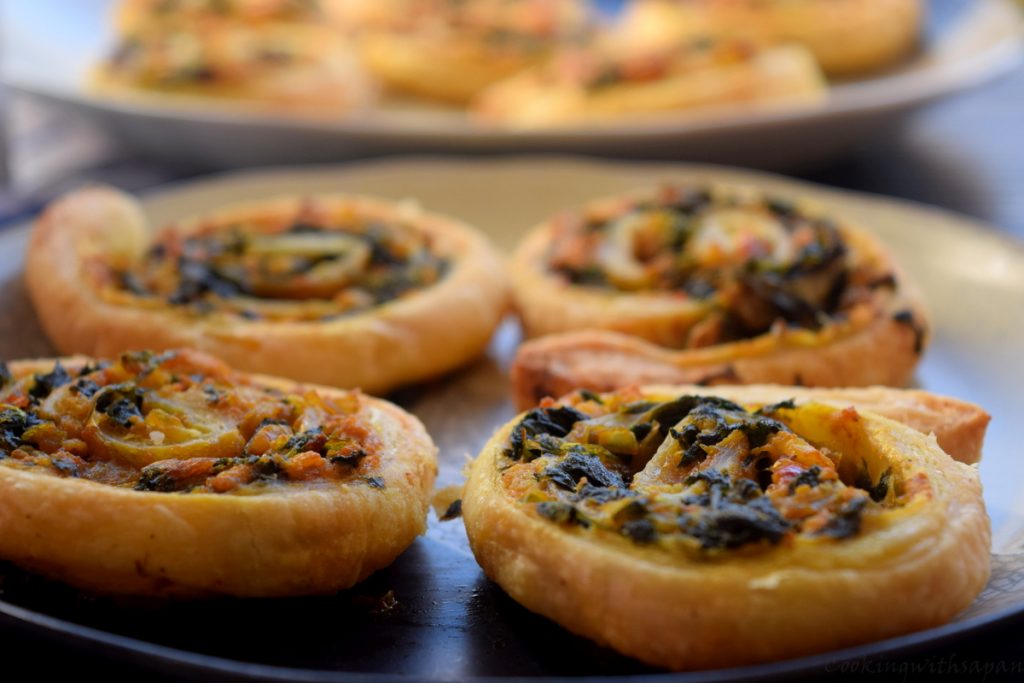 Enjoy!!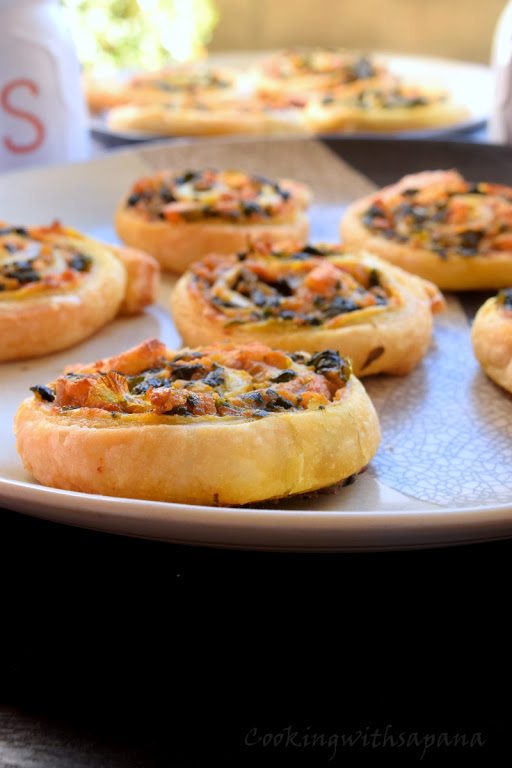 Serve-4 Baking time-20 minutes
Check out the Blogging Marathon page for the other Blogging Marathoners doing BM#59