Phyllo Pizza
My elder daughter loves pizza and always wants to make some at home.I try to replace the crust every now and then with different ingredients to make it taste unique and delicious.This time I had some leftover of thawed phyllo pastry that needs to be used up soon.So I searched recipes with phyllo pastry and made my family favorite version of the pizza with bell peppers,olives and jalapenos peppers.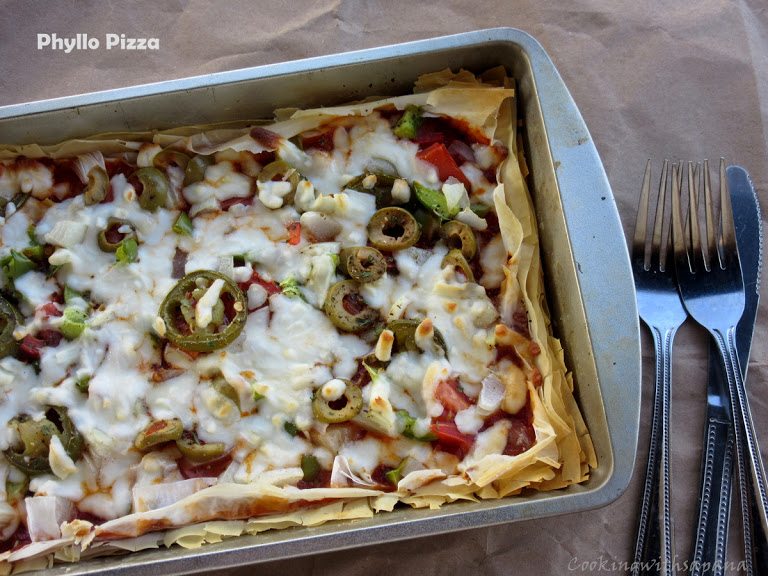 This pizza tasted great and last weekend we had a nice brunch with some orange juice and warm phyllo pizza .Just make sure to brush all the sheets with butter otherwise it will taste dry.Don't get worried about few breaks in the sheets while arranging ,they all will set up after baking.So use your imagination and make your phyllo pizza with favorite topping.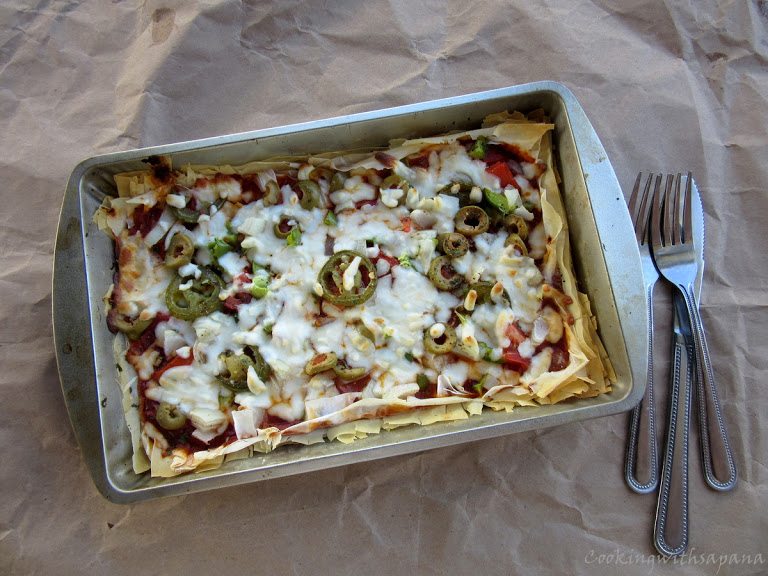 Bake-a-thon 2015
Day-5
Dish-Phyllo Pizza
Ingredients:
12 phyllo pastry sheets,thawed
1/2 cup butter,melted
1 green bell pepper,chipped
1 red bell pepper,chopped
1 onion,chopped
1 tomato,chopped
1/4 cup olives,sliced
2 tablespoon jalapeno peppers,sliced
1 teaspoon oregano
1 teaspoon basil
1 teaspoon parsley
1 teaspoon black pepper
red chilly flakes to taste
1 cup mozzarella cheese

Method:
Preheat oven to 350 degrees Celsius .
Thaw phyllo pastry sheets from the package and take about 12 sheets outside.Cover the sheets with damp cloth and store the remaining sheets in refrigerator to be used within 2-3 days.
Brush a baking tin or glass baking dish with butter.
Arrange a layer of phyllo sheet in the baking dish.Brush it with butter gently.Repeat the same procedure with the remaining 11 sheets ,stacking them over each other.
Now on the top layer ,brush with pizza sauce covering the phyllo sheets evenly.
Sprinkle the onion,tomato,bell peppers.peppers. Top up with olives and jalapenos.
Season with black pepper,basil,oregano and parsley.
Finally top up with mozzarella cheese and bake in preheated oven for 25 to 30 minutes.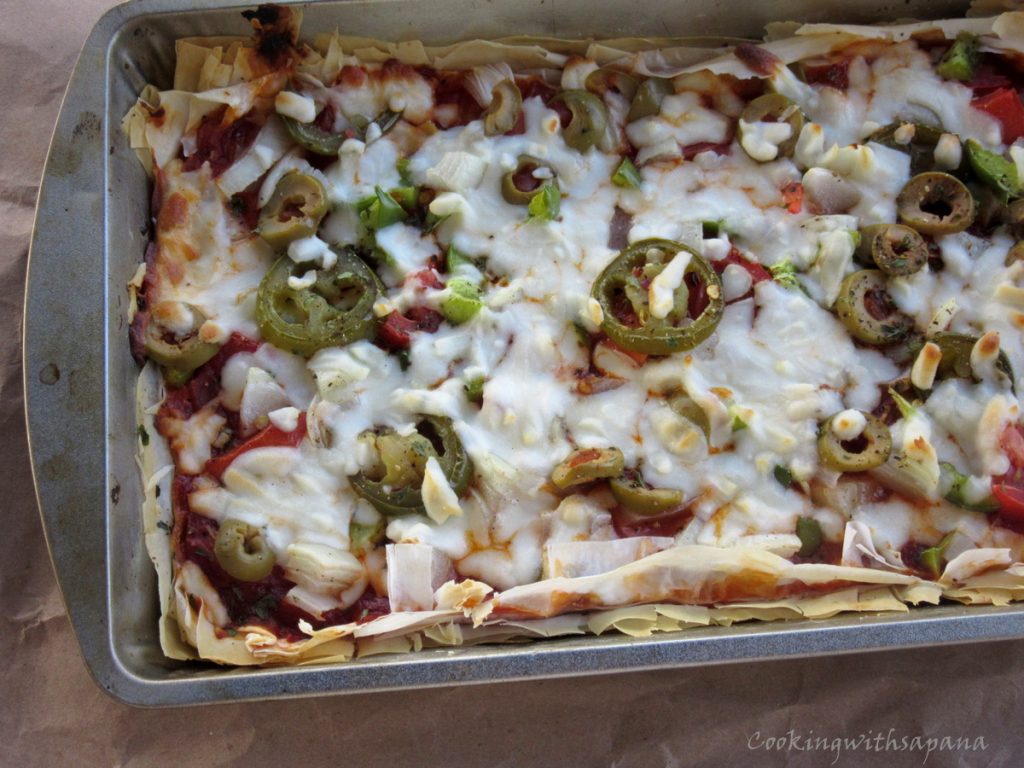 Remove from oven ,slice and serve warm.Serve immediately.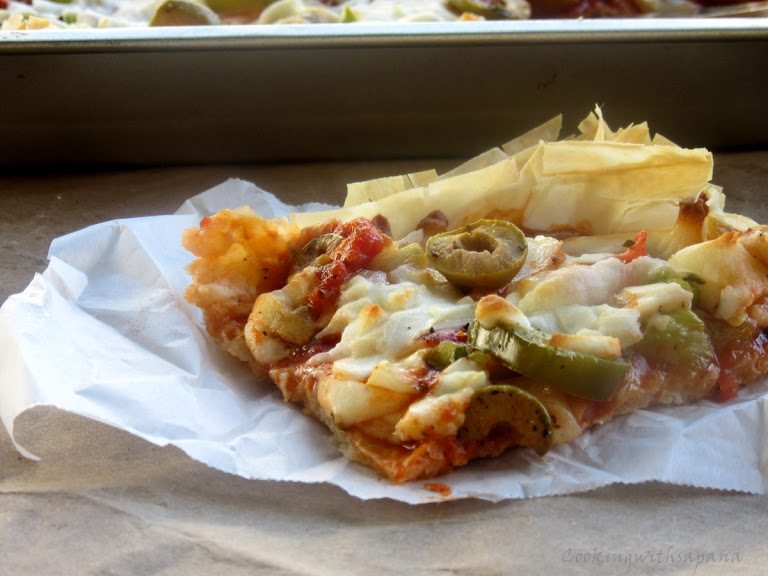 Enjoy!!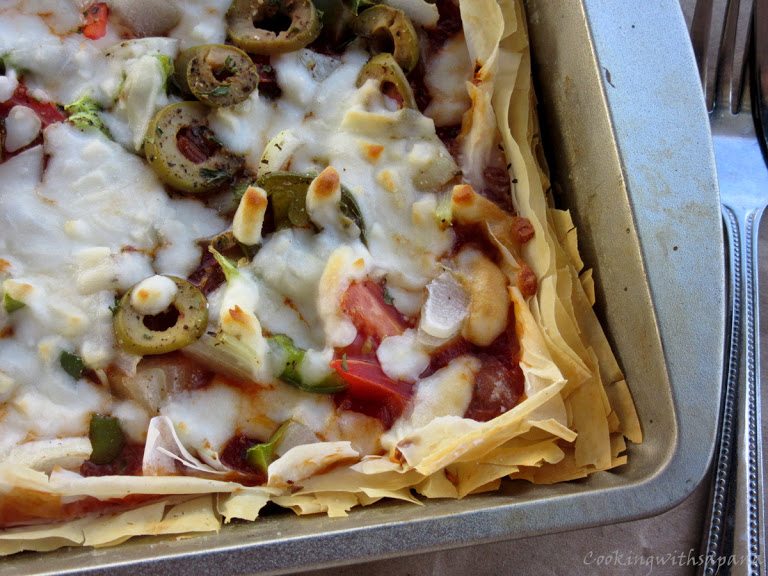 .
Serve-4 Prep time-30 minutes


This is part of the
Bake-a-thon 2015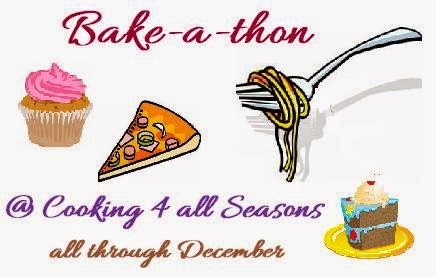 Best regards,
Sapana Behl