Eggless Vanocka | Czech Christmas Brad
I cant believe it's the end of the year .December came and went in jiffy .It seems like day before it started and now December is almost gone. We did a month
bake a thon
and baked so many goodies.I enjoyed all the recipes from fellow bloggers and bookmarked so many.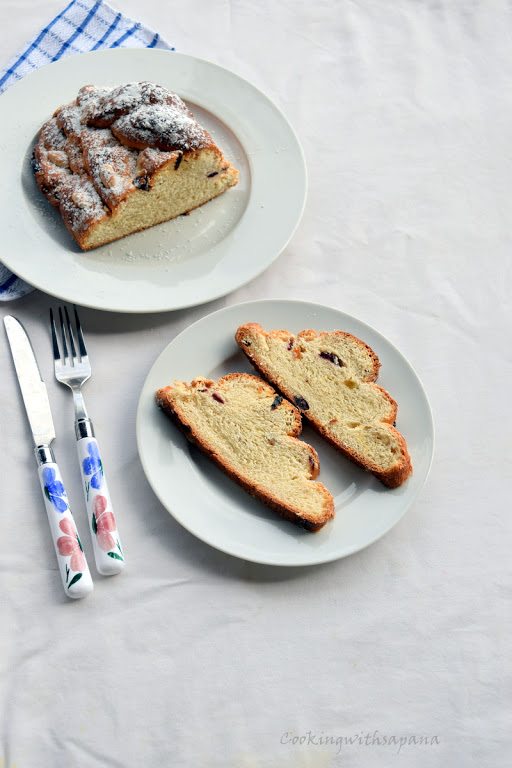 For the last day I wanted to make something different Even though I have more than five baked recipes but still I wanted to bake one new.Then I remembered about this month's baking partners challenge Vanocka suggested by Swathi.
After reading the recipe I was again in dilemma weather to bake it or not as the recipe suggested to use eggs.So after thinking a lot I went ahead and baked it without eggs.I followed the recipe from here and believe me the results were outstanding.
By the time my bread came out from oven it was 8'o clock in the night .I tried to take pictures in night but those were not so good.I thought to take pictures in the morning and wrapped the bread in foil.My daughter and Mr. H loved the bread so much that they kept eating it even after dinner and left with a little half .I took the pictures first thing in the morning and later on all of the bread was finished in breakfast.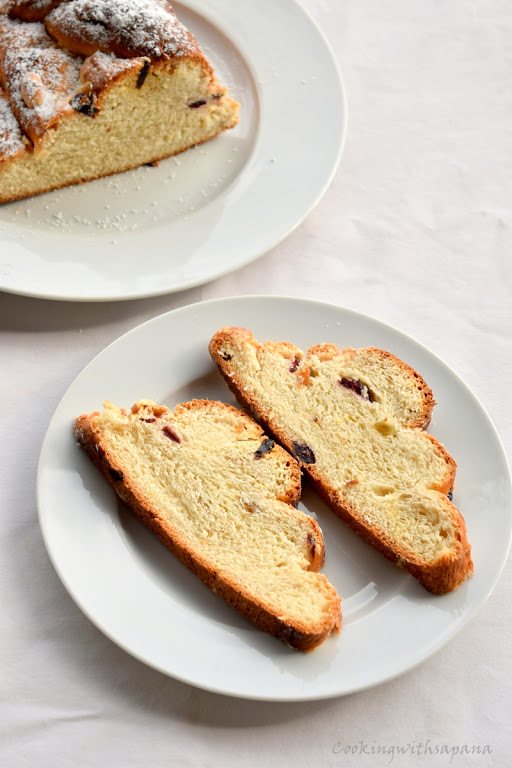 Bake-a-thon 2015
Day-13
Dish-Vanocka
Source–Here
Ingredients:
500 g /4 cups all purpose flour
1 1/4 cup milk
3 teaspoon dry yeast
1/2 teaspoon salt
zest from 1 lemon
3/4 cup sugar
1/2 cup butter
1/3 cup dried cranberries,raisins(soaked in warm water and drained)
To decorate:
blanched almonds
powdered sugar
Method:
In a bowl add warm milk , a teaspoon of sugar and yeast.Let it poof for 10 minutes.
Add sifted flour,salt remaining sugar and lemon zest.Fold in dried cranberries and raisins.
Mix with hands until it combines to form a dough.
Knead the dough for 10 minutes.
Apply dry flour in a bowl and place the dough in it to rest for about 2 hours covered with cling film or towel.
Once the dough has risen take it out from the bowl and divide it into 9 equal parts.
Using the hands roll out each part into an equal sized strands.
Start braiding with four strands. Join.Join the strands together from one side .Start working with the extreme right strand.Take it over the next strand ,under the next strand and finally over the last strand.Repeat the same steps till you reach on the end.Join all the strands together in the end.
Likewise braid the three strands and two strands bread.
Once all braids are done place them n a baking tray lined with parchment paper .Make a dent in the center of four strand braid to sit the three strand one and same way one dent on three strand to sit the two strand braid.
Cover the braids with tea towel to rest for about 30 minutes.Once rested preheat the oven to 350 F and brush with milk and place blanched almonds.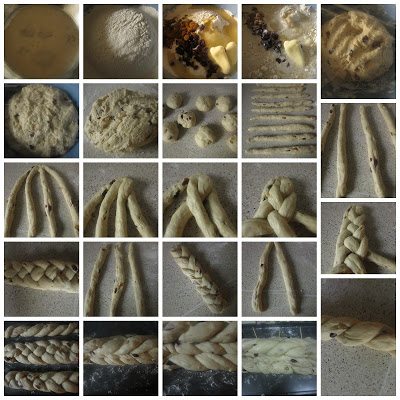 To prevent toppling insert skewers in the creases of braids.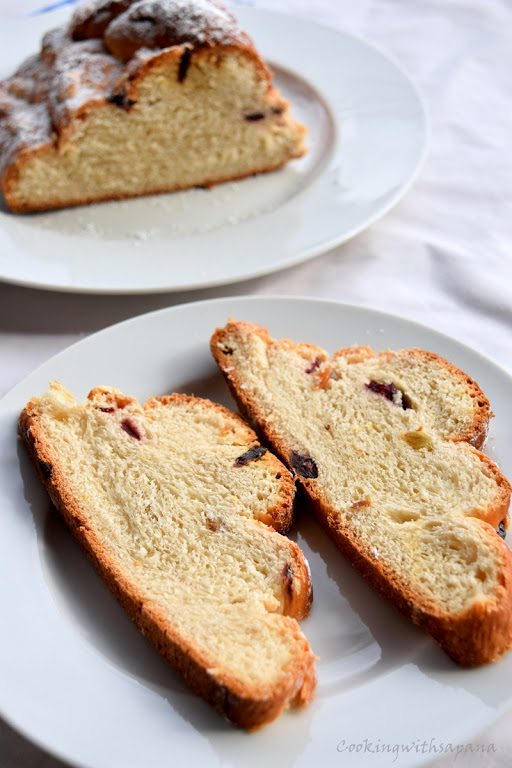 Bake for about 40 minutes covered with aluminium foil.
Cool completely.Dust with icing sugar .Cut into slices and serve.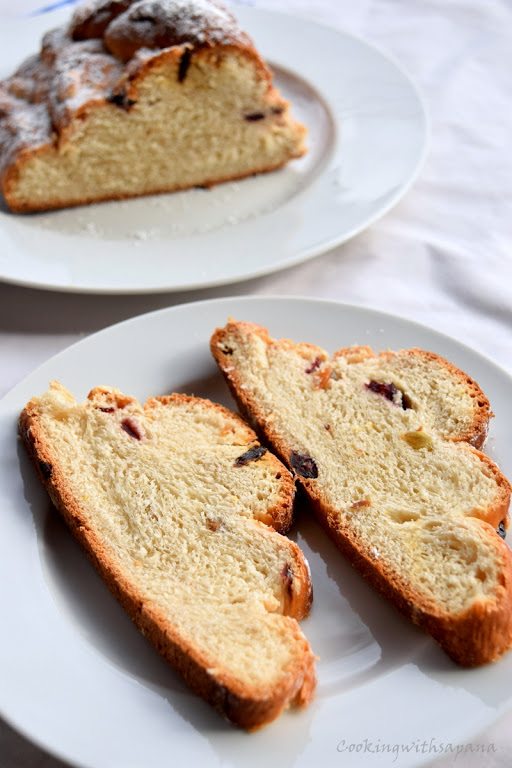 Store in refrigerator.Enjoy!!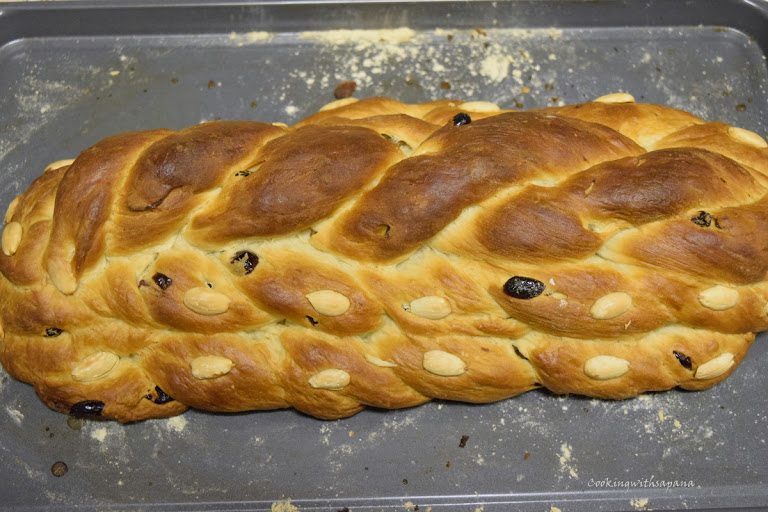 Serve-8 Baking time -40 minutes Total time-4 hours
This is part of the
Bake-a-thon 2015
Best regards,
Sapana Behl