Baked Bread Rolls
Bake a thon
is helping me use the oven more often rather than a few times throughout the year.So this weekend while I was making as usual fried bread rolls for breakfast that is happen to be the favorite of the kiddo and Mr H.All of a sudden, I thought to make some baked rolls also to use for bake a thon .And guess what, they appreciate the baked one most instead of the regular fried ones and asked me why I hadn't done it before. I am glad I did that and I can happily remove at least one from the many fried snacks they love to eat.

I used the same potato peas filling and coated the rolls in sesame seeds. The toasted sesame seeds tasted great with the bread rolls.If you are a chai fan like me , I am sure you would love these baked rolls with a hot cup of tea.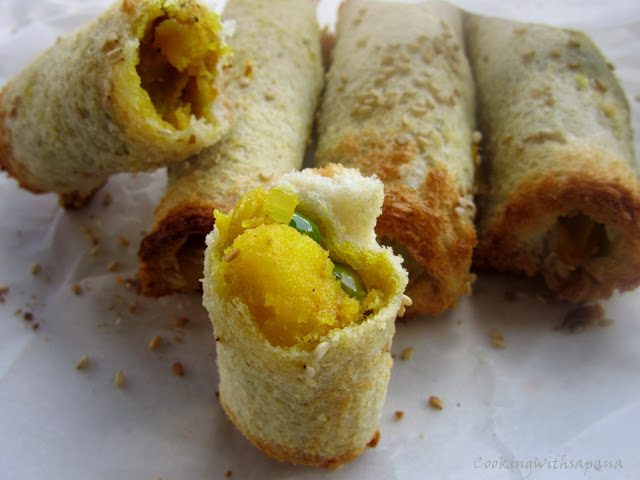 Bake-a-thon 2015
Day-3
Dish-Baked Bread Rolls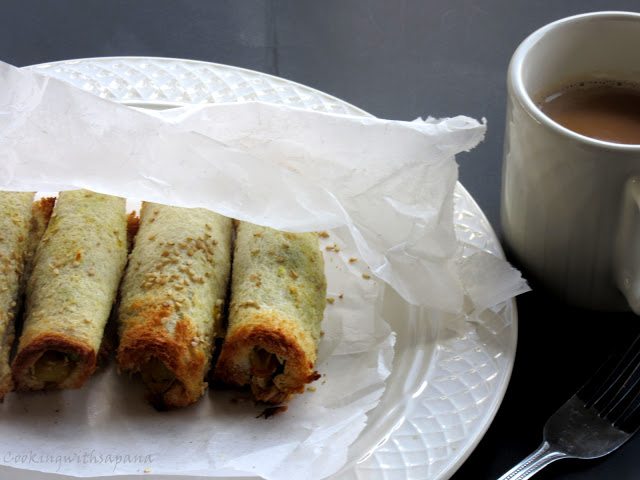 Ingredients:
For stuffing:
2 potatoes,boiled and mashed
1/4 cup peas
1 onion,chopped
1 green chilli,chopped
2 tablespoon cashew,broken
1/4 teaspoon turmeric powder
1/2 teaspoon cumin seeds
1 teaspoon coriander powder
1/2 teaspoon garam masala
salt to taste
few coriander leaves,chopped
2 teaspoon oil

other ingredients:
8 sandwich bread slices
1 tablespoon olive oil
1 tablespoon sesame seeds
Method:
For stuffing:
Heat oil in a pan and add cumin seeds.Let the seeds crackle .
Now add onion and green peas.Cook for 2 minutes till peas are tender.
Add cashew nuts,turmeric,coriander powder,salt and garam masala.
Stir and add crumbled potatoes.Mix well and cook until combined.
Add coriander leaves and set aside.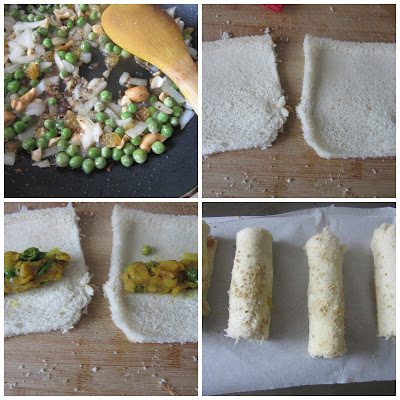 Assembling:
Preheat oven at 170 degrees Celsius and line a baking tray with parchment paper.
Take sandwich bread on a chopping board and cut the brown edges.
Flatten the bread slice by pressing with rolling pin.
Fill a tablespoon of potato peas filling in the center.
Roll the bread slice tightly joining the edges with a little water.
Brush the rolls with olive oil and roll in sesame seeds.
Arrange the bread rolls in baking sheet and bake for 25 to 30 minutes or until golden and crispy.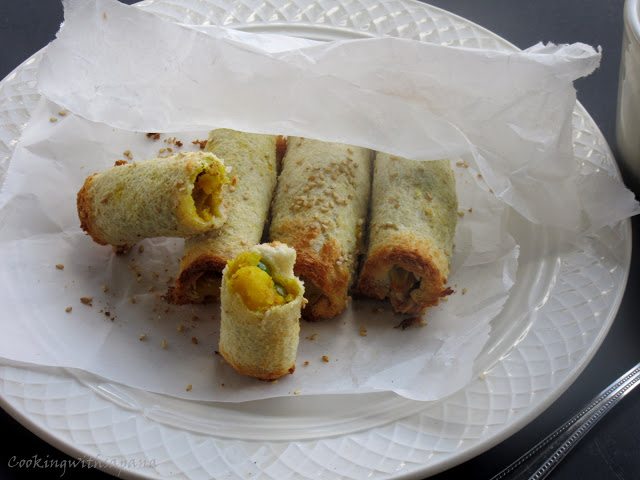 Remove from oven and serve warm with some ketchup and tea.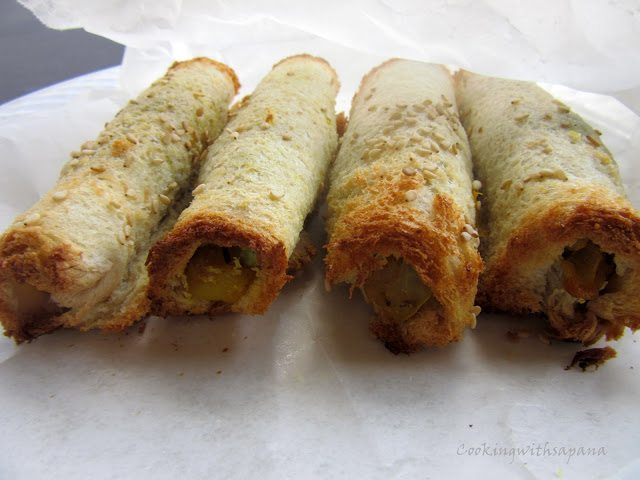 Serve-4 Baking time-25 minutes
This is part of the
Bake-a-thon 2015
Best regards,
Sapana Behl