Apple Turnovers
Christmas has come and gone already , wow time flies too fast.Elder one is still watching Christmas movies on Netflix and singing the same songs .When I asked her she replied it's still Christmas holidays and she is in the festive mood and can watch throughout the holidays.

I made these turnovers from Food 52 and loved the cooked apples in mild spices and wrapped in the puff pastry topped with glaze.I did not make good slits in the top and that is why some of the turnovers slightly opened from the sides.
Bake-a-thon 2015
Day-12
Dish-Apple Turnovers
Source–Here
Ingredients:
1 sheet puff pastry.thawed
2 granny smith apples,chopped
1 tablespoon cornstarch
1/4 cup brown sugar
1 teaspoon vanilla extract
2 tablespoons butter
1 teaspoon cinnamon
1/4 teaspoon ginger
1/4 teaspoon nutmeg
juice of one lemon
1 teaspoon lemon extract
1 tablespoon milk

For glaze:
1 cup icing sugar
1 tablespoon water
1 teaspoon vanilla extract
Method:
Preheat oven to 400 F.
Line a baking sheet with parchment paper.
Thaw the puff pastry sheet as per package instructions.
In a pan melt butter.Add apples and cook for 2-3 minutes.
Add cornstarch, brown sugar,cinnamon,nutmeg ,ginger lemon juice and lemon extract.
Stir and cook for a minute.
Remove from heat and add vanilla extract.
Cool the stuffing.
Cut 8 equal sized squares from the puff pastry sheet .
Place 2 tablespoon of filling in the center of square .
Fold the pastry diagonally and press .Use a fork or knife to seal the edges.
Transfer on baking sheet ,make 2 -3 slits on top and brush with milk.
Bake in preheated oven for about 18 to 20 minutes or until golden.
Remove form oven and cool the turnovers.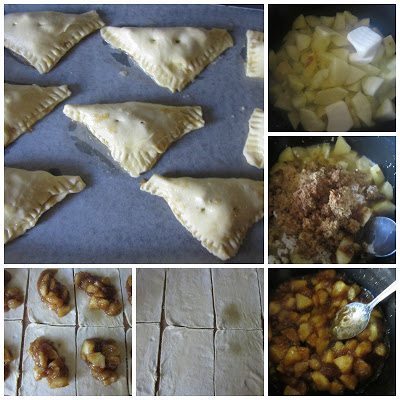 Mix all ingredients for glaze and drizzle it over the turnovers.
Serve and enjoy !!
Serve-8 turnovers Baking time-20 minutes
This is part of the
Bake-a-thon 2015