Tofu Scramble |Tofu Bhurji
We are in the third week of BM#57 and I will be cooking recipes from
Food 52
for three days. When I looked up on the site for some recipes I knew I had to make something to use up my things in the fridge as I had to finish everything before Navratri.I had some tofu sitting in the fridge to be used .So I made this simple yet delicious and healthy tofu scramble .I served it with plain parathas for our lunch.We love paneer bhurji and I make it quite often ,but I have never tried it with Tofu.I did not tell them that it was tofu and they all ate it thinking if it was paneer.At last when I said it was tofu everyone was surprised and said they would have never guessed if I hadn't told them.So I guess now I can replace the tofu with paneer every now and then.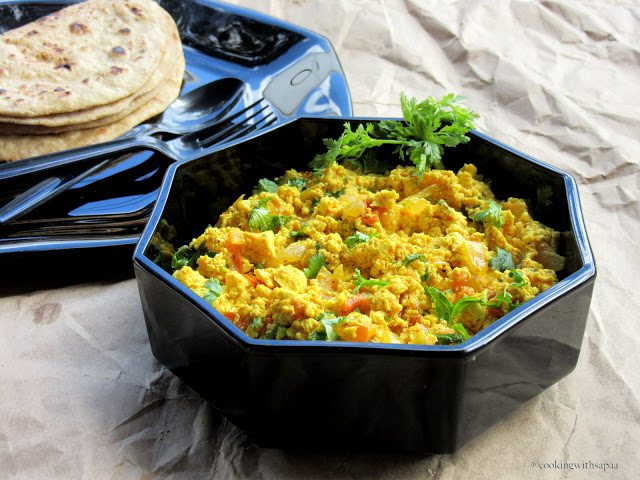 The original recipe used Tahini and nutritional yeast, but I skipped those ingredients as I wasn't sure if kiddo would like it or not.May be next time I will try a small batch with all the ingredients in the original recipe.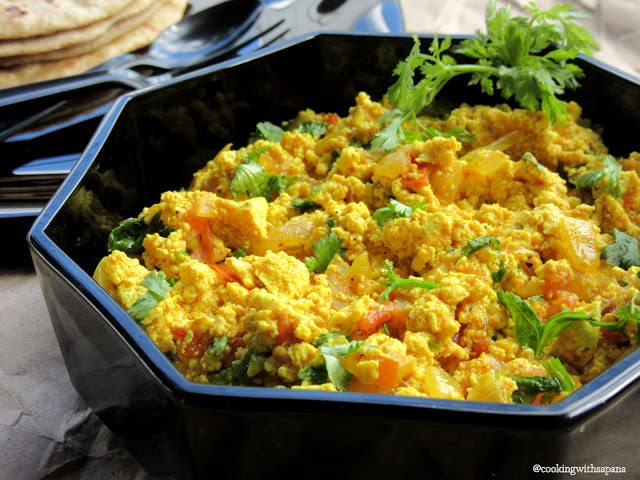 Blogging Marathon#57
Theme–Food 52 Recipes
Dish-Tofu Scramble
Ingredients:
14 ounce extra firm tofu
1 onion,chopped
3-4 garlic cloves,chopped
1 tomato ,chopped
1 cup vegetables of choice,chopped (I did not use)
2 green chilies,chopped
1/2 teaspoon turmeric powder
1/2 teaspoon cumin powder
1 teaspoon garam masala
1 tablespoon olive oil
1/4 cup parsley/coriander leaves,chopped
pepper to taste
salt to taste
Method:
Heat olive oil in a a pan and add garlic.Saute for a minute and then add chopped onions.
Add vegetables now if using and cook covered until tender.
Add turmeric ,cumin and garam masala .Stir and add tomatoes and cook for 2 minutes.
Now add crumbled tofu and cook for 5-7 minutes.Season with salt and pepper.Add chopped parsley or coriander leaves.
Serve warm with any bread or use it as a topping for sandwich or wrap in burrito.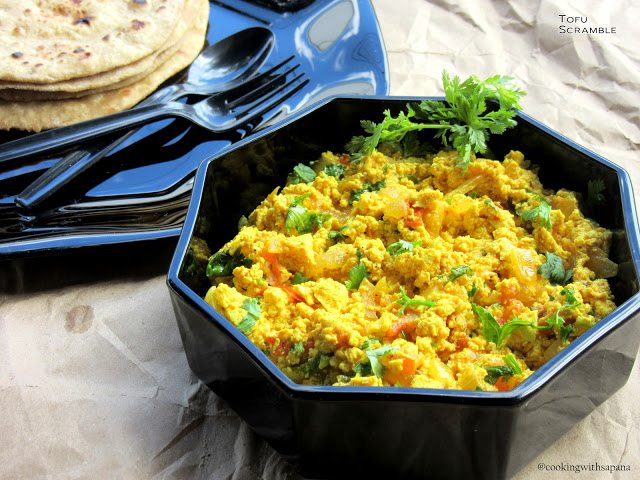 Enjoy!!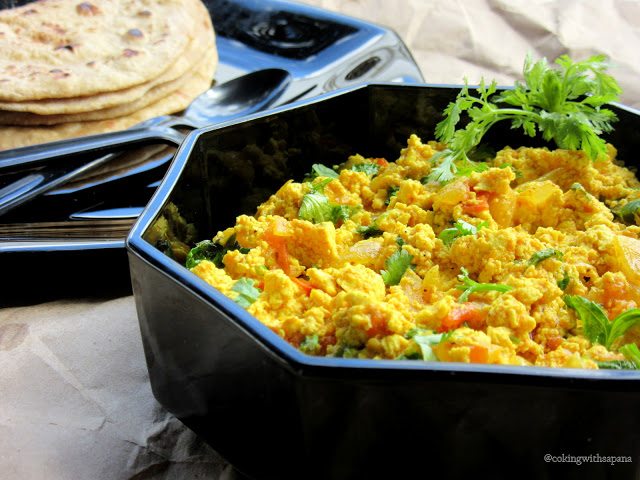 Serve-4 Cooking time-20 minutes
Check out the Blogging Marathon page for the other Blogging Marathoners doing BM#57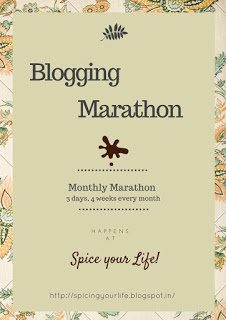 Best regards,
Sapana Behl