Mushroom and Green Beans Quiche
For this month's
baking partners
the quiche recipe is suggested by
+Arthy shama
of
Cook with Arthy Shama
.I made the quiche using tofu and vegetables .We all loved this delicious mushrooms and green beans tofu quiche and had a fabulous weekend brunch .Thanks Arthy Shama for this wonderful recipe.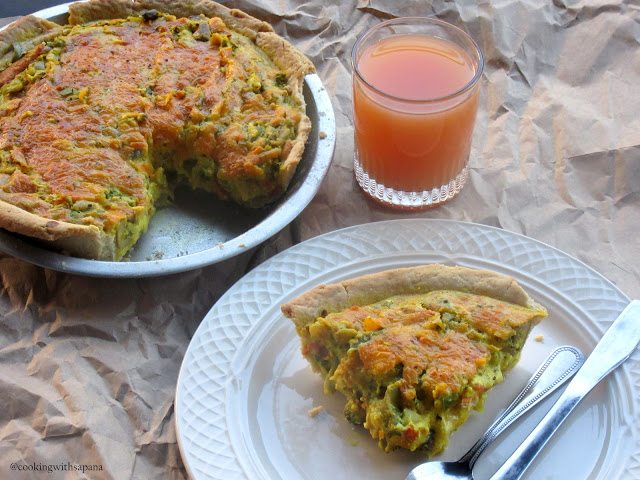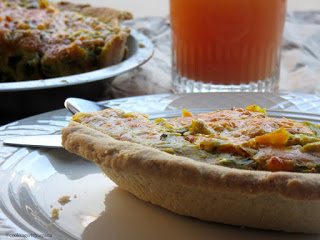 Ingredients:
For crust
1 cup all purpose flour
4 tablespoon butter
1/4 cup cold water
1/2 teaspoon Salt
For Filling:
8 oz tofu
1 cup milk
1/2 cup parmesan Cheese
1 cup mixed vegetables(I used mushrooms,green beans,zucchini,bell peppers)
1 onion ,chopped
3 Garlic cloves , minced
2 Green Chillies ,finely chopped
Salt to taste
1 teaspoon Red chilly flakes
1/4 teaspoon turmeric powder
1/2 teaspoon Black peppercorn , crushed
1 teaspoon parsley
1 teaspoon basil
1 tablespoon oil

Method:
Mix flour and salt together.
Add in butter cubes and mix well till it looks like bread crumbs. Adding enough cold water knead a smooth dough with your hands and let it rest in refrigerator for 2 hours or overnight.
Next day ,add a little flour on a flat surface , roll the dough using a rolling pin.
Place the dough over the pie plate and press it against the bottom and sides of the plate and crimp the edges.Prick the pastry all over using a fork and blind bake in a preheated oven for 10 minutes at 200 degree.Bake again without beans or rice.
For filling:
Add tofu and milk in a blender and blend until smooth and creamy.
Heat the oil and add garlic and onions and saute for a minute.
Add chopped vegetables ,turmeric powder and salt. Mix well , cook for 5-7 minutes and remove from heat.Sprinkle parsley ,basil peppercorn and set aside.
To the baked pastry , sprinkle some grated cheese , pour the veggies mixture and tofu puree in the pie crust .Add some more cheese again.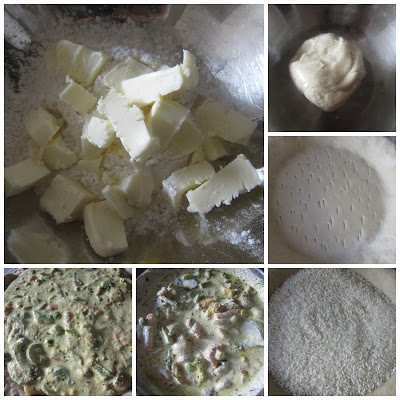 Bake in preheated oven at 180 degree for 20-25 minutes or till golden.
Remove from oven ,slice and serve warm.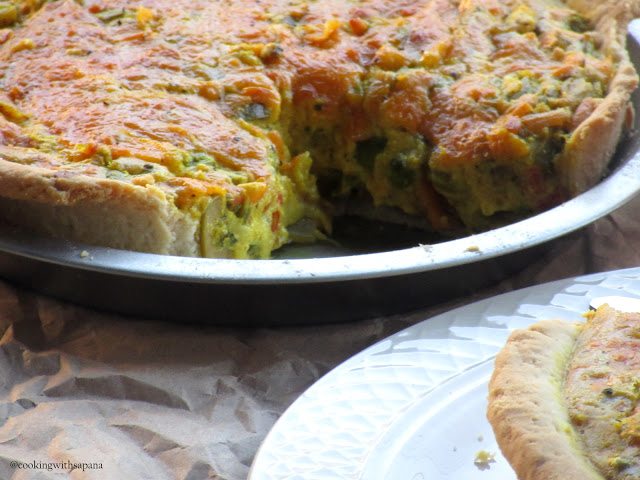 Enjoy!!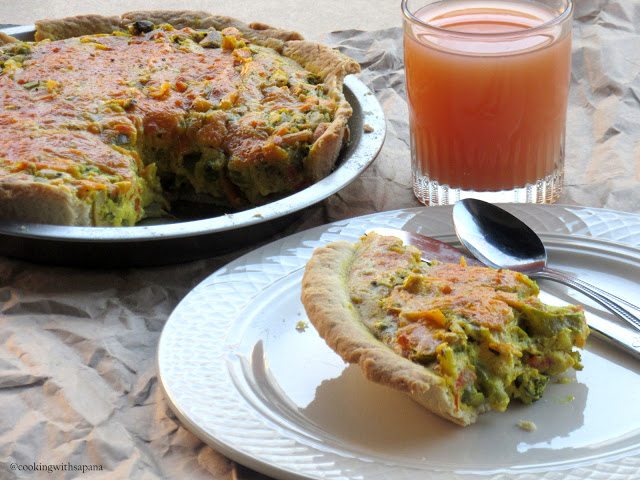 Serve-6 Baking time 1 hour total for crust and filling
Best regards,
Sapana Behl