Churma ladoo |Gujarati Churma na Ladva
For the last day of presenting Sweet /deserts recipe I have made the Gujarati Churma Ladoo.Few days back my Gujarati neighbor,friend gave me some ladoos that I fell in love with the cute shape.Then what ,I pinged her for the recipe and of course the mold.She told me her traditional family recipe and how they always make it every year on Ganesha Chaturthi.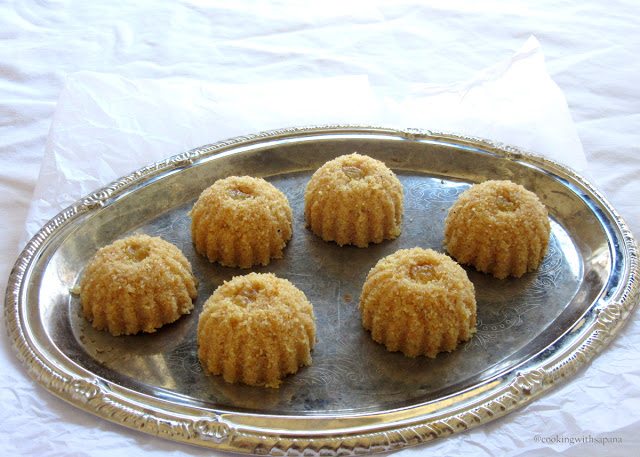 The basic step is the simple churma recipe after that you just need ghee for binding and ladoos are ready in seconds. she told me some people prefer to add more wheat flour, but she loved to add more fine semolina .I followed her recipe to the point without any change.This recipe will make 12 to 15 ladoos and we finished all of them in 2 days.I forgot to click the steps and the mold picture.I will try to update the post soon.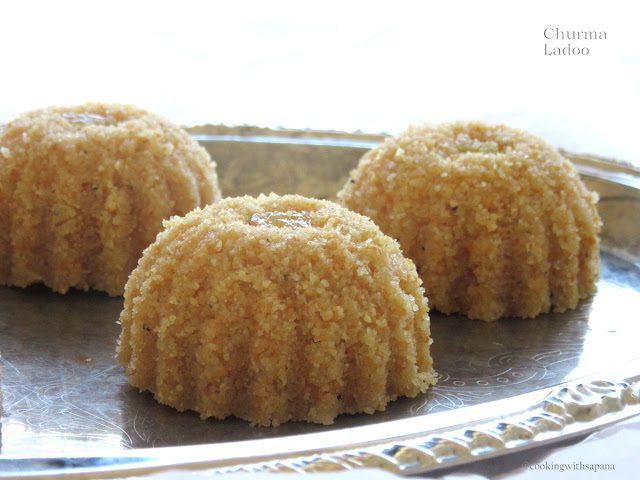 Blogging Marathon#57
Theme-Desserts
Dish-Churma Ladoo
Source-A friend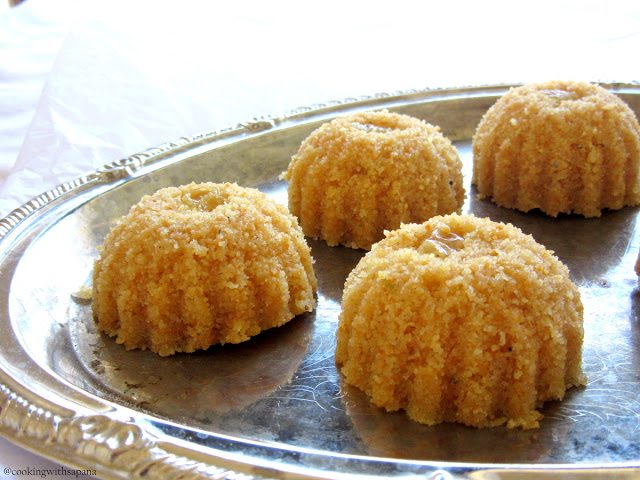 Ingredients:
1 cup fine semolina/soozi
1/2 cup wheat flour/atta
1/2 cup besan/gram flour
1/2 cup milk or as required
1 1/2 cup ghee/clarified butter
1 cup sugar or jaggery
2 tablespoon raisins
1 teaspoon cardamom powder
ghee/oil for frying
Method:
In a mixing bowl add wheat flour,semolina and besan. Add 1/4 cup of ghee and using enough milk knead a firm dough .It should be the same dough like bakhri.
Press the dough in between palms and make muthia shapes.
Heat oil or ghee in a wok and deep fry the muthia shaped dough till golden from both sides.
Drain on paper towel and cool the muthias. Grind the cooled muthias in blender or food processor.
Sieve the big pieces and grind again.
Now add remaining melted ghee,sugar, cardamom powder and raisins in the sieved flours.Mix well until combined.
Add a portion in the ladoo mold and make ladoos.Alternatively make small round balls of laddos.
Enjoy!!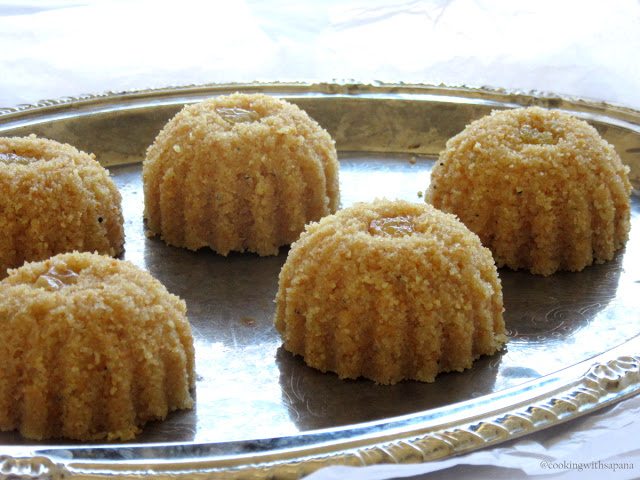 Serve-12-15 ladoos Cooking time-20 minutes
Notes:
You may garnish the ladoos with poppy seeds.
If using jaggery , melt it before adding in the mixture.
Check out the Blogging Marathon page for the other Blogging Marathoners doing BM#57