Vegetable Dum Biryani | Pakistani Veg Biryani
Today is the last and final post for Buffet o table , a month long blogging marathon .This month has passed so quickly .It seems like we had just started cooking for it an now it is over. Strange huh !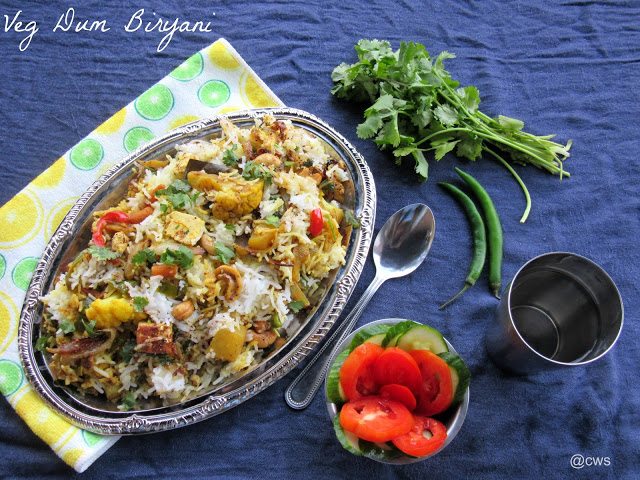 In the last post, I made this vegetable dum biryani that I learned from a Pakistani friend.When we were in Ireland ,my husband's colleague and his family became friends with us. They have two sons who liked to play with Bhuvni whenever they would come to our house. In fact we were living so close that it would only take a two minutes walk to reach each other.Once in a while we loved to eat dinner together and used to talk for many hours.They always told us about their experience of living in Austria for about 6 years. He would always (I guess 50 times )tell us that after moving back to Pakistan from Austria ,life was too hard for them.They couldn't bear the heat ,the traffic and the rush .She said that how they were always looking for an opportunity to get back in Europe and finally got one in Ireland.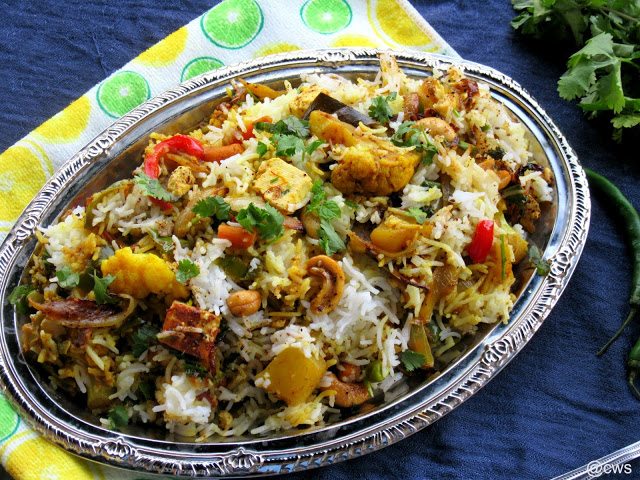 I remember once ,there was a match between India and Pakistan and India won. He called us early in the morning and said , get ready with Halwa and Poori we are coming over as India has won.Such was the jolly nature of them.As they were from Karachi side of Pakistan ,They have had never heard of some of our famous dishes like Chole Bhature , Dosa Sambhar etc.So to introduce them to our famous dishes ,I once made a few of the dishes like Matar Paneer , Chole Bhature , Kadhi Chawal ,Boondi Raita for the dinner. They agreed that they had never seen these dishes in their life ,but they liked each dish.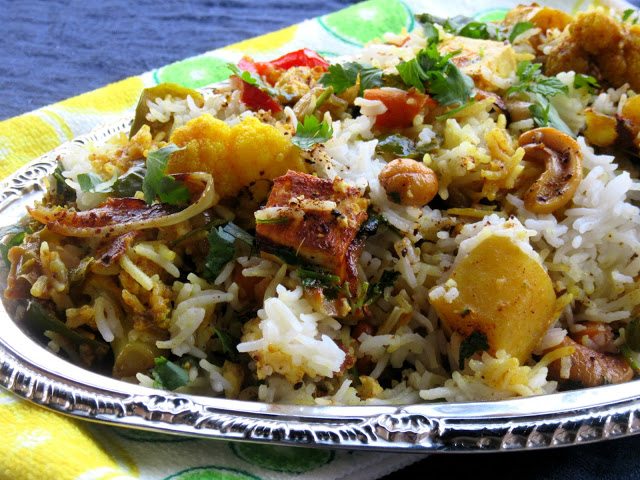 Despite of being non vegetarian, the wife would often cook some veg dishes ,especially whenever they would invite us for lunch or dinner.One day over the dinner she served us with veg dum biryani ,aloo chole ka salan ,roti , gulab jamun and ras malai.I still remember that we ate the biryani like crazy people.We all loved it , it was so delicious biryani that we have never had. She used zarde ka rang and it was looking so beautiful in the biryani.I know I have had to ask her for the recipe.But I forgot that day.After coming back to US , one day hubby asked to make the same biryani and I was like totally lost .Then I called her and asked for the recipe .Since that day this recipe has become our family favorite.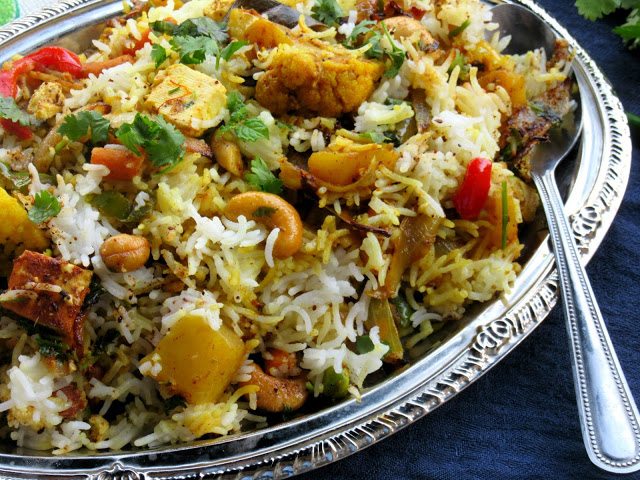 On September 17th, we celebrated our lo's first birthday.We have had some friends for the same .I cooked a simple menu for the dinner that had this Veg Biryani with onion tomato raita , bedmi poori with aloo sabzi , sambhar and Punjabi chole with plain rice,cucumber kosambri,gulab jamun ,chutney ,papad,pickles ,simple salad and black forest cake .I had to spend the whole day in the kitchen to cook this dinner for 20 people.By night I was too tired,but all the efforts were worth taking as everyone love the food.
Here are few pics from the Birthday party.
The food..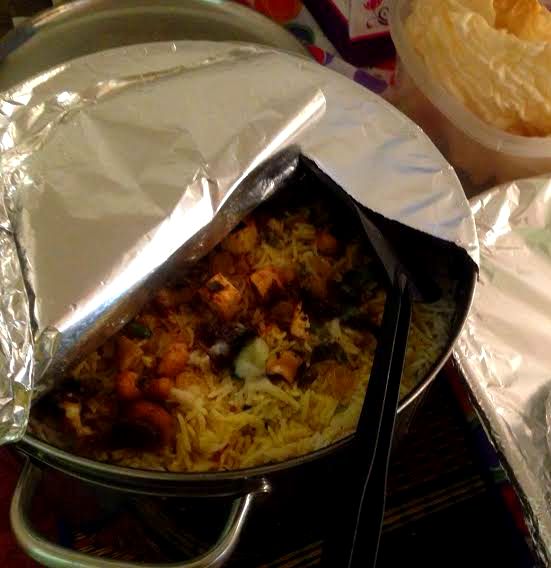 Another view.I was so busy that I couldn't click the pics.My Chinese friend send me these pics on Whatsapp.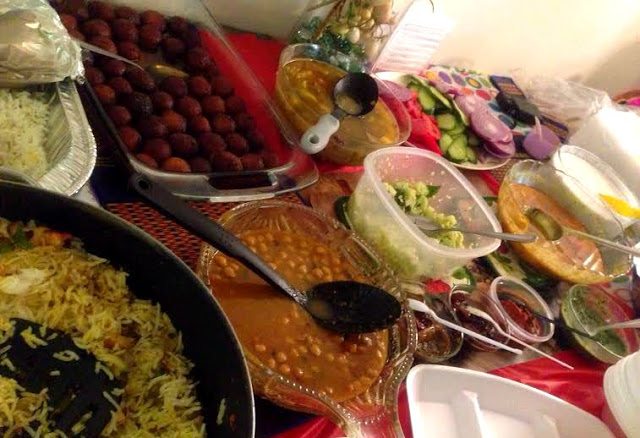 After 5 days it was eo's birthday on 22nd September.She told us not to remove the banner and balloons as she also wants the same for her birthday. She was a little jealous of her sister.I mean she told us this thing a thousand times.You invited so many guests and so many dishes for her birthday , and for me nothing special.
To make her happy I made some appetizers , cake and cupcakes and her favorite Rajma Chawal and Aloo Gobhi for her.The recipes I will post some other time.
Blogging Marathon#56
Theme-Blogger's Choice
Country-Pakistan
Dish-Veg Dum Biryani
Source-A friend

For biryani masala
1 teaspoon nutmeg powder or 1 whole nutmeg
3-4 maces
3-4 star anise
1 teaspoon cardamom
1 teaspoon cloves
1 teaspoon peppercorn
3-4 cinnamon sticks
Method:
Grind all the whole spices together along with nutmeg powder.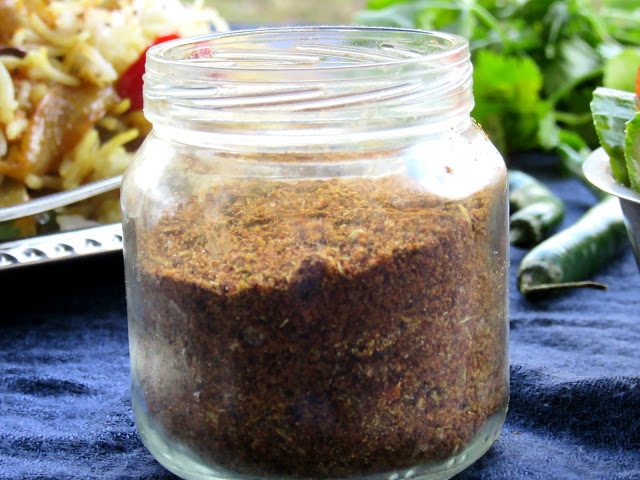 Store in air tight glass jar.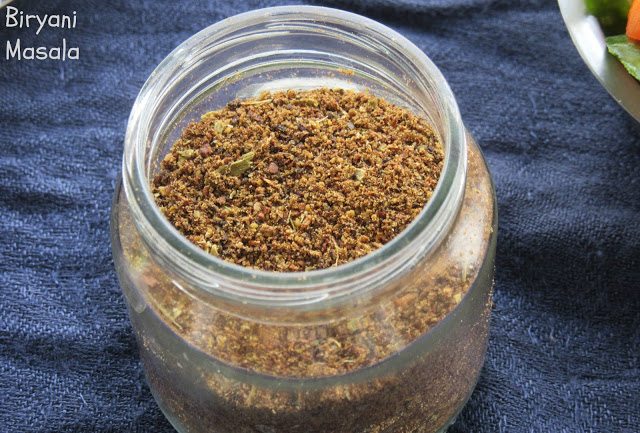 For Rice
Ingredients:
2 cup royal basmati rice
2 bay leaves
2 teaspoon oil
1 tablespoon lemon juice
1 teaspoon salt
water as required
For veggies:
1 red bell pepper,sliced
1 green bell pepper,sliced
1 cup cauliflower,florets
1/2 cup peas
1/4 cup broccoli,florets
1/2 cup carrots,chopped
1 tomato,chopped
1 onion,sliced
4 green chillies,chopped
2 teaspoon biryani masala
salt to taste
1 teaspoon turmeric powder
1 teaspoon red chilli powder
2 teaspoon ginger paste
2 teaspoon garlic paste
1/2 cup oil
To Fry
1/2 cup paneer ,cubed
1/2 cup potatoes,cubed
1 onion ,thinly sliced
1/4 cup cahshew nuts
2 tablespoon raisins
oil for deep frying
Other ingredients
1/4 cup coriander leaves,chopped
2 tablespoon mint leaves,chopped
few saffron strands soaked in 1/4 cup warm milk or zarde ka rang
2 tablespoon ghee/clarified butter
1/4 cup milk cream
2 teaspoon biryani masala
Method:
For Rice
Wash and soak rice in 2 cups of water.
In a pan add the soaked rice along with water.Add a cup of more water ,oil,lemon juice,salt and bay leaves.
Let it cook ,covered for 10 minutes or until rice are partially cooked.Transfer the rice in a big plate or pan and let it cool.
For veggies:
In a pan heat oil and add onions,garlic paste and ginger paste.Saute fro 5-7 minutes or until brown.Now add all the veggies and mix well.Sprinkle salt,biryani masala ,red chilli and turmeric powder.Cook covered until veggies are tender.
To fry
Heat oil in a pan and fry all the ingredients listed to fry ,one by one.Drain on paper towel.

To assemble:
In a mixing bowl add the fried items ,chopped coriander and mint leaves.Pour in the saffron milk ,milk cream and add melted ghee and birynai masala.Mix everything well until combined.(Mixture)
Now in a big heavy bottom pan ,add a layer of cooked veggies along with some water from it.Top it up with a layer of partially cooked rice.Sprinkle some of the mixture.Repeat layers of veggies , rice and mixture until everything is used.
Cover with aluminium foil and then with lid.Cook on simmer(dum) for about 20-25 minutes.
Once cooked remove from heat and serve hot with chutney raita.
Best pair with chutney ,salad and raita.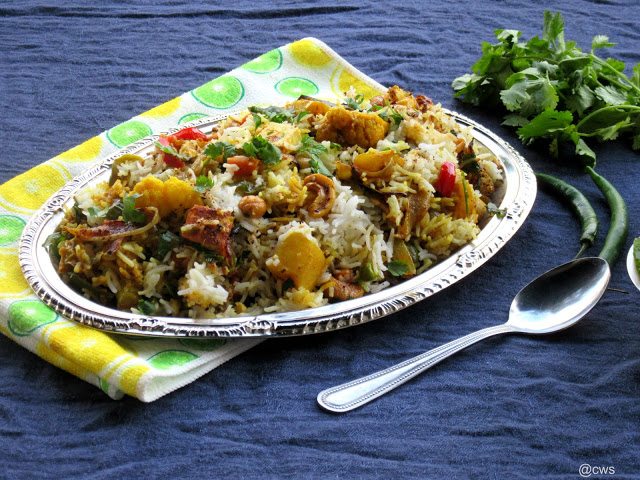 Tastes amazing while still warm.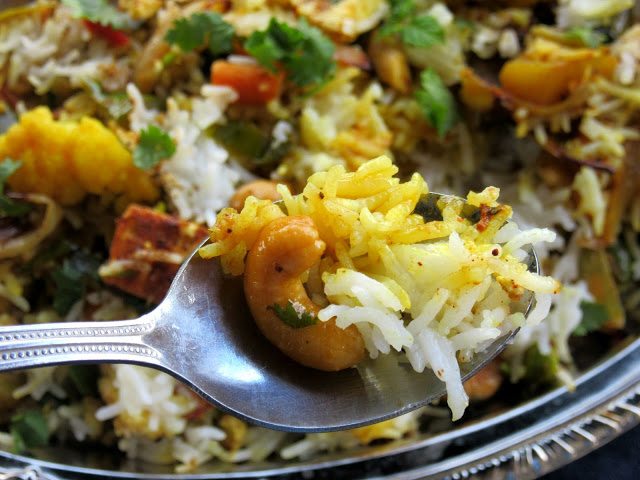 Enjoy!!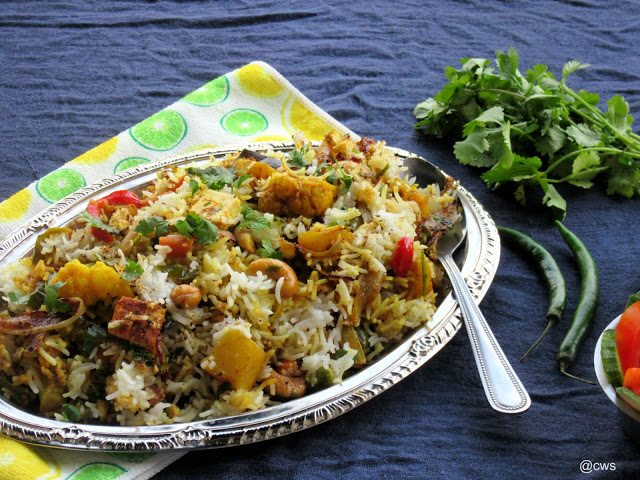 Serve-6 Cooking time-45 minutes
Check out the Blogging
Marathon page for the other Blogging Marathoners doing BM# 56
Sapana Behl