Tortilla Chips and Salsas
First day of our month long marathon has passed .Now coming to the next recipe that is also one of the simplest .So the second famous combo around the countries that I am serving today is Mexican salsa and chips.
Whenever we go to Mexican Restaurants the first thing they would serve from the house is freshly prepared salsa with tortilla chips.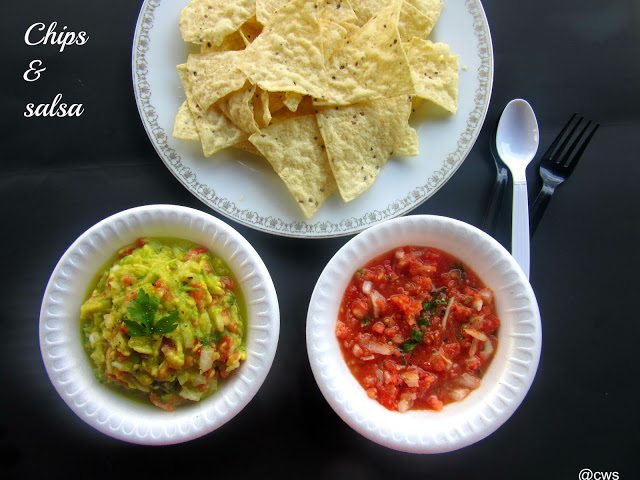 These salsas are so fresh and refreshing that whenever I made them , we all just kept sitting and digging in the salsa bowl nonstop with lots of chips.They are literally very addictive.
My lo ,who is nowadays copying us ,always trys to dig in the salsa with her tiny bit of chips in hands.So I kept a portion without pepper for her.And guess what instead of eating all I can see is salsa on her face , her dress and on the carpet. And a lot of hard work for me to clean everything.

Bloging Marathon#56
Theme-Combos from Countries
Country-Mexico
Dish-Chips and Salsa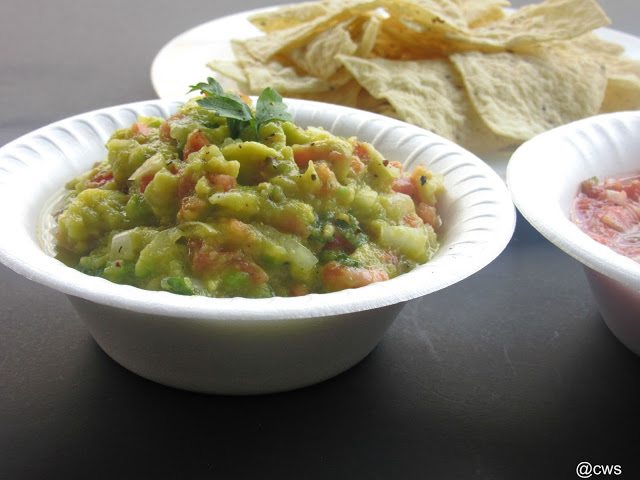 Tortilla Chips
Tomato Salsa
Avocado Salsa
Ingredients:
For Avocado salsa
1 green ripe avocado
1/2 tomato,thinly chopped
1/2 onion,thinly chopped
1 jalapeno pepper,chopped
1 tablespoon cilantro,chopped
2 teaspoon lemon juice
salt to taste
peppercorn to taste,crushed

For chips
1 package homemade or store bought tortilla chips
Method:
Wash and cut avocado and chop thinly.In a mixing bowl add chopped avocado.Mash it properly with the back of spoon.
Add chopped onions,tomato jalapeno and cilantro leaves.
Season with salt and pepper.Mix well and add lemon juice.
Serve immediately with chips.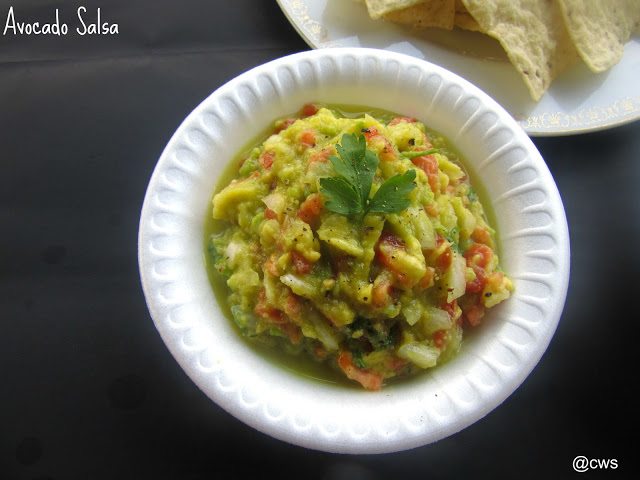 Enjoy!!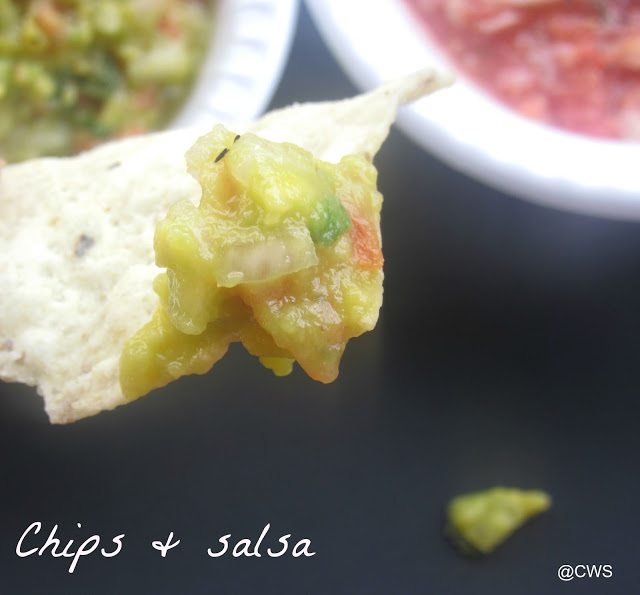 Serve-2 Prep time-10 minutes
Hope you will try the recipe at home and stay tuned for lots more.See ya
Tortilla Chips
Tomato Salsa
Avocado Salsa
Check out the Blogging
Marathon page for the other Blogging Marathoners doing BM# 56