Sindhi Dal Pakwan
Sindhi cuisine is famous for its unique flavors and the influence from royal dynasties like Mughals ,Arabs ,Turkans .The popular cuisine consist of the hearty dishes like Scrumptious biryanis and flavorful curries along with delicious sweets.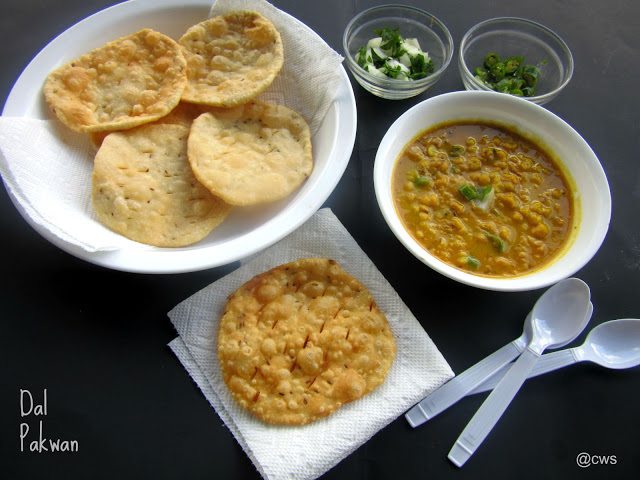 The starting of the day is with a royal breakfast known as Dal Pakwan.This is the crisp fried palin flour flatbreads, served with simple Chana dal, garnished with coriander leaves and chopped onion.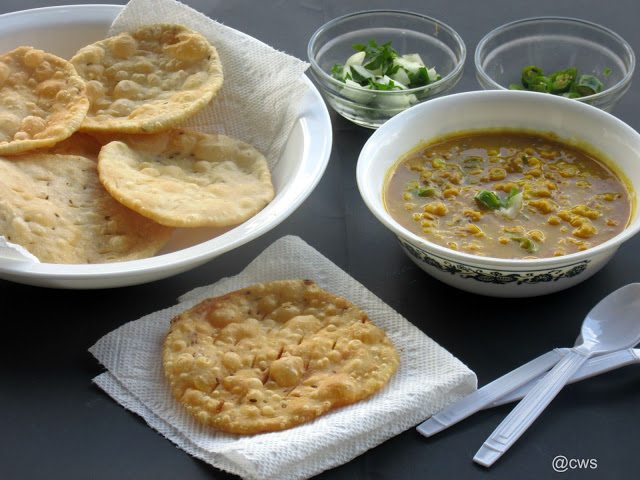 I made this delish combo for our breakfast and we loved it.I have never thought that the simple chana dal can be so scrumptious without lots of spices and aromatics.The perfectly crisp pakwan and the flavorful dal makes a wonderful breakfast dish.
Blogging Marathon#56
Theme-Breakfast Across Countries
Country-Sindh/India
Dish-Dal Pakwan
Source–Here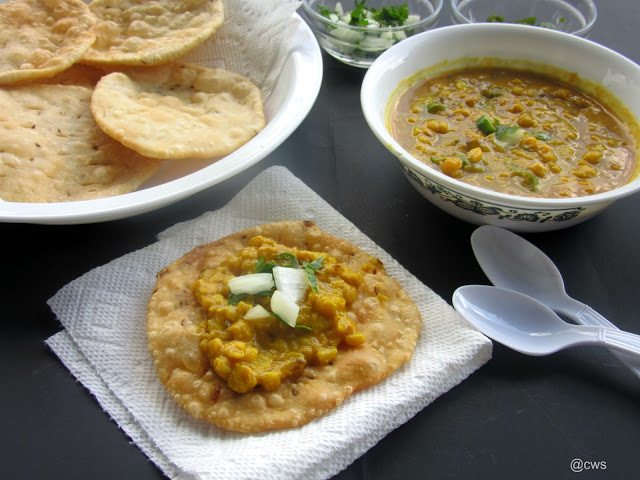 Ingredients:
For Dal
1 cup chana dal/split bengal gram
1 green chilli ,chopped
1 tsp cumin seeds
1/4 teaspoon turmeric powder
1 teaspoon chilli powder
1/2 teaspoon garam masala
salt to taste
2 tablespoon clarified butter/ghee
For Pakwan
2 cups plain flour
1/4 cup milk
1 teaspoon cumin seeds
salt to taste
2 tablespoon ghee
oil for deep frying
water as required
Method:
For Dal
Wash and soak chana dal in enough water for 2 hourrs.Drain and cook for 3 whistles with salt and turmeric powder alongwith 1 1/2 cup of water.
Heat ghee in a pan and add cumin seeds.Let the seeds crackle for a minute.
Now add green chilli ,chilli powder ,garam masala.Stir and add cooked dal .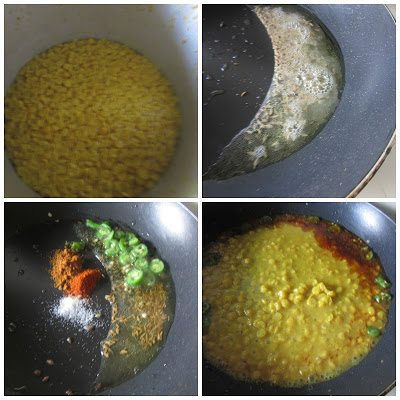 Cook for 2-3 minutes and mix well until combined.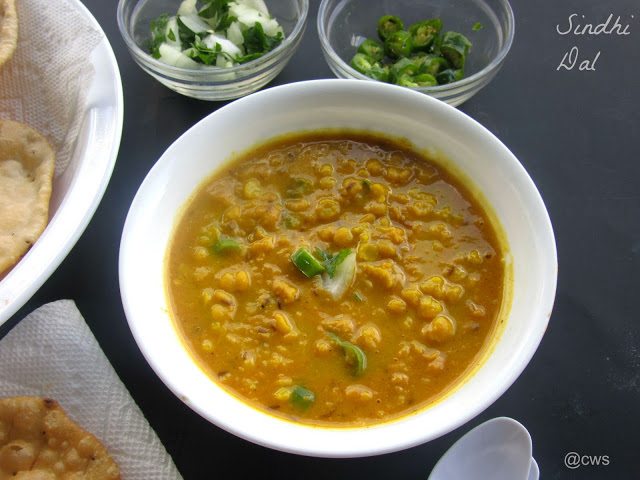 For Pakwan
In a bowl add all ingredients except oil and knead a firm dough using enough water.
Roll the dough into a circular disc and prick with fork.
Heat oil in a wok and deep fry the discs until golden brown and crisp from both sides.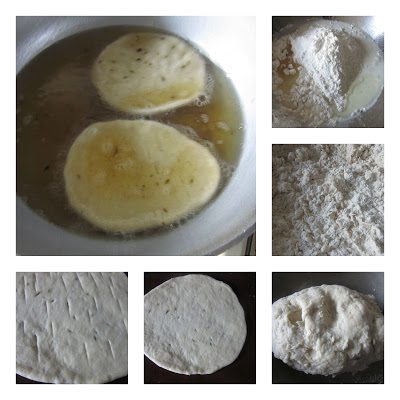 Drain on paper towel.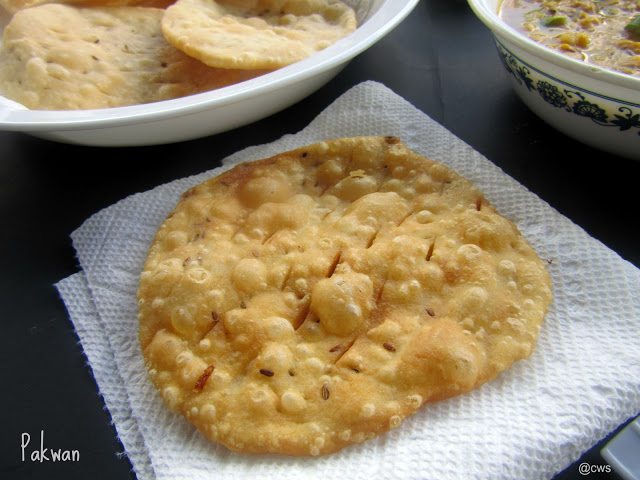 To assemble:
In a serving plate arrange two pakwan .Top with dal and chopped onions and coriander leaves.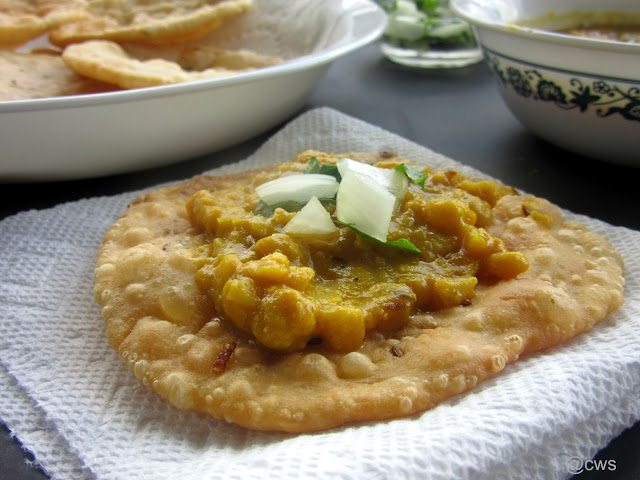 Serve immediately.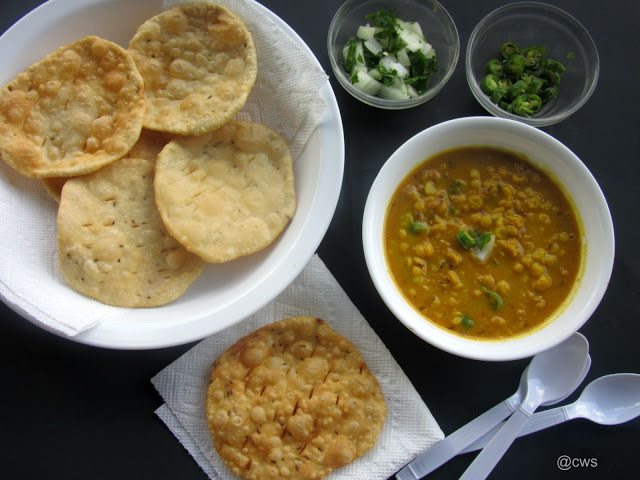 Enjoy!!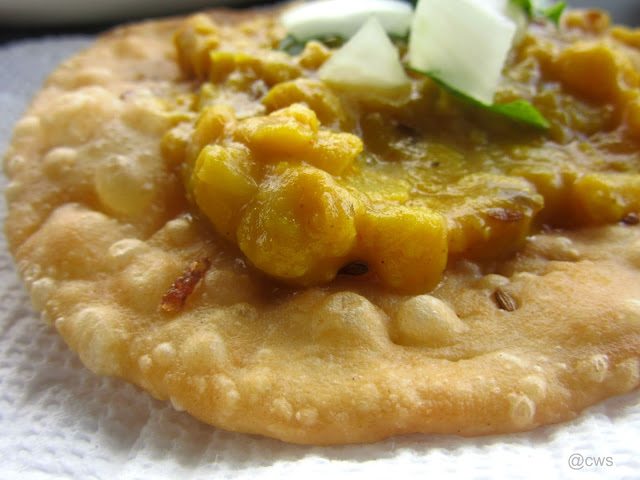 Serve-3 Cooking time-30 minutes
Check out the Blogging
Marathon page for the other Blogging Marathoners doing BM# 56
Best regards,
Sapana Behl