Mini Manipuri Thali
This is the fourth day of showcasing Indian States Cuisine .As I wanted to make simple thalis for the states so while searching for some thalis, I was sure to knew where to look up first.
Manjula posted various Thalis from all states in the last year mega marathon .So while going through her recipes again ,I ended up on this simple Manipuri Thali.I didn't do any research or looked up on the internet .I completely followed her recipes and all the credit for my mini version goes to her.
I know I didn't present the way she presented it.But still, here I am with this simple Manipuri meal.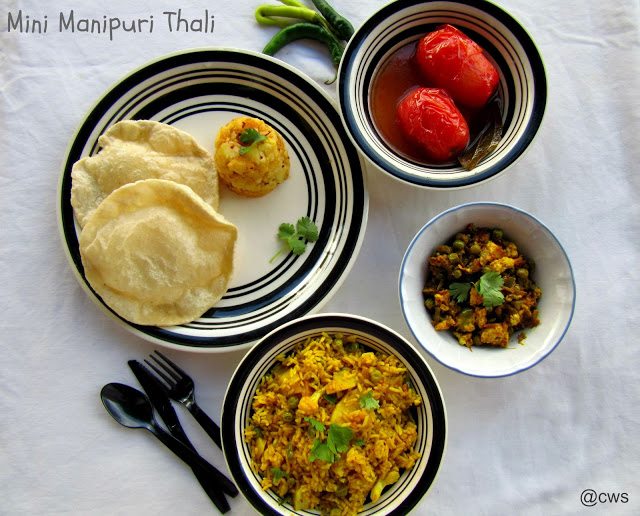 Manipuri cuisine is the simple ,healthy and tasty .Most of the recipes use red chilli pepper instead of Garam masala and therefore the food is supposed to be healthy ,tasty and organic.The staple food of Manipur consists of rice ,fish and leafy vegetables.They like to grow fresh vegetables in their garden and prepare their own seasonal recipes.
Blogging Marathon#56
Theme-Indian States
State-Manipur
Dish-Mini Manipuri Thali
Source–Here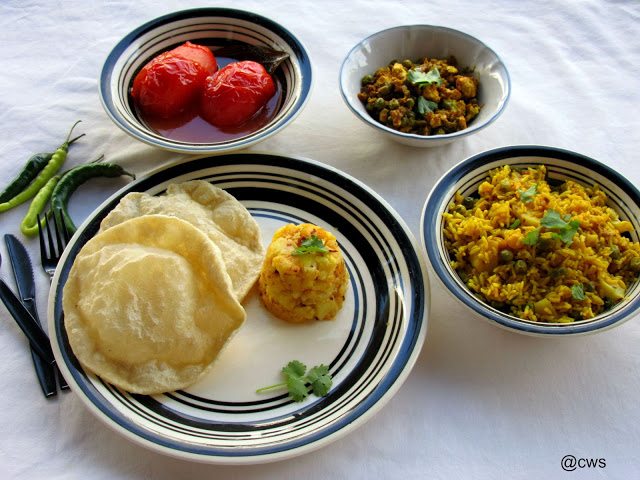 Sana Thongba
Alu Kangmet
Tan
Chak Angouba
Khamen Ashinba Athoomba
Sana Thongba
Ingredients:
1 cup paneer,cut in cubes1 potato,chopped
1/4 cup green peas
1 teaspoon cumin seeds
2 green chilli,chopped
1 tomato,chopped
1 onion ,chopped
1 cup milk
1/2 teaspoon red chilli powder
1/4 teaspoon turmeric powder
1/2 teaspoon coriander powder
salt to taste
1 tablespoon mustard oil
few coriander leaves,chopped
Method:
Heat oil in a pan ,add cumin seeds.As the cumin seeds starts spluttering ,add chopped onion.
Saute for 1-2 minute till onions are golden.
Now add chopped potatoes and tomatoes.
Add turmeric powder,red chilli powder,coriander powder and salt.Let the potatoes cook for 5-7 minutes.
Now add paneer cubes and milk.Cook covered until milk is absorbed.
Garnish with coriander leaves and serve hot with rice.
Alu Kangmet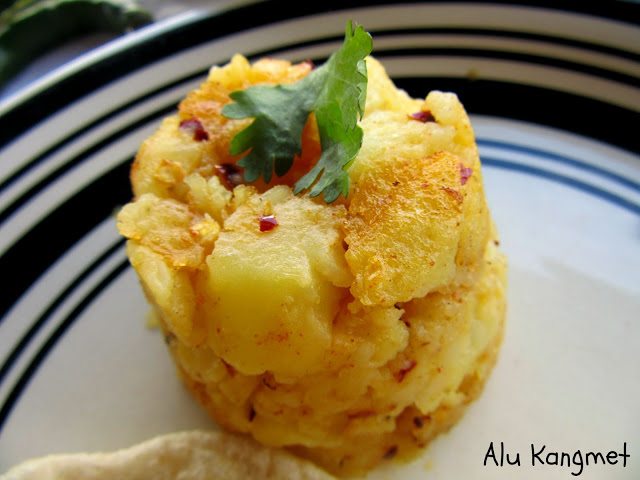 Ingredients:
2 potatoes,mashed
1/2 teaspoon red chilly flakes
salt to tatse
2 teaspoon mustard oil
Method:
Heat oil in a pan ,add chilly flakes ,mashed potatoes and salt.
Mix well and cook for 4-5 minutes.
Remove from heat and serve hot with tan.

Tan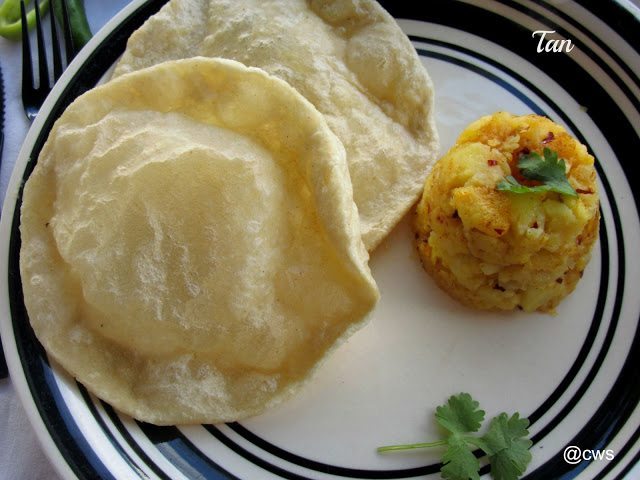 Ingredients:
1 cup plain flour/maida
salt to taste
water as required
oil for deep frying

Method:
In a mixing bowl,add flour ,salt and mix well.
Knead a firm dough using enough water.
Make small balls from the dough.Roll each ball into a round disc like puris.
Heat oil in awok and deep fry the discs until light golden and puffy.
Remove from oil,drain on paper towel and serve hot with any side dish.

Chak Angouba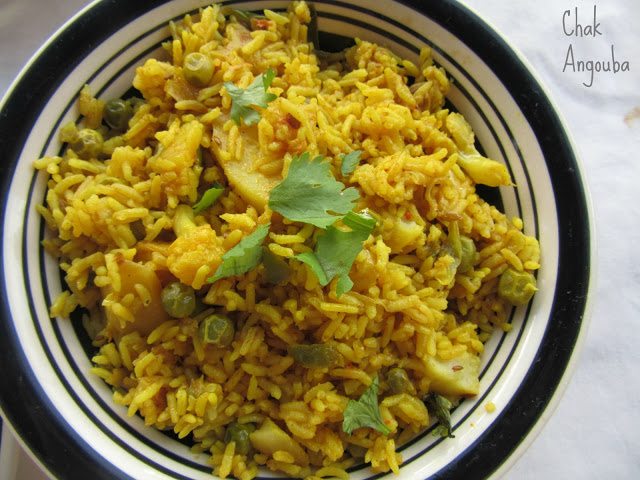 Ingredients:
2 cup rice,cooked
1 cup mixed vegetables,chopped(cauliflower,potato,peas)
1 onion,chopped
1 green chilly,chopped
1 teaspoon cumin seeds
1 teaspoon coriander powder
1/2 teaspoon turmeric powder
1 teaspoon chilli powder
salt to taste
2 tablespoon mustard oil
few coriander leaves,chopped
Method:
Heat oil in a pan,add cumin seeds.
Add onion ,green chilies and saute for 2 minutes.
Now add salt,turmeric,red chili and coriander powder.Mix well and add the chopped vegetables.
Cook ,covered until veggies are done.
Add cooked rice,mix well and simmer for 3-4 minutes.
Remove from heat and garnish with coriander leaves.
Serve hot.
Khamen Ashinba Athoomba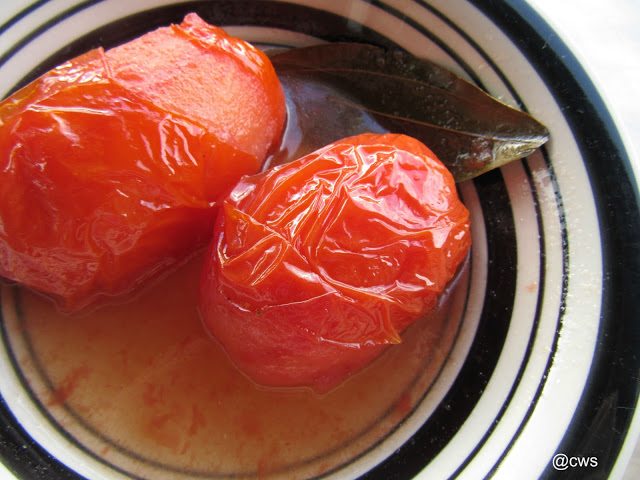 Ingredients
2 plum tomatoes
1/2 cup sugar
1/2 cup water
1 bay leaf
a pinch cumin seeds
oil for frying
Method:
In a saucepan ,add water ,sugar ,bay leaf and cumin seeds.Bring to boil and set aside.
Heat oil in a apan and fry the tomatoes till the skin starts shrinking.
Remove from oil and prik with fork.
Add the tomatoes in sugar syrup and let them soak the syrup.
Serve and Enjoy !!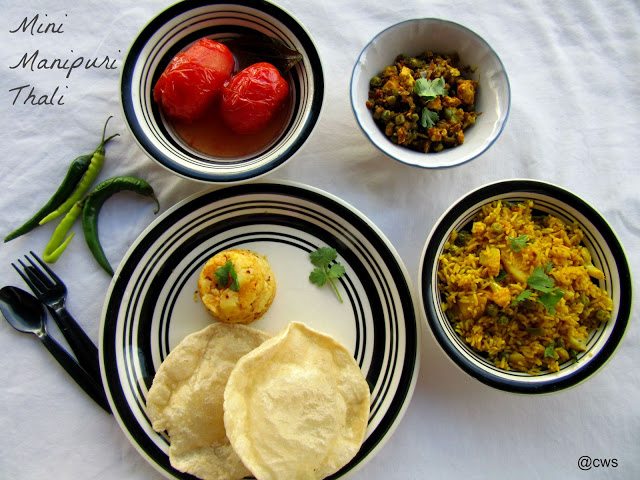 Enjoy!!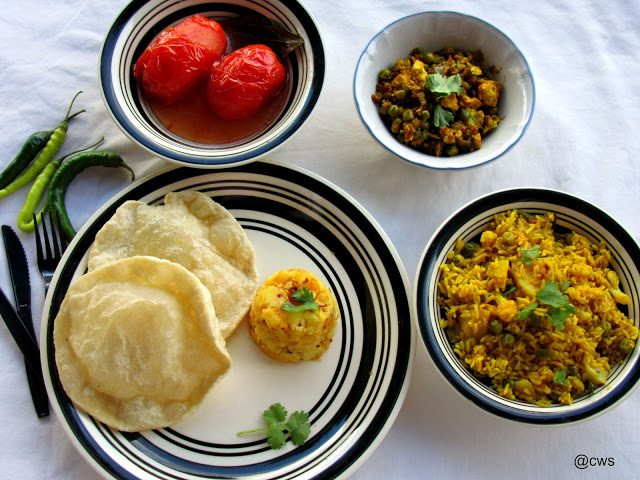 Serve-2 Cooking time-1 hour

Hope you will try the recipe at home and stay tuned for lots more.See ya
Sana Thongba
Alu Kangmet
Tan
Chak Angouba
Khamen Ashinba Athoomba
Check out the Blogging
Marathon page for the other Blogging Marathoners doing BM# 56
Best regards,
Sapana Behl