Mini Karnataka Thali
After tasting
Mini Manipuri meal
now we have come to Karnataka Last year when we were in Ireland we went to one friend's home for dinner.They are from Karnataka and served us with their family favorite meal like tamarind rice ,lemon rice ,sambhar-rice,cucumber kosambri onion pakodi,papadam ,gulab jamun and ice cream for the dinner.My family loved each dish that we ate there to the core.So when I told hubby that I will make some dishes from Karnataka ,he immediately asked me to repeat the same dishes.
I tried to make everything but still forgot to make the pakodis and papad.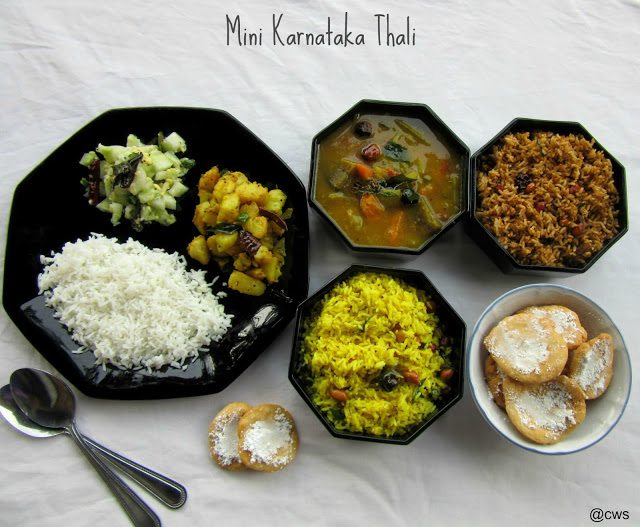 For sweet dish ,I was a little lost .After a lot of research, I made Chirotis and I am glad that we got a chance to taste such delicious and mouth melting sweet from the state.
Blogging Marathon#56
Theme-Indian States
State-Karnataka
Dish-Mini Karnataka Thali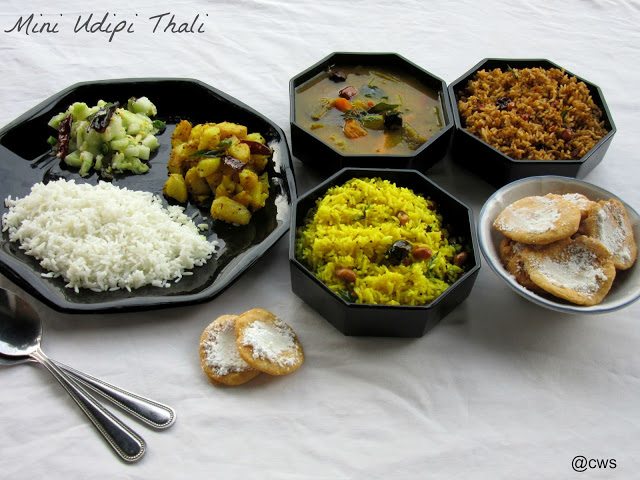 Udipi Sambhar
Lemon Rice/Chitranna
Tamarind Rice/Puliyogare
Steamed Rice
Alugadde Palya
Cucumber Moong Kosambari
Chiroti
Alugadde Palya
Source-Here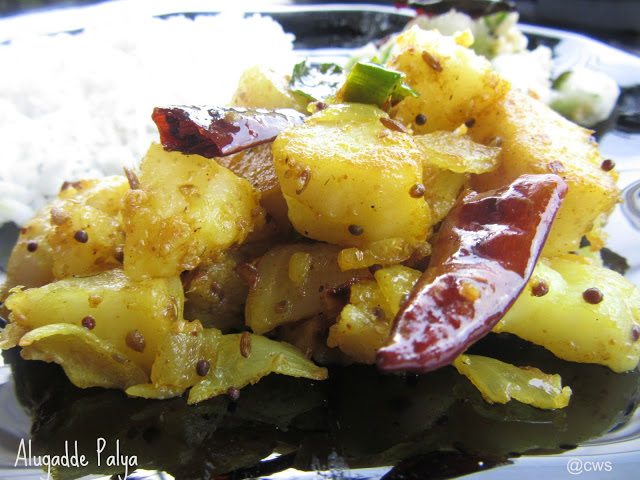 Ingredients:
2 Medium potatoes,boiled and cubed
i onion,chopped
1 teaspoon ginger,grated
1 teaspoon garlic ,grated
1 green chilly,chopped
few curry leaves
2-3 dry red chilli
1/2 teaspoon mustard seeds
1/2 teaspoon cumin seeds
a pinch aseftida
1/4 teaspoon turmeric powder
salt to taste
1 tablespoon oil
Method:
Heat oil in a pan ,add asftida,cumin and mustard seeds.
Let the seeds crackle.
Now add curry leaves,dry red chilli ,ginger ,garlic and green chillies.Saute for a minute.
Add chopped onion and saute for 2-3 minutes till onions are light brown.
Now add salt and turmeric powder.Stir and add potatoes.Mix well and cook for 5-7 minutes.
Remove from heat and serve hot.

Cucumber Moong Dal Kosambari
Source-Here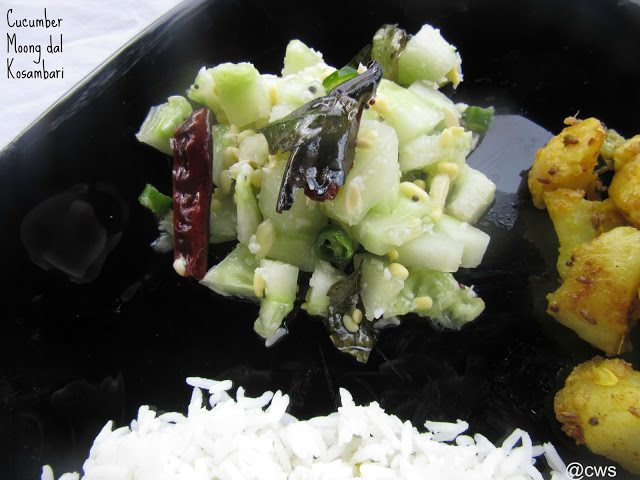 Ingredients:
1 cucumber,peeled and cut in small cubes
2 tablespoon split moong dal
1 green chilli,chopped
2 tablespoon coconut,dessicated
salt to taste
1 tablespoon lemon juice
To temper
1 teaspoon oil
a pinch aseftida
1/2 teaspoon mustard leaves
4-5 curry leaves
2 dry red chillies
Method:
Wash and soak moong dal in 1 cup water for 2 hours.Drain and set in a bowl.
Add chopped cucumber over the dal. Add coconut,green chilli and lemon juice .
Heat oil in a pan and add all the ingredients for tempering.
Pour the tempering over the kosambari.
Just before serving add salt and mix well.Serve immedieately.

Lemon Rice/Chitranna
Source-Here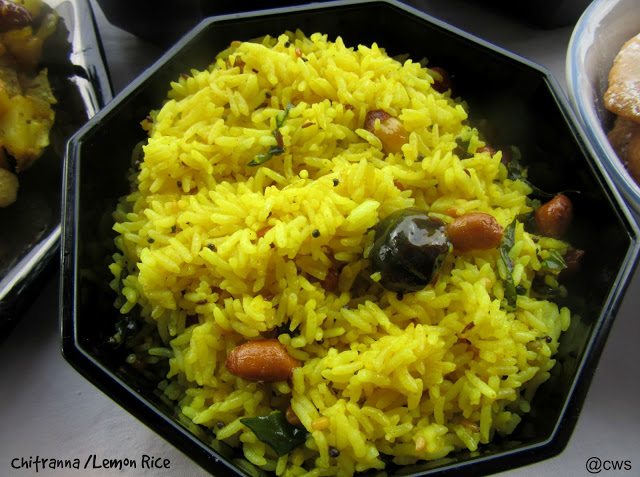 Ingredients:
2 cup sona masori rice,cooked
1/2 teaspoon turmeric powder
salt to taste
2 green chilli,chopped
1 onion,chopped
1 teaspoon garlic,grated
juice from one lemon
1 teaspoon mustard seeds
a pinch aseftida
few curry leaves
2 tablespoon peanuts
1 teaspoon urad dal
1 teaspoon chana dal
few coriander leaves,chopped
Method:
Heat oil in a pan , add aseftida,mustard seeds and curry leaves.Let the seeds splutter.
Now add urad dal ,chana dal ,peanuts, garlic and onion.Saute for 2-3 minutes.
Add green chilli ,turmeric powder and salt ,mix well.
Finally add cooked sona masori rice and stir well until combined.
Add lemon juice and coriander leaves .Serve warm
Serve-2 Cooking time-15 minutes
Enjoy!!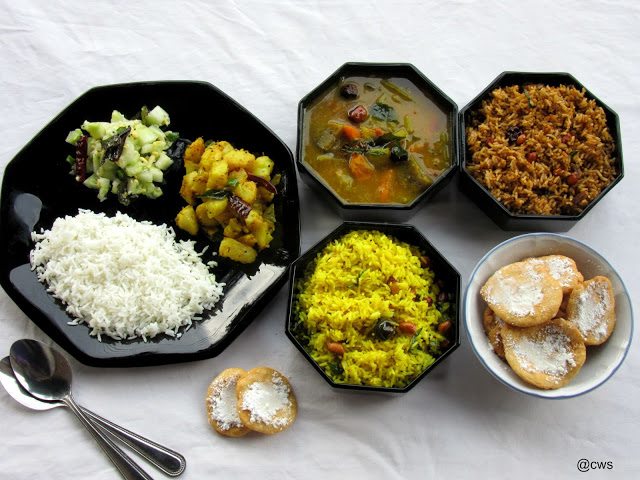 Serve-4 Cooking time-1 1/2 hour


Udipi Sambhar
Lemon Rice/Chitranna
Tamarind Rice/Puliyogare
Steamed Rice
Alugadde Palya
Cucumber Moong Kosambari
Chiroti
Hope you will try the recipe at home and stay tuned for lots more.See ya
Check out the Blogging
Marathon page for the other Blogging Marathoners doing BM# 56
Best regards,
Sapana Behl