Mini Bengali Thali
This is the last day of posting cuisines from Indian States and as per decided before I wanted to make a simple thali.So for the end day I chose Bengali cuisine.The cuisine is best known for its delicate flavors alongwith a wide variety of desserts.
Frankly speaking I was so happy with the results of Misthi Doi as I was skeptical to make it because of my previous failed attempts. But guess what, now I know how to make it.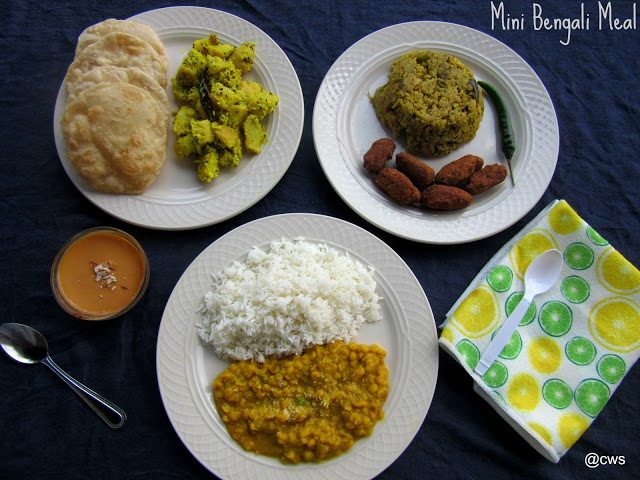 The bhappa aloo were very simple yet delicious and tasted great with luchis.Cholar dal was a so different from my punjabi chana dal .The addition of coconut in the tempering gave it a nutty flavor.
Bengali khichuri is simple and filling one pot meal and can be eaten without any side or curd.The most appreciated dishes were misthi doi and soya chops.
The day I made this meal was sunny but by the time I finished cooking ,all of a sudden it was dark and rainy.The same darkness is displaying in my pics. 🙁
Blogging Marathon#56
Theme-Indian States
State-West Bengal
Dish-Mini Bengali Thali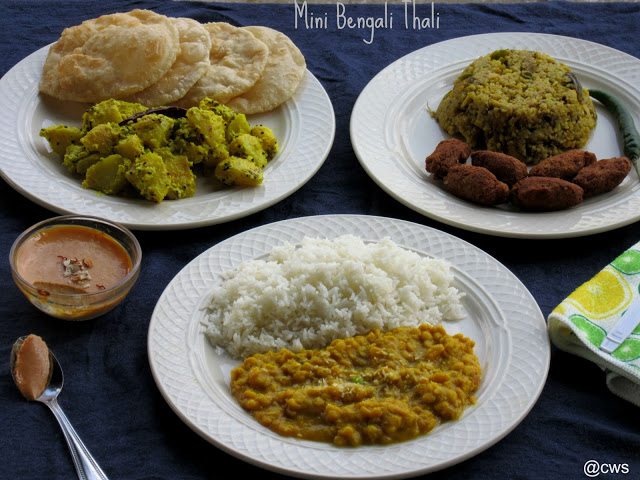 Luchis
Cholar Dal
Plain Rice
Bhappa Aloo
Bengali Khichuri(Old Post)
Soya Keema Chops
Misthi Doi
Luchis
Source–Here
Ingredients:
1 cup all purpose flour
1 tablespoon oil
salt to taste
water as required
oil for deep frying
Method:
In a mixing bowl,add flour ,oil ,salt and mix well.
Knead a firm dough using enough water.
Make small balls from the dough.Roll each ball into a round disc like puris.
Heat oil in a wok and deep fry the luchis until light golden and puffy.
Remove from oil,drain on paper towel and serve hot with any side dish.
Serve-2 Cooking time-15 minutes
Cholar Dal
Source–Here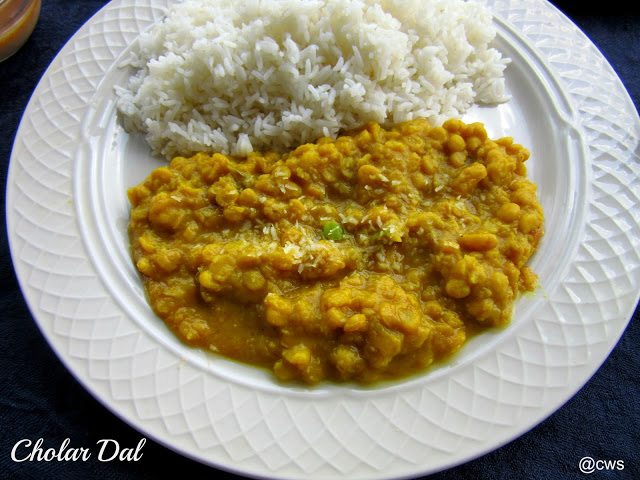 Ingredients:
1 cup chana dal/split bengal gram
2 green chilli,chopped
1 teaspon red chilli powder
1 teaspoon coriander powder
1/2 teaspoon turmeric powder
1 teaspoon garam masala
2 tablespoon ghee
1 tablespoon coconut,dessicated
1 teaspoon sugar
salt to taste
Method:
Wash the dal 2-3 times and cook in pressure cooker for 3-4 whistles.
Now open the lid and add garam masala,salt ,turmeric powder and coriander powder in the dal.
Mash the dal a little.
Heta ghee in a pan and add shredded coconut,green chilli ,red chilli powder and garam masala.
Add the cooked dal in it ,mix well and cook for -3 minutes more.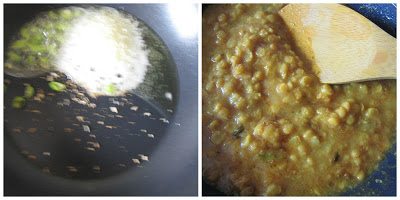 Remove from heat and serve hot.
Serve-3 cooking time-30 minutes
The veg Bengali thali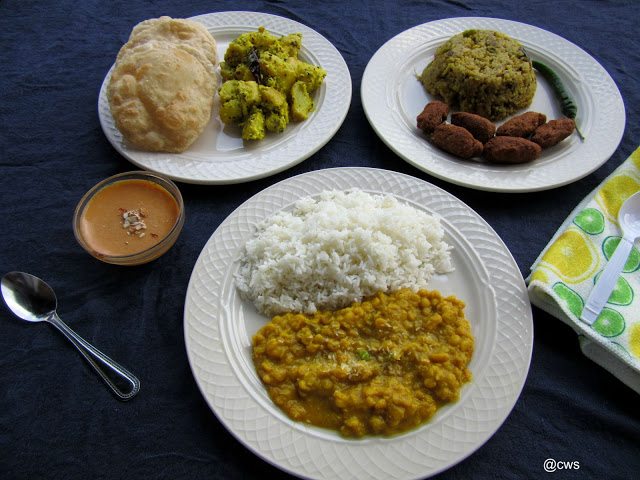 Enjoy!!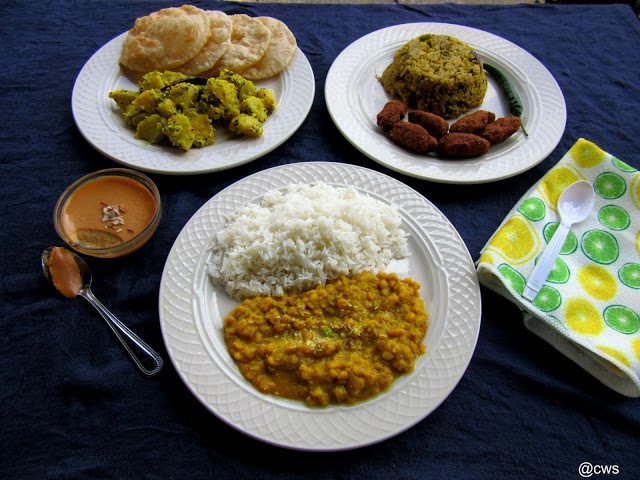 Luchis
Cholar Dal
Plain Rice
Bhappa Aloo
Bengali Khichuri(Old Post)
Soya Keema Chops
Misthi Doi
Check out the Blogging
Marathon page for the other Blogging Marathoners doing BM# 56
Best regards,
Sapana Behl