English Muffins
As per wiki "An English muffin is a small, round, flat type of yeast leavened bread which is commonly sliced horizontally, toasted, and buttered." They are commonly eaten in the English speaking world.
These muffins are available in all British supermarkets .It is said that in the past they were sold by street hawker door to door as there were no ovens back then.It also originated the traditional song "Do you know the muffin man " ,the song that I am singing all the time along with lots other for my lo. Believe me or not before I didn't even knew this song .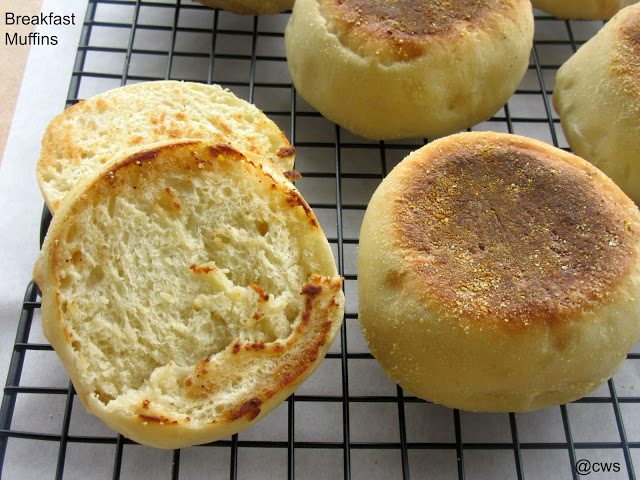 This was my first recipe that I made for Buffet on Table .After clicking the pictures I remembered that I forgot the butter bowl and jam on the kitchen counter .By then I was literally so tired that didn't bother myself to take more clicks with butter and jam.While editing picks I was thinking like what the hell is butter knife doing in the pics without butter and jam ? I couldn't control laughing for a while,Silly me.
Theme-Breakfast Across Countries
Dish-English Breakfast Muffins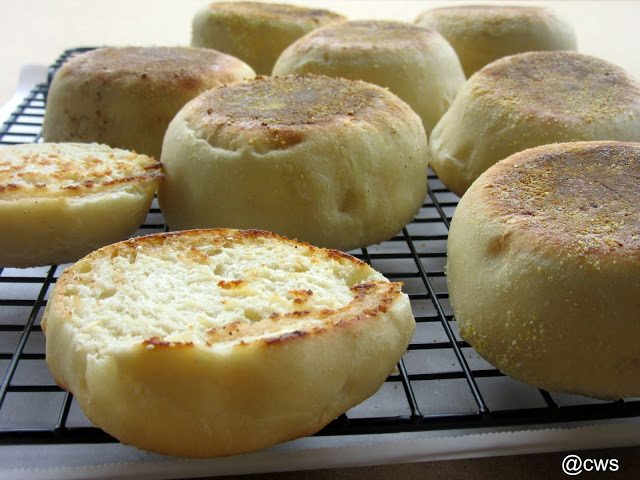 3/4 cup all purpose flour
1/2 teaspoon active dry or instant yeast
3 3/4 cup all purpose flour
2 tablespoon unsalted butter,melted
1 teaspoon active dry or instant yeast
yellow cornmeal for dusting
In a mixing bowl , add all purpose flour and yeast.Slowly add water and beat well until combined. Whisk almost around 100 times or alternatively you can use electric hand mixer.
Let the starter rest for about 2 to 12 hours. The more you let the starter rest the more delicious will be the muffins.
Once the dough starter has rested enough start preparing the muffin dough.
In a large mixing bowl add milk and yeast.Add the dough starter into the milk mixture and whisk it until combined.
Now add sugar ,melted butter and salt.
Add 3 cups of sifted flour and stir until dough like consistency forms.
Knead the dough on a floured counter for about 5 to 8 minutes. If the dough seems sticky add the remaining flour.
Keep the dough in an oiled bowl covered with cling film . let the dough rise in refrigerator for overnight or up to 3 days.
Take out the dough from refrigerator and leave it on the counter for 10 minutes.Divide the dough in 12 equal portions using a knife or pastry cutter.
Roll each piece into smooth round ball.
Dust a baking tray with cornmeal and place the dough balls over it. Let the dough balls rise for about 2 hours.
When the dough balls are risen , heat a iron or nonstick skillet over medium heat. drizzle with some butter and place few muffins at a time. Let them cook from one side for about 7-8 minutes.
Flip the muffins and let them cook for about 7-8 minutes more from the other side.
Transfer on a wire rack .Let them cool completely.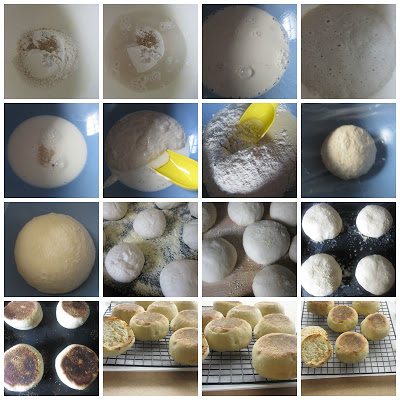 Cut the muffins from center and eat with jam or butter or else make a filling sandwich for breakfast.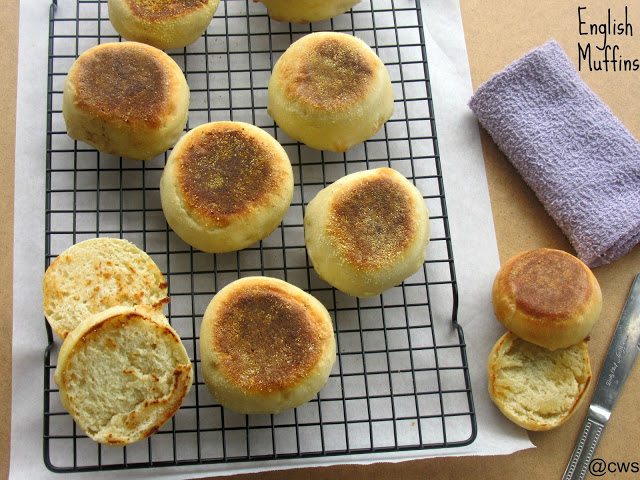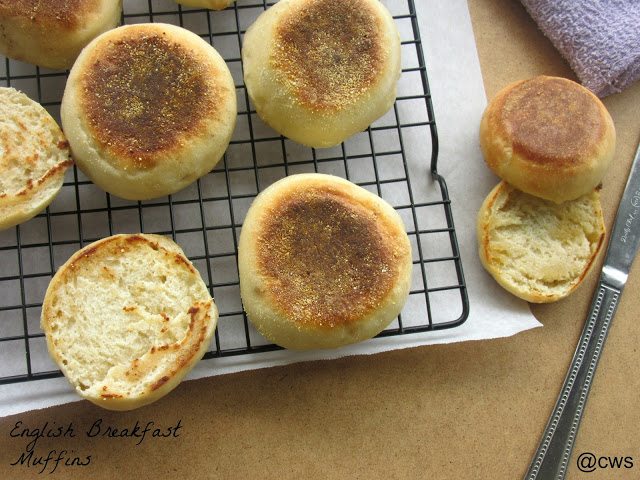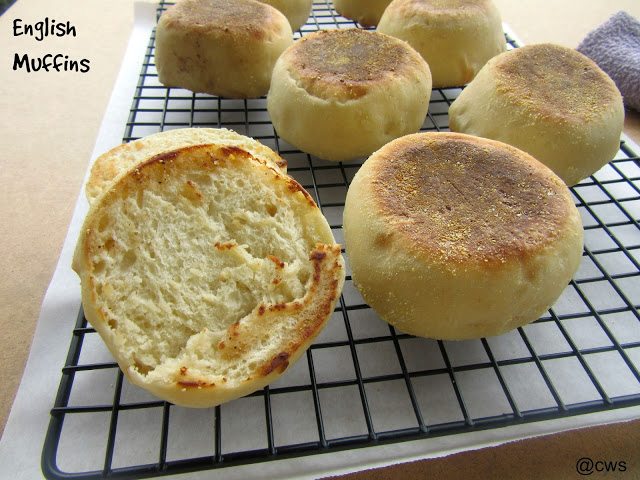 Serve-12 muffins Cooking time -25 minutes Total time- 24 hours
Make sure to let the starter dough rest for 2 or more then two hours. I let my starter to rest for about 6 hours.
If you don't want to wait the dough rise overnight you can simply let it rise for 1 1/2 hours and make the muffins immediately.
Make sure to keep an eye on skillet temperature to avoid burning of muffins.
If you feel muffins are not cooking properly you can alternatively transfer them to preheated oven for 5-7 minutes at 350 degree Fahrenheit.
Check out the Blogging
Marathon page for the other Blogging Marathoners doing BM# 56