Mc Donald's Veggie Pattie Burger
For the second day of Bookmarked recipes I made Veggie patty burger adapted from
Chitra's
blog.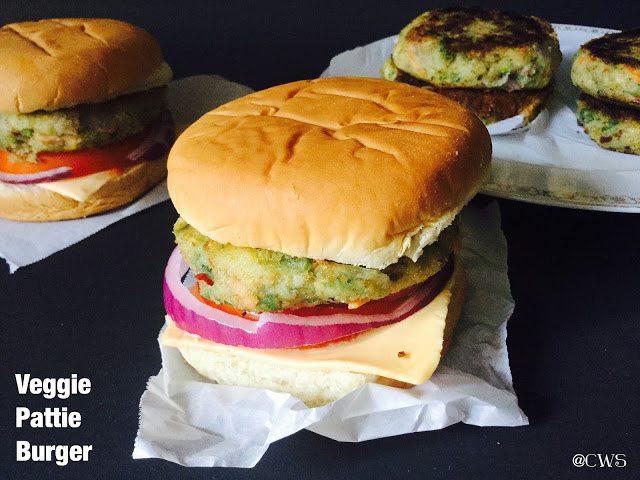 My daughter loved Mc D'S veg Burger .When I made the burgers she was sleeping .I wrapped and packed the burger's in a box and when she woke up I told her that we have brought the burger for you from Mc'D .She was very happy and ate 2 of them . In the end when she was told that those were made at home . She was so surprised and said she loved them more .She asked not to buy and always to make them at home .
As I didn't want to deep fry , I shallow fried the patties.But if you would want you can deep fry the patties for more crispier texture and taste.So let's start the recipe.yum
Ingredients:
For patties
2 potatoes,boiled and mashed
1/4 cup carrots,chopped
1/4 cup peas
1/4 cup green beans,chopped
1/4 cup capsicum,chopped
1/4 cup broccoli,small florets
1 onion ,chopped
2-3 garlic cloves,minced
1 teaspoon red chilly flakes
1 teaspoon parsley
1 teaspoon oregano
1 teaspoon peppercorn,crushed
salt to taste
2 tablespoon oil
For batter
1/2 cup all purpose flour
2 tablespoon corn starch
a pinch salt
1 teaspoon oil
water as needed
For coating
1 cup bread crumbs

For burger
8 burger buns
Shredded lettuce, as needed
Cheese slices as needed
Mayonnaise as needed
Tomato ,cut in roundels, as needed
Onion, sliced ,as needed
Oil for frying

Method:
Boil water in a pan and add all the chopped veggies and peas.Cook until tender.Drain and set aside
In a mixing bowl add the coked veggies, boiled potatoes and mix well.Using a potato masher , mash all the veggies .
Heat oil in a pan and add chopped onion , garlic and green onion.Cook for 1-2 minutes.Add all the spices and salt and stir well.
Add the potato -veggie mixture in onions. Mix well until combined.
Remove from heat and let it cool.
Make a cylindrical log from the mixture and wrap it in cling film.Let it rest in refrigerator for at-least 1 hour.
Once cooled , unwrap the log and cut it into round discs as per the sizeof burgers.
Mix all the ingredients for batter and stir until combined.
Dip each patty one by one in batter and coat in bread crumbs.Repeat the same steps for all patties.
Heat oil in a pan and deep fry the patties until golden from both sides.Drain and set aside.
Alternatively you can shallow fry the patties, as I did .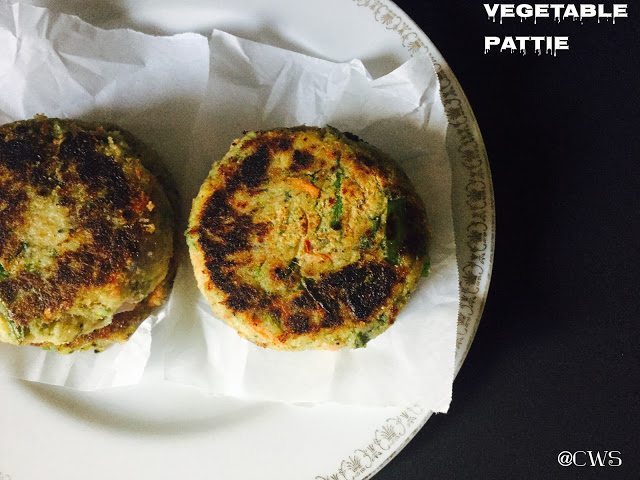 Assemble the burger as per your choice.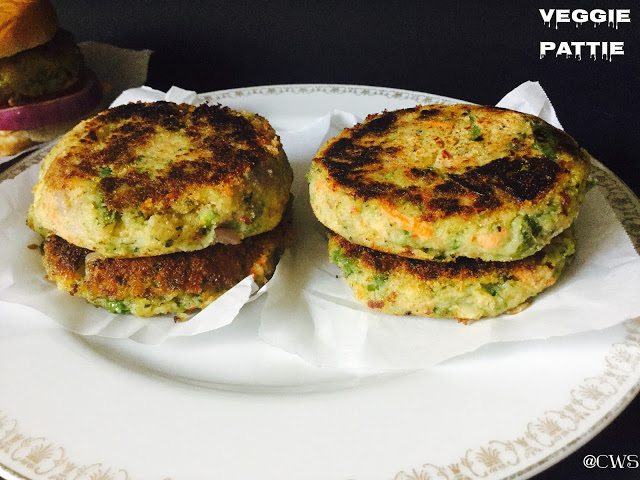 Enjoy!!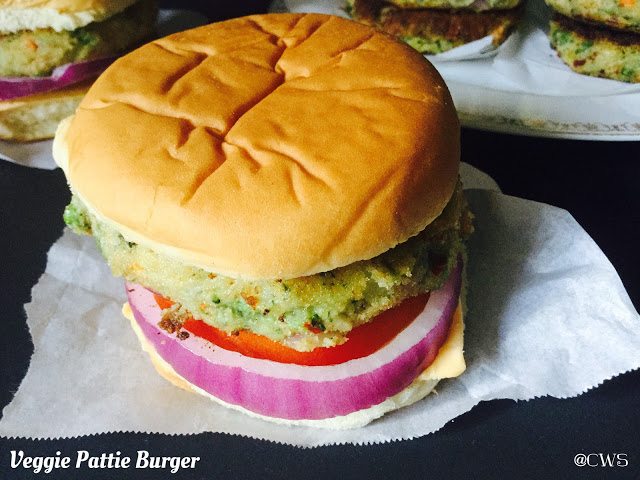 Serve -8 Cooking time-40 minutes
Check out the Blogging Marathon page for the other Blogging Marathoners doing BM# 55