Eggless Blueberry Muffins
I had lots of blueberries in my refrigerator that needs to be used before getting spoiled .So I have known since the day I choose Make in Muffin theme ,to make blueberry muffins. These muffins came out so soft and delicious that all were gone in a jiffy. My lo wanted to eat a bite when I was taking pictures .You can see her tiny hands on one of the click.But as the muffins were made of plain flour so I didn't give her. Next time I will try to make them with whole wheat .So let's start the recipe.yum
Source-Here
Ingredients:
1 cup cake flour
1 cup hot milk
1/4 cup olive oil
1/2 cup sugar
1 cup blueberries
1/2 teaspoon baking powder
1/2 teaspoon baking soda
1 teaspoon vanilla essence
Method:
Preheat oven to 180 degrees. Line a 6 hole muffin case with paper moulds.
Wash and pat dry blueberries with kitchen towel. coat them in a tablespoon of flour and set aside.
In a mixing bowl add oil and sugar. Beat until sugar is combined. add hot milk and vanilla extract.Stir again.
Sift the flour ,baking powder and baking soda into the wet mixture. Mix until combined.
Finally gently fold in the flour coated blueberries in the batter.
Scoop 2 tablespoon of flour in each muffin hole. Bake in preheated oven for about 15-20 minutes or until a skewer inserted in the center comes out clean.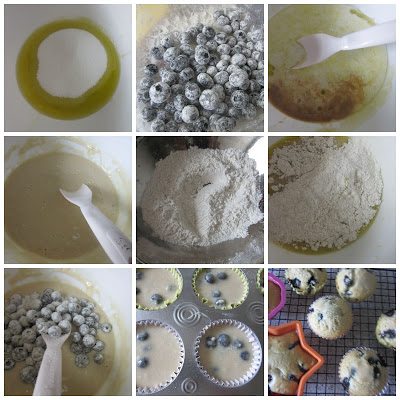 Cool on wire rack .Serve warm or cool.

Enjoy!!
Serve-6 Baking time-20 minutes

Notes:
Make sure to dry the blueberries completely before coating in flour.
For 1 cup cake flour you can simply use a cup of all purpose flour with a tablespoon less flour ,substituted with a tablespoon of corn starch.
Check out the Blogging Marathon page for the other Blogging Marathoners doing BM# 55
Best regards,
Sapana Behl