Belgian Salad
For second day of our mega marathon titled "Around the world in 30 days" , I am now reached to Belgium.Belgian cuisine is widely varied with significant regional variations while also reflecting the cuisines of neighbouring France, Germany and the Netherlands. It is sometimes said that
Belgian food
is served in the quantity of German cuisine but with quality of French food. Outside the country, Belgium is best known for its chocolate and beer.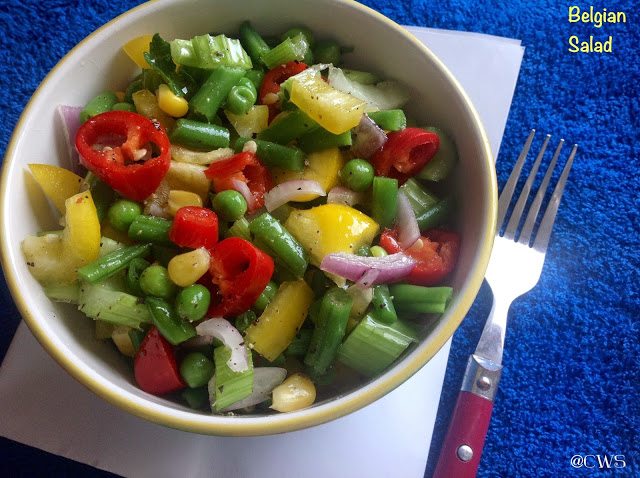 Belgian cuisine traditionally prizes regional and seasonal ingredients, leading to distinctive dishes like carbonade flamande in Flanders .Belgians typically eat three meals a day, with a light breakfast, light or medium sized lunch and large dinner.
So let's start the recipe .yum
Country- Belgium
Capital-Brussels
Dish- Belgian Salad
Source- Here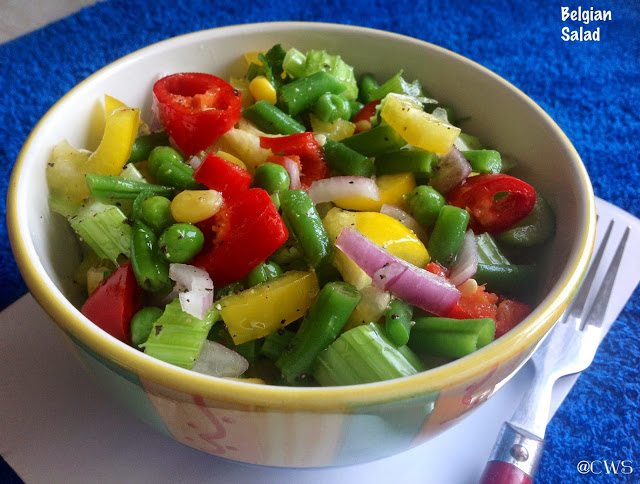 Ingredients:
1/2 cup vegetable oil
1/2 cup white vinegar
1/2 cup white sugar
1 cup or 1 can green beans, drained
1 cup or 1can peas
1 cup or 1 can corn, drained
2 pimentos, drained(here I used jalapeño )
1 cup bell pepper , chopped(I used yellow bell pepper)
1 cup chopped celery
1 cup chopped onion
salt to taste
1 teaspoon pepper , freshly ground
Method:
If using canned veggies then simply drain and use and if using fresh vegetables then wash and chop the vegetables. Blanch them in water and keep aside.
In a saucepan over medium heat bring oil, vinegar, and sugar to a boil. Reduce to a simmer, and stir until sugar is completely dissolved.Refrigerate 1 hour.
In a medium bowl, mix together the green beans, peas, corn, pimentos/jalapeño, celery, and onion. Pour in dressing, and toss well.
Cover and refrigerate till further use.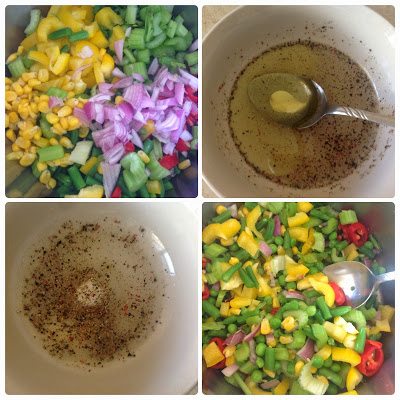 Season with salt and pepper, and serve chilled.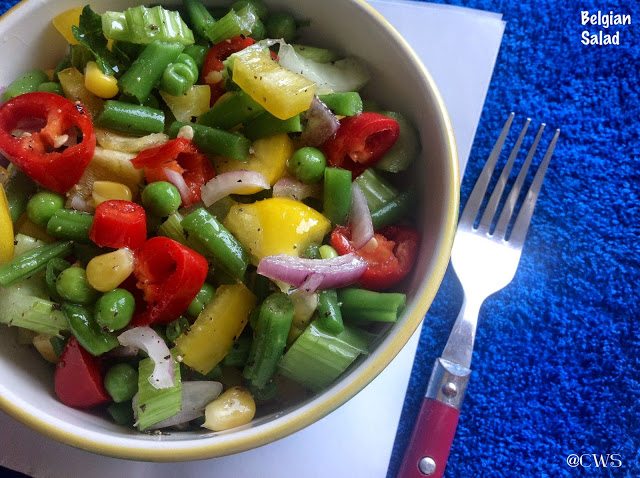 Enjoy!!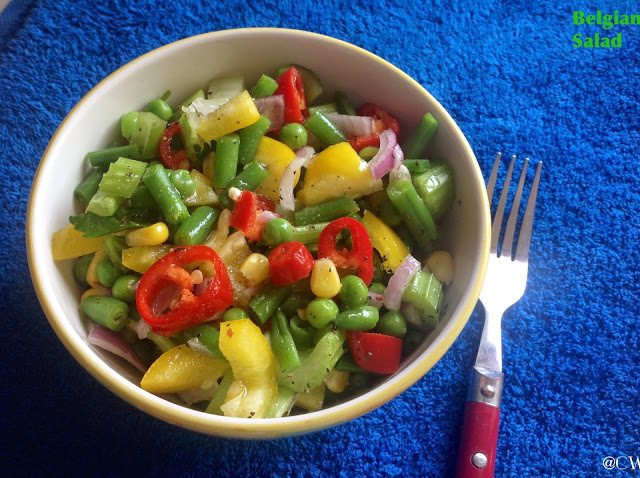 Serve-10. Preparation time -15 minutes
Best regards,
Sapana Behl