Tamilnadu Tamarind Rice /Puliyodhari
Tamil Nadu is famous for its deep belief that serving food to others is a service to humanity, as is common in many regions of India. The region has a rich cuisine involving both traditional non-vegetarian and vegetarian dishes. It is characterized by the use of rice, legumes and lentils. Its distinct aroma and flavour is achieved by the blending of flavourings and spices including curry leaves, mustard seeds, coriander, ginger, garlic, chili, pepper, cinnamon, cloves, green cardamom, cumin, nutmeg and coconut .
I tried it the other way by adding puliyodhari mix in raw rice and cooked them together . I will definitely tr the original method sometime .So let's start the recipe .yum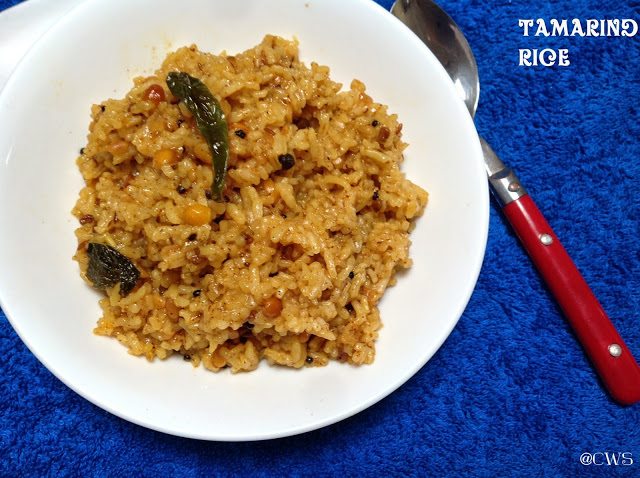 Ingredients:
1 cup Raw rice
1/2 teaspoon Turmeric
1/2 cup Tamarind pulp
1 teaspoon Jaggery
2 tablespoon peanuts , roasted (I forgot to use)
Salt to taste
For tempering
1 teaspoon Mustard seeds
1 tablespoon Chana dal
1 tablespoon Urad dal
2 Dry red chilli/green chilli
1/4 teaspoon Asafetida
3 tablespoon oil
Powder Mix:
2 tablespoon Coriander seeds
1 tablespoon Chana dal
1 tablespoon Urad dal
1 teaspoon Methi /fenugreek seeds
1 teaspoon Cumin seeds
Few Curry leaves
1/2 tablespoon Black pepper corn
4-5 Dry red chili/Chilli powder
Method:
In a pan , dry roast all the ingredients called for powder mix. Dry roast on low to medium flame . Cool and grind to make a fine powder. Keep aside.
Heat oil in a pan or pressure cooker, add the mustard seeds and let them splutter. Add the chana dal and urad dal and fry till 1 minute.Next add red chili, asafetida, turmeric powder and curry leaves and fry for a few seconds.
Add the tamarind pulp and jaggery and cook for few minutes.Now add the powder mix , rice and water . Cook for 1 whistle or till rice are done if using a pan.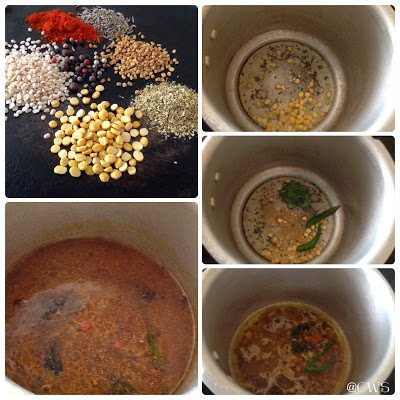 Serve hot with pickle and salad.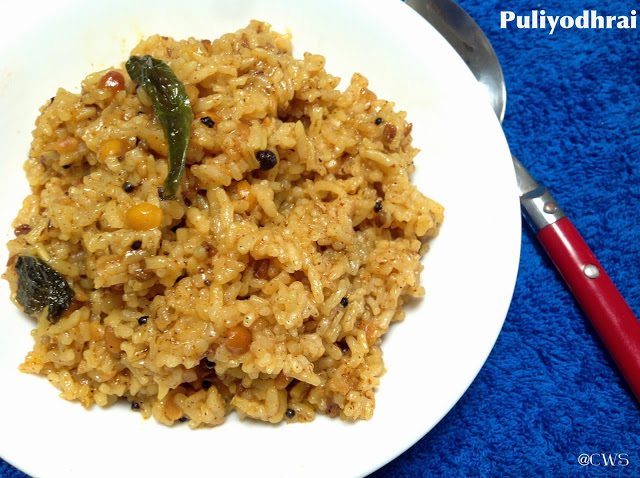 Enjoy!!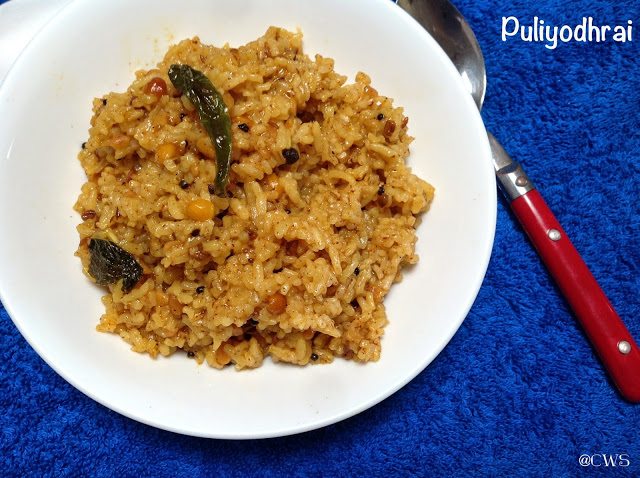 Serve-2. Cooking time-20 minutes
Note: The original recipe used cooked rice and the puliyodhari mixture was added on it later.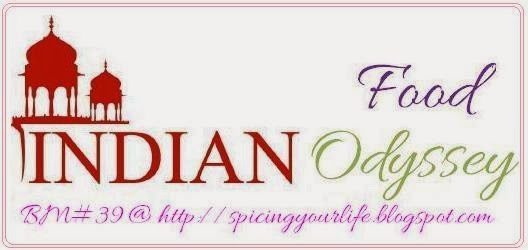 Check out the Blogging Marathon page for the other Blogging Marathoners doing BM# 39