Madhya Pradesh Sabudana Khichdi
The cuisine in Madhya Pradesh varies regionally. Wheat and meat are common in the North and West of the state, while the wetter South and East are dominated by rice and fish. Milk is a common ingredient inGwalior and Indore.. The street food of Indore is renowned, with shops that have been active for generations. Bhopal is known for meat and fish dishes such as rogan josh, Korma , Keema , Pilaf ,and kebabs.There is street named "Chatori Gali" in old Bhopal where one can find traditional Muslim non-veg fare like Paya Soup, Bun Kabab, Nalli-Nihari as some of the specialties.
Dal Bafia is a common meal in the region and can be easily found in Indore and other nearby regions, consisting of a steamed and grilled wheat cake dunked in rich ghee which is eaten with daal and ladoos. The culinary speciality of the Malwa and specially Indore region of central Madhya Pradesh is poha (flattened rice); usually eaten at breakfast with Jalebi. Beverages in the region include lassi, beer, rum and sugarcane juice. A local liquor is distilled from the flowers of the mahua tree and date palm is also popular. In tribal regions, a popular drink is the sap of the sulfi tree, which may be alcoholic if it has gone through fermentation.
Sago or sabudana khichdi is one of the popular breakfast dish in the states rural as well as urban areas.I prepared this delicious khichdi for our breakfast and enjoyed it . So let's start the recipe . Yum

Ingredients:
1 cup sago/sabudana
1 potato,cut in small cubes
2 green chillies,chopped
Few coriander leaves,chopped
Few curry leaves
1 teaspoon cumin seeds
1 teaspoon red chilly powder
1 teaspoon garam masala
1 teaspoon coriander powder
salt to tsate
4 tablespoon clarified butter
1/4 cup peanuts
Method:
Wash sago pearls in running water till you get clear water and can see the sago pearls from water.
Soak the washed and drained sago pearls in 1.5 cups of water. Leave it for 3-4 hours.
Heat clarified butter in a wok and fry the peanuts till crispy and fried.Then add cumin seeds and curry leaves. Stir and add ginger , saute for a minute.
Add potato cubes and cover the lid, cook on low heat till potatoes are done.
Now add soaked sago pearls and fried peanuts. Mix and add salt , red chilly powder, garam masala , coriander powder .
Cook for a minute or two.Garnish with coriander leaves. Serve warm with Curd and salad.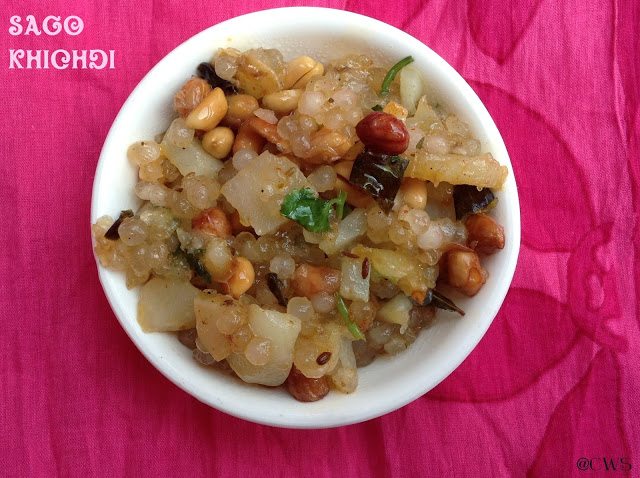 Serve -2 Cooking time-20 minutes