West African Hot Chocolate
West African Cuisine consists of a diverse range of food depending on the lifestyle and is split in between 16 countries . As compared to North African cuisine , spices plays an important role in the cooking . It is believed that west Africans ate far more vegetables and much less meat in the past but nowadays it is heavier in meats . Read more about West African Cuisine
here
.
For the final day of first week of BM#36 , this is my entry under African Cuisine . This is a hot beverage popularly known as West African Hot Chocolate and the recipe is adapted from here .Addition of rum added was great . Like the taste of Eggless Lamingtons , Kenyan Curried Cabbage and Koriander Salad , I must say I did enjoy my African food series . So let's start the recipe . Yum
Ingredients:
500 ml milk
100 gram dark chocolate
2 teaspoon honey
1 tablespoon brown sugar
1 teaspoon vanilla essence
1 cinnamon stick
2 teaspoon dark rum
Method:
Pour the milk , chocolate in a pan along with the honey, sugar and cinnamon stick.
Cook and stir gently until the chocolate melts. Add the vanilla and rum.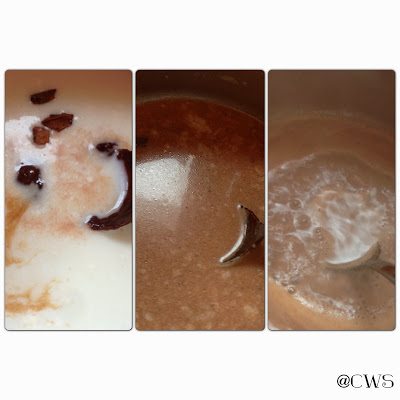 Remove the cinnamon stick before serving in two large mugs.
Enjoy!!

Serve-2. Cooking time-15 minutes
Note:Extra sugar can be added to taste. You may skip rum if you wished to.
Check out the Blogging Marathon page for the other Blogging Marathoners doing BM#36
Simply Tadka's 2nd Blog-iversary Event and Giveaway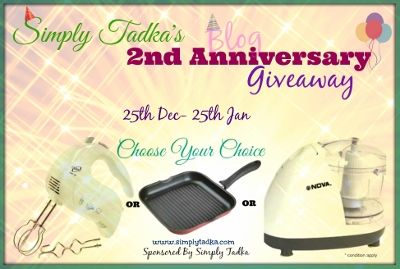 Best regards,
Sapana Behl