Purple Cabbage & Peas Stir Fry
Today's recipe is Stir Fry purple cabbage with green peas , this is a wonderful combo to enjoy as side dish in main course . Purple cabbage, more commonly known as red cabbage, is a colorful variety from the brassica family. Purple cabbage has a relatively high ratio of nutrients and vitamins to calories and fat, which makes it an ideal choice for dieters. It is common in salads, coleslaw, braised dishes and pickled treats. Read the health benefits of Purple cabbage
here
.I have adapted the recipe from Anjana ji's
Maayeka
and made it according to our taste.So let's start the recipe .yum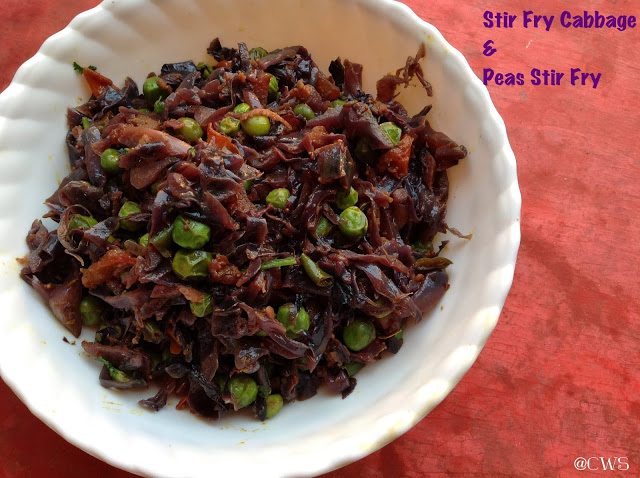 Ingredients:
400 gm purple cabbage , shredded
1/2 cup peas
2 tomatoes , chopped
3-4 green chillies , chopped
1 teaspoon ginger , grated
1 teaspoon cumin seeds
1 teaspoon mustard seeds
1/2 teaspoon turmeric powder
1 teaspoon coriander powder
1 teaspoon red chilly powder
Salt to taste
1/2 teaspoon garam masala
Few coriander leaves , chopped
4 tablespoon oil
Method:
Heat oil in a wok , add cumin seeds and mustard seeds , let the seeds crackle for 1 minute. Add ginger and green chillies , stir for 2-3 minutes and then add peas and shredded cabbage .
Let it cook for 10 minutes , covered with lid. Remove lid and add all spices and salt , sir and add tomatoes from the side of wok. Cook till tomatoes are tender and oil comes out from edges.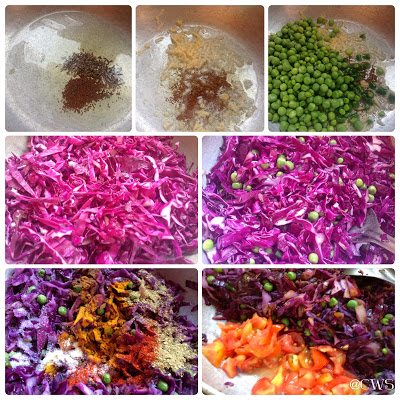 Garnish with chopped coriander leaves and serve hot with Chapati.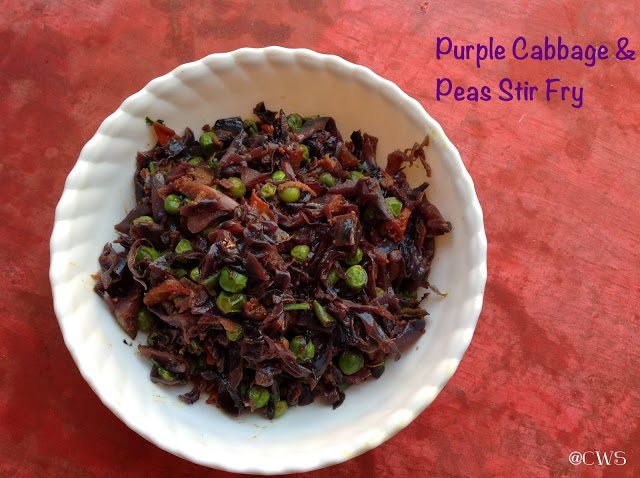 Serve -4. Cooking time -20 to 30 minutes
Note: You may replace tomatoes with lemon juice or Amchur powder.