Kidney Beans Pulav
Rajma chawal
is our family favorite , I mean like it has to be on the menu every week.Ofcourse yesterday was the day for it and I had prepared my
punjabi rajma masala
.I intentionally saved one bowl of rajma /kidney beans for this recipe I saw in the cookery book that I bought recently. I have seen many versions of this delicious rice preparation in the blogosphere but I wanted to try this one. This was for our lunch today and we loved it .This recipe is for December's third week
CCChallenge
started by
+Srivalli Jetti
. So let's start the recipe . Yum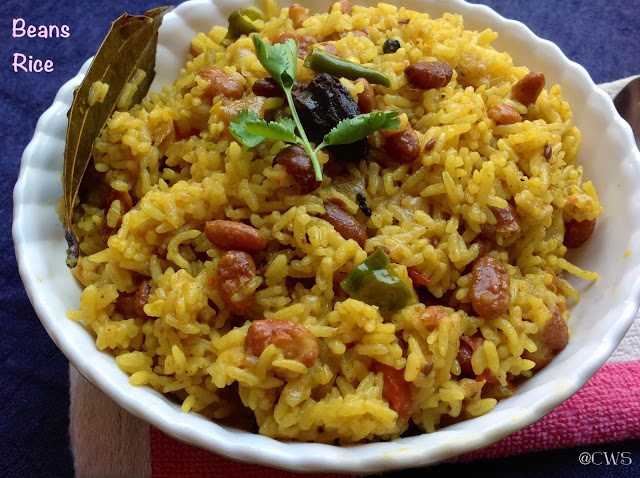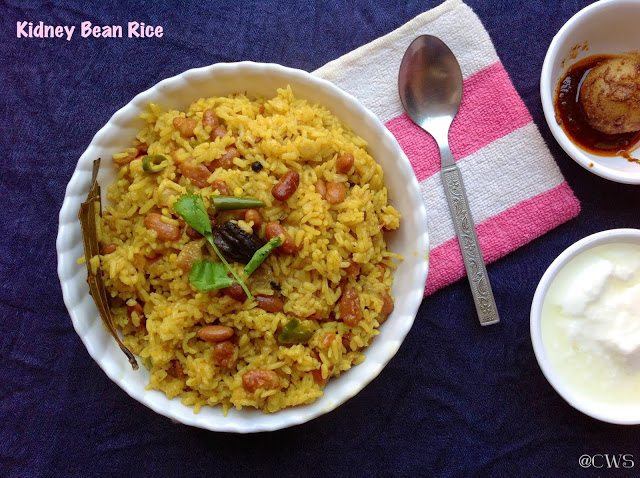 Ingredients:
1 1/2 cup rice , basmati or broken basmati
1 cup kidney beans /Rajma , boiled
1/2 cup broad beans , chopped
1 onion , sliced
2 green chillies , chopped
2 tomatoes , chopped
1 teaspoon ginger , chopped
3-4 garlic cloves , chopped
4-5 peppercorn
4-5 cloves
1 bay leave
1 black cardamom
1 teaspoon cumin seeds
Spices:
1 teaspoon turmeric powder
1 teaspoon coriander powder
1 teaspoon red Chili powder
1 teaspoon garam masala
Salt to taste
4 tablespoon cooking oil
3 cup water for as required
Method:
Heat oil in a pressure cooker , add cumin seeds , bay leave , cardamom , cloves and peppercorn . Sauté for 30 seconds then add ginger and garlic.
Let the ginger and garlic be brown and the add onions. Fry the onions till golden in color then add all spices and salt , mix well .
Now add broad beans , tomatoes and green chillies. Stir and cook till oil comes out from edges and tomatoes are done.
Next add boiled kidney beans and washed rice . Add water and close the lid , cook for 1-2 whistle.
Let all the steam evaporate before opening the lid.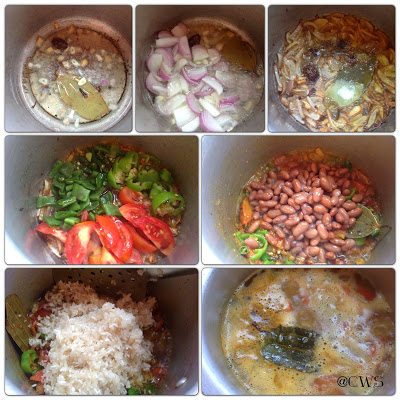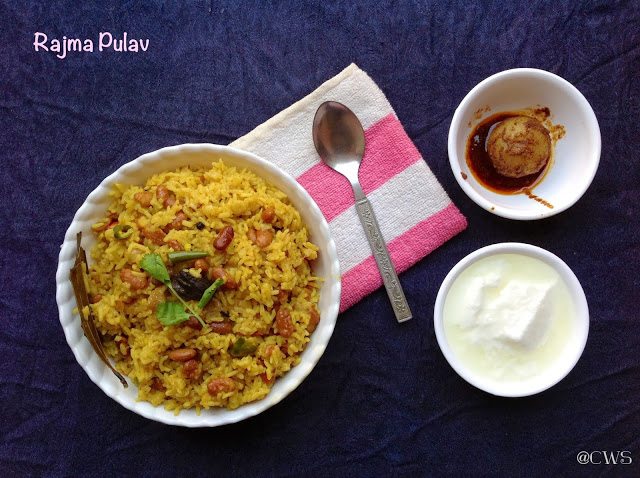 Serve hot with curd and pickle.
Serve -4. Cooking time -25 minutes
Note: You may skip broad beans and make this pulav with kidney beans only.
Add water according to the type of rice you are using. You may prepare this recipe in open pan also.
Sending this entry to CCChallenge .