Instant Amla Pickle
Indian Gooseberry /Amla is said to be the most valuable fruit discovered by mankind . It s the richest source of Vitamin C , A , calcium , iron , fiber, potassium , etc. and widely used in Ayurveda for medicinal properties It must be consumed for good health and immune system.
This is the instant pickle recipe that I bookmarked from Priya's
blog
and prepared it yesterday. It was incredibly tasty and gone in 3-4 days. Like my previous
amla pickle
it is a little different in use of spices and a must try. So let's start the recipe . Yum
You may also try
Amla Candy
Amla Beet Carrot Juice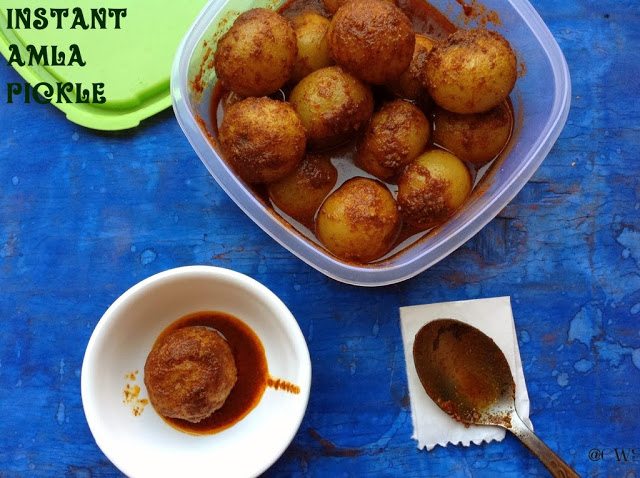 Ingredients:
1/2 kg Amla/Indian Gooseberry
For paste
2 tablespoon red chilly powder
1/4 cup vinegar
To dry roast
1 tablespoon mustard seeds
2 tablespoon Rai
1 tablespoon fenugreek seeds
Salt to taste
1/4 cup sesame oil
1 teaspoon mustard seeds
1/2 teaspoon asefetida
Method:
wash and pat dry the gooseberries and make slits on the marks present on it.
Heat 2 tablespoon of sesame oil in a wok , add gooseberries and let them cook on low heat , covered with lid till tender and soft. Frequent stirring is required .
Dry roast fenugreek , mustard and rai seeds in a wok. Cool and grind to make a powder.
Add vinegar in red chilly powder and mix well.
When gooseberries are done , from the side of wok add 1 teaspoon mustard seeds , the roasted spices powder and the chilly paste . Mix well and cook for 5-7 minutes more on low heat . Add the remaining sesame oil in it.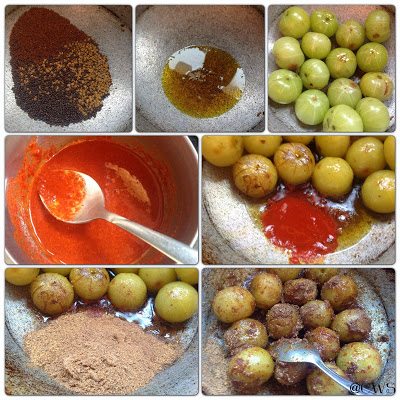 Let it cool and store in airtight container in room temperature.
Serve with rice or any main course meal.
Serve-6. Cooking time -30 minutes
Note: It can stay fresh upto 1 month .
Best regards,
Sapana Behl