Beet Tikkis /Beetroot Patties
Today I have prepared these delicious and healthy Beet Root Patties for the breakfast . These are incredibly tasty and full of buckets of health benefits of Beet . I bookmarked this recipe from
Veg Recipes Of India
and concocted it to our taste and preference . So let's start the recipe .yum
Here is my last post for the year 2013 . See you all in next year till then wish you a very Happy New Year !!
Ingredients:
2 medium sized beetroot , washed , peeled and cut in halves
4 potatoes , peeled and cut in halves
1spring onion white , chopped
1 spring onion green , chopped
1 red onion , chopped
2 green chillies, chopped
1/4 cup coriander leaves , chopped
3-4 bread slices (soaked in water , squeezed and broken in crumbs)
2 tablespoon semolina /rava/suzi
Spices
1 teaspoon red chilly powder
2 teaspoon chaat masala
1 teaspoon cumin powder
1 teaspoon garam masala
Salt to taste
1 teaspoon cumin seeds
1 teaspoon mustard seeds
4 tablespoon oil
Water as required
Method:
Take potatoes and beetroot in a pressure cooker with 1/4 cup water and cook for 2-3 whistles. Cool and mesh with vegetable masher or else grate in vegetable grater. Transfer in a bowl and set aside.
Heat 1 tablespoon of oil in a pan , add cumin and mustard seeds . Let the seeds crackle . Add red onion , spring onion white part and green chillies. Sauté for a minute and then add spices and salt.
Remove from heat and add this onion masala in mashed potato beet mixture.
Add spring onion green , coriander leaves , and bread crumbs in it . Mix well . Check for seasoning and add more salt if required.
Make 6 to 7 small balls from the mixture and shape them into patties .Spread semolina in a plate and roll the patties in it .
Heat the remaining oil over a non stick griddle and shallow fry the patties from both sides till crisp.
Drain on paper towel and serve hot with tomato ketchup.
Serve hot and enjoy !!
Serve-4. Cooking time-20 minutes.
Note: You may add vegetables of your choice like peas , carrots , bell peppers also.
Bred crumbs are for binding and you may use gram flour , chickpea flour , rice flour or corn flour too instead of bread crumbs.
Add any of the flour in the patties mixture if it seems loose. You may also bake the patties in oven.
Sending this entry to
Simply Tadka's 2nd Blog-iversary Event and Giveaway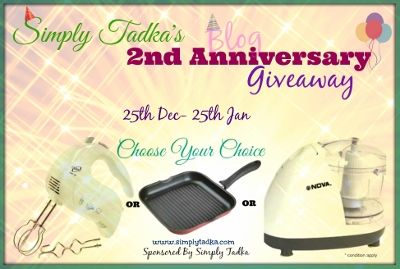 Best regards,
Sapana Behl