Raj Bhog
Raj bhog for #SFC 1 that is Sweet Fantasy Club a brain child of
+Preeti Garg
. It is a group of enthusiastic bloggers with sweet tooth and love experimenting with deserts. Raj Bhog is the first challenge for the group , I made it with dry fruits stuffing and we really enjoyed it till the last piece. So let's start the recipe .yum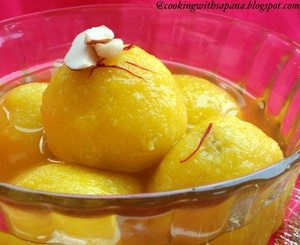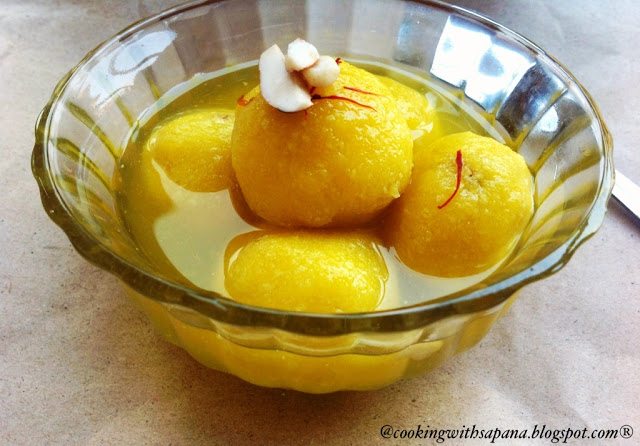 1 litre Milk
2 teaspoon White vinegar
1 tablespoon all purpose flour
2 teaspoon Cornflour
Few drops yellow food color
For filling:
1 tablespoon cashew nuts
1 tablespoon raisins
1 tablespoon almonds
1/4 teaspoon Green cardamom powder
1/4 teaspoon Rose water
For Sugar Syrup:
3 cup Sugar
1.5 cup water
Few strands Saffron
Method:
Bring the milk to a boil over high heat. Set aside to cool slightly . Mix the vinegar in it slowly . Stir lightly till the milk curdles. Wash the Chenna in a colander under running water.
Strain the chhenna through a piece of muslin and squeeze to remove all the water.
Transfer the Chenna in a bowl .Add few drops of colorings . Mix together all purpose flour and the cornflour and add to the chhenna. Knead it till the mixture is smooth. Divide into equal portions and roll into balls.
For the filling, grind together the pistachios, cardamom powder, raisins , cashew nuts , almonds and rose water coarsely. Divide equal portions and roll into small balls.
Stuff each chhenna ball with a portion of the filling and roll again into a ball taking care that no cracks form.
To make the syrup, cook the sugar with water, stirring continuously till the sugar dissolves. Add saffron strands and let the syrup come to a boil. Heat 1/2 cup of water up to boil and set aside.
Slowly drizzle 2 tablespoon of hot water every five minutes to avoid thickening of syrup . Cook till the raj bhog spring back when pressed.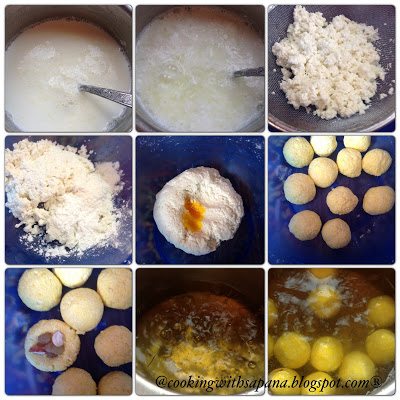 Store in refrigerator . Serve chilled.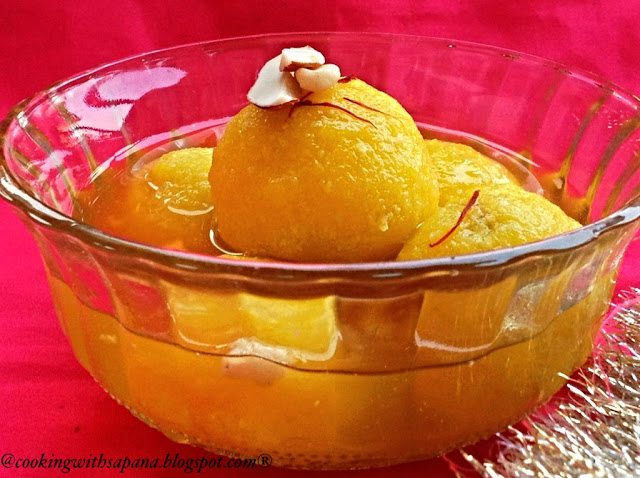 Enjoy!!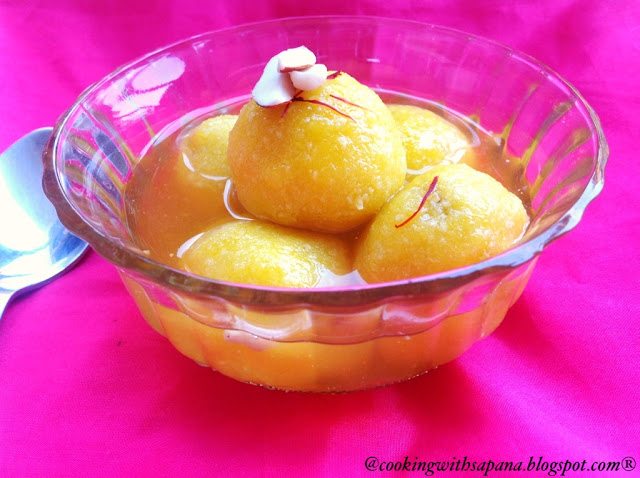 Serve-6. Cooking time -1 hour
Sending this to SFC#1