Imarti/Jangiri
For the last day of BM#33 under special theme , I have prepared these juicy and crispy Imrtis from Manjula's
Desi Fiesta
. Imarti are authentic desert invented in Mughal Empire and popular in Rajasthan , South India and North India mainly 'Jaunpur 'where it is consumed with Rabri . In South India it is known as "Jangiri " and is served after meal or in festivals . So let's start the recipe . Yum
Ingredients:
1 cup urad dal /washed and split
3-4 tablespoon Corn Flour
1/4 teaspoon yellow food color
Cooking Oil for frying
For Sugar Syrup:
2-3 Cardamom , crushed
3 cups Sugar
1/2 cup Water
1 tablespoon lemon juice
Method :
Wash and Soak urad dal in enough water for 2-3 hours .
Drain the excess water and grind the dal to make a smooth batter.
Take the dal batter in a bowl , add corn flour and food color. Mix well and set aside.
Making Imarti
Fill the pastry bag or ziplock bag with batter and start piping Imrtis in oil.
Remove the cooked imarti's from oil , drain the oil and add it to the syrup immediately.
For Sugar Syrup
In a pan add water and sugar , add cardamom and boil it and then cook till the syrup becomes one string consistency.
Add a teaspoon of lemon juice in between to avoid crystallization . Keep it aside .
.
Soak the imarti in the syrup for 5-6 mins turning in between and drain and serve them in a plate.
Serve-4 to 5. Cooking time-30 minutes
Check out the Blogging Marathon page for the other Blogging Marathoners doing BM#33
Sending this to
Gayatri's Diwali recipes event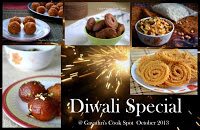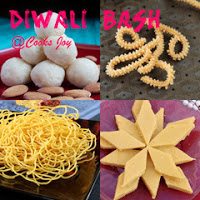 Only " Traditional recipes" & Pari's Announcement Page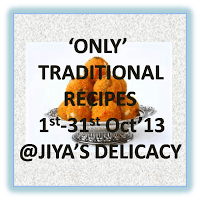 Best regards,
Sapana Behl