Falafel with Pita Bread
We have started the second week of Blogging Marathon #33 , and I have selected Combo platter as a theme for the week . After lots of thinking I tried Falafel with Pita Bread.
Falafel is deep fried patty of chickpea or fava beans , a traditional Arabic food ands usually served in Pita Pockets. Now a day falafel became a common form of street food/ fast food in the Middle Eastern countries .During Ramadan, falafel balls are sometimes eaten as part of the iftar, the meal that breaks the daily fast after sunset.Because of Chickpeas and fava beans , falafel is highly rich in protein , carbohydrates , vitamins , minerals and Fiber. Today Falafel is eaten all over the World and considered as a replacement for meat in the form of street food. This is my entry for BM#33 under Combo Platter . So let's start the recipe .yum
Ingredients:
For Falafel:
1 cup chickpea
1 onion , chopped
2-3 garlic cloves
2 red chillies , broken
1 teaspoon cumin seeds
1 teaspoon coriander powder
1/2 teaspoon peppercorn powder
Salt to taste
1/4 cup coriander leaves
2 tablespoon all purpose flour
1 tablespoon lemon juice
2 tablespoon sesame seeds
Cooking oil for frying
For Pita Bread:
1 cup Whole wheat flour+1 tablespoon for dusting
1/2 teaspoon Dry yeast
1 teaspoon sugar
1 teaspoon olive oil
1/2 teaspoon salt
1/2 cup water
Other ingredients:
1 onion, cut in thin rounds
1 tomato , cut in thin rounds
Salt and pepper to taste(optional)
1 lemon , slices
1 tablespoon coriander leaves ,chopped
Tahini to serve (optional)
Method:
For falafel:
Wash and soak chickpea in enough water overnight or 6-8 hours. Boil and cook in salted water for 5-6 whistles in pressure cooker.
Take drained and cooked chickpea in a bowl , add all the ingredients , except oil for frying and sesame seeds. Blend the ingredients altogether in food processor. Make round balls and small patties from it.
Take sesame seeds in a plate , roll the patties in sesame seeds.
Heat oil in a wok , deep fry the falafel till nice and crispy from both sides. Drain on absorbent paper. And set aside for further use.
For Pita bread:
Add 2 tablespoon lukewarm water and sugar in yeast , let it poof for 5-7 minutes.
Take sifted flour and salt in a bowl , add olive oil and yeast water . Knead a firm dough using enough water. Cover it with kitchen towel and place in an oiled bowl and set in a warm place for 3-4 hours.
After the dough rises you may see cracks over the top , punch it back and make 8 balls from it.
Make small rounds of 1/4 " thickness using dry flour and bake in preheated oven at 200 degree for 10-15 minutes.
Cut the baked pita bread , once cooled and fill the falafel stuffing.
Arranging:
Place one falafel in half slice of pita bread along with one round of onion , tomato , lemon and few coriander leaves. Sprinkle salt and pepper if required and serve with Tahini.
Serve-4. Cooking time -1 hour
Notes:
For falafel you may use fava beans , if the chickpea seems thick while blending you may add little water .
For Pita bread you may prepare it on stove top in a closed lid too.Store the pita bread in ziplock bags in the refrigerator .
Check out the Blogging Marathon page for the other Blogging Marathoners doing BM#33
Sending this entry to Cook With White announced at Merry Tummy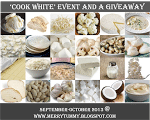 Guru's Cooking Giveaway Vegan Special '13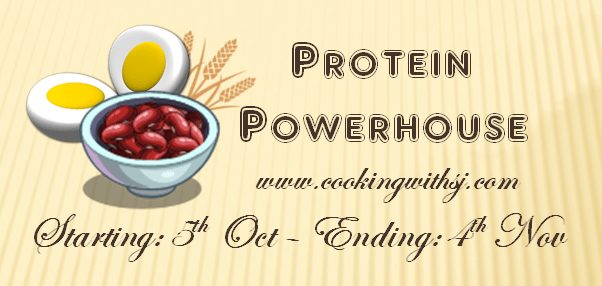 Best regards,
Sapana Behl