Besan Ki Barfi
Besan ki Barfi, the recipe came from a magazine "Sarita" . I am sure most of you are familiar with the name , I do collect recipes from this magazine . Everyone in the family knows that if I would see a magazine or newspaper and found any recipe , I will start cutting and pasting it in my diary. That's me always hunting for new recipes !! .After
Vegetable Gold Coin
, When I tried Besan ki barfi , I am sure to send it to the
CCChallenge
happening
+Srivalli Jetti
space , hence saved it for that. It is super quick and easy to prepare and cube served to guests for diwali as well. So let's start the recipe . Yum
Ingredients:
2 cup Gram flour/Besan
1 cup sugar
1 cup clarified butter
2 tablespoon milk
1 teaspoon green cardamom powder
1/2 teaspoon orange food color
1 1/2 cup water
Method:
Take gram flour , milk and 1 tablespoon of melted clarified butter in a vessel. Mix with hands till crumbly . Now sieve it to make fine powder.
Heat clarified butter in a heavy bottom wok , add sifted gram flour slowly , stir frequently to avoid lumps. Now roast it on low to medium flame till it changes into golden color . Don't leave it for a second or else it will burn.Set aside.
Besan barfi
Meanwhile add sugar and water in a pan and start cooking it , stir and let it boil. Cook this syrup till it becomes a little thick or till 1 & 1/2 string consistency syrup .
Add cardamom powder and food color in it.
Syrup
Now slowly add the roasted gram flour in the sugar syrup , stirring continuously. Switch off the heat , mix well and cook again on low heat till it becomes thick and leave sides of pan.
Grease a plate or baking tray with little butter and carefully transfer the gram flour mixture in it.
Let it cool and cut slices of your choice. You may decorate it with silver lining and chopped dried nuts.
Besan barfi
Store in air tight container , serve to your guests and enjoy.
Besan Barfi
Serve-25 to 30 pieces. Cooking time -30 minutes
Sending this entry to
Gayatri's Diwali recipes event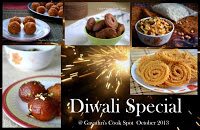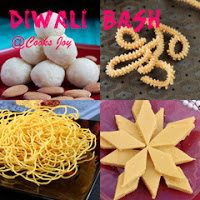 Only " Traditional recipes" & Pari's Announcement Page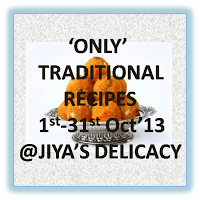 Best regards,
Sapana Behl