Litti Chokha
Litti Chokha is a popular snack, street food of Bihar, India. Litti refers to the sattu (powdered gram) filled wheat balls served with Chokha prepared with mashed brinjal and potatoes blended with spices. Litti absorbs clarified butter when dipped in and gives a sweet and spicy taste with chokha. It's like a mouth filled feeling with aromatic spices just escaping into your palate giving exotic experience.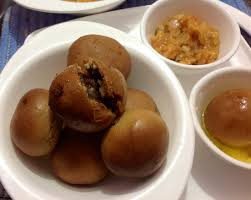 The first time I heard name of this dish from my husband some four years back in 2009. You must thinking how I related this with time. Actually in that year "3 Idiots" was released and my hubby was watching news when he saw Amir Khan promoting the movie in Patna, and enjoying Litti Chokha. And from that time he kept asking me to prepare this. Well I couldn't prepare the dish due to my busy schedule as I was doing job at that time, but my inner instinct was compelling me to read its recipe and prepare this. Meanwhile my hubby tried it from a street vendor and told me that it was really worth eating and he enjoyed it a lot, requested me to prepare it again. In the beginning of this year January 2013, I left my job and started full time blogging as cooking was my passion and I always wanted to do that. Some people may say, its a sad news that i left my job, but from inner side I was happy as I am living my dream now, moreover my brother also gifted me an Ipad. I started my blog by posting very simple recipes, improved my cooking and expanded it to International food also. But something was missing, it doesn't matter how good I was cooking, if I can't prepare Litti Chokha which my husband really wanted to try "Home made". So when Srivalli started ABC cooking themed Blogging Martahon #32 in August, I decided to prepare "Litti Chokha" with alphabet "L" under street food and give a surprise to my hubby. Guess he was really happy and he admired the snack most. I would like to say this is a must try cuisine and prepare it for your loved ones, surprise with a completely different taste. So let's start the recipe. Yum.
Recipe Source : Tarladalal.com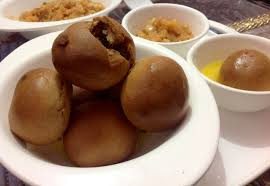 Ingredients:
For outer Covering
2 cup wheat flour
1/2 teaspoon carom seeds
1/2 cup yogurt
3/4 teaspoon salt
2 tablespoon clarified butter
For Stuffing
1 cup roasted bengal gram flour/Sattu
2 green chillies , finely chopped
1/2 teaspoon cumin seeds (jeera)
1 teaspoon ginger , grated
1 teaspoon garlic , finely chopped
1/2 cup coriander leaves , chopped
1 teaspoon dried mango powder
1 teaspoon stuffed red chilly pickle masala
1 teaspoon lemon juice
1/2 teaspoon carom seeds
1 /2 cup onion , chopped
2 teaspoon mustard oil
water as needed
salt to taste
1/2 cup clarified butter
For Chokha
2 medium sized boiled potatoes
1 medium sized brinjal (baingan / eggplant)
2 medium sized tomatoes
2 green chillies , finely chopped
1/2 cup onion , chopped
1 tablespoon coriander leaves , chopped
1 teaspoon mustard oil
1 teaspoon red chilly powder
salt to taste
Method :
For stuffing
Take sattu or roasted gram flour in a bowl.
Add all the ingredients and mix well. In case the stuffing is bit dry, you may add little water.Make sure the stuffing is not too dry and not to soft.
For litti
Make a soft dough by mixing all the ingredients and using appropriate amount of water. Set the dough aside.
Make 6-7 medium equal sized balls.Take each ball and flatten the ball a bit with your palm and make depression.Fill a portion of the stuffing and close the balls by lifting the sides by hand and flatten the litti a bit by pressing your palm.Keep it aside.
Arrange them in a baking tray with foil and bake in a preheated oven at 200 degree for 30-35 minutes till golden from both sides.
Dip them in a bowl of clarified butter one by one and set aside.
For chokha
Half-cut the brinjal and tomato and roast on the fire from both the sides untill it becomes soft.
Take a bowl of water and put the roasted brinjal in it.Peel of the burnt skin of the brinjal and tomatoes.
Mash boiled potatoes,brinjal and tomatoes together.
Add finely chopped onion, garlic coriander leaves,salt,green chillies , red chilly powder and oil. Mix well and set aside .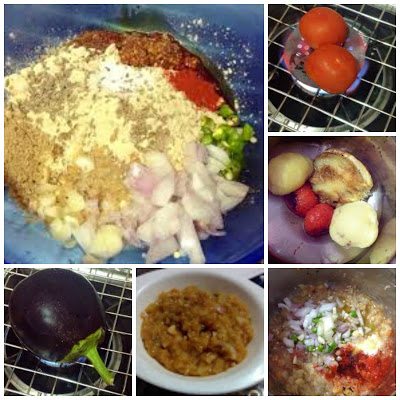 Cut the litti in equal halves and put 1 teaspoon hot clarified butter in between and serve hot with choka.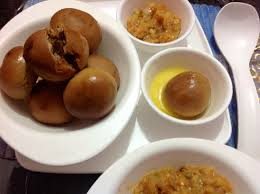 Note: You may prepare the chokas separately viz Brinjal Choka , Aloo Choka and tomato choka.
Please be careful while adding salt as stuffing , litti dough and choka all three have salt.

Logo courtesy : Preeti
Check out the Blogging Marathon page for the other Blogging Marathoners doing BM# 32
document.write('