Kordois (Assamese Snack )
This would be the first time I am posting a recipe for
Indian Cooking Challenge
a creation Of
Srivalli
for treasuring authentic ,traditional and forgotten recipes under this challenge. For this month the recipe was suggested by Pavani and Srivalli , after having a discussion , and recipe was adapted from
Sunita's World
. After seeing the challenge I was wondering about its taste and just guessing in mind. When I saw the pictures on
Sunita's space
I was amazed by the shape and texture, it was really wonderful. As told by
Sunita
Kordois is the traditional dish of Assam , made during the festival of Bihu.
Yesterday after taking an order of
bread rolls
from hubby for breakfast , I tried kordois on the other side as well . Wondering of it's taste , I halved the recipe , prepared and clicked and keep them on the dining table. I was then busy in preparing the bread rolls and when finished came back to the dining room , what I saw there were none of it . Where are the kordois , I asked my husband and daughter , they both were looking each other , smiled and said finished. I couldn't even tasted it but according to them , Kordois were amazingly tasty , daughter loved the savory version but husband enjoyed the sweeter one most , emphasizing on the flavor of nigella seeds and saying now there is no need of bread rolls , you can have them all , but later on grabbed them as well. Coming to our recipe and let's start it . Yum
Sweet version:
Ingredients:
1 cup whole wheat flour
1 tablespoon vegetable oil
1/4 teaspoon salt
1 pinch nigella seeds
1/2 cup water , warm
Vegetable oil for frying
For Sugar syrup
1/4 cup water
1 cup sugar
Method:
In a bowl mix the flour, salt and oil , add water and knead a firm dough.cover it with kitchen towel and set aside for 10 minutes.
Make 10 small balls from it. Take one ball on the rolling pin dusted with dry flour and roll it into 4″ diameter .
Cut straight lines with the help of knife in the middle up to the edges leaving 1/2″ space and making sure not to cut all the way through.
Start rolling it from one end , pinching the ends to bind. Plump the middle portion of kordois by pushing the ends. Arrange in singer layers in a plate or bowl to avoid sticking with each other.
Heat oil in a wok and Deep fry the kordoi till crispy and brown from both sides.Drain on paper towel and set aside.
Add the sugar and water together in a thick bottomed pan over heat. Bring to a boil. Cook on low to medium flame till a little thick .
Drop the fried kordois into the syrup, one a time. Turn them over very gently, to coat them in the syrup.
Remove from syrup , let it cool and enjoy.
Savory Version
Ingredients:
1 cup wholewheat flour
2 tablespoon spinach , chopped
1/2 tablespoon onion , chopped
1 tablespoon coriander leaves, chopped
1/2 teaspoon green chilly , chopped
1 pinch , nigella seeds
1 tablespoon vegetable oil
1/2 cup water
Vegetable oil for frying
Method:
Mix all the ingredients , add the water and knead a firm dough.
Divide into smaller portions than the sweeter ones. Roll and shape like the sweet version.
Deep fry till golden and crispy , drain on paper towel and serve hot with tomato ketchup.
Enjoy Sweet and savory both versions.
Serve- 10 pieces each of sweet &savory. Cooking time -30 minutes
Note: You may store them in air tight and use for 2-3 days.

Gujaratizaika"s 1st Anniversary Celebration
Amrita's 100 th post event theme Party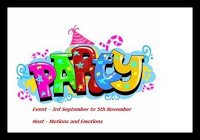 Best regards,
Sapana Behl