Kesar Peda
Peda or Pera is an Indian sweet made of dried whole milk / khoya and is popular in North India mainly Uttar pradesh (U.P.) and Delhi. We used to make peda with our home made khoya and prepare lots of it during festivals like Janamasthmi , Sankranti , Diwali etc. There are few variations in flavorings of this peda as well, like Cardamom , Pistachios , almonds and Saffron. Originated in U.P. , the most famous peda is considered to be of Mathura's . Mathura, the holy land of Lord Krishna, Birth place of GOD. It is believed that the Peda were first made in Mathura around 4000 BC. One can imagine that these may be the sweet of celebration for birth of Lord krishna. They may be favorite and once loved by the Lord of Mathura. Sometimes history also preserve the essence of ancient life. These delicious balls are not only a desert but a perfumed sweet story written long time ago about the most loved GOD of India that once played the Avatar of a Cowboy. Hence the aesthetic value mixed with softness of khoya blended with flavor of Kesar make it a bite of heaven. So you all will feel close to GOD.
1 cup khoya /dried whole milk
1 cup sugar , powdered
1/4 cup milk
15-20 strands saffron
1 tablespoon almond or pistachios , thinly sliced
Method:
Warm the milk in a pan , cool it slightly and add saffron strands. Set aside.
Take dried milk /khoya in a microwave safe bowl , crumble it with spoon and microwave for 1 minute. Take it out from microwave , crumble with spoon and place in microwave again for 1 minute.
Add soaked saffron along with the milk in it and microwave for 1 minute . Remove from Microwave crumble with spoon and place it again in microwave for 1 minute. If it seems dried enough then it's done , otherwise microwave again for 1 minute.
Now cool it till lukewarm , add powdered sugar and mix well.
Make small balls and press in between palms to give a proper shape . Or make it of any shape you want. You may use round cookie cutter too to get perfect shape.
Garnish with chopped almonds or pistachios and saffron strands.
Keep in refrigerator to set properly . Enjoy !!
Serve-15 pieces. Preparation time -5 minutes for microwave and 10 minutes for moulding.
Note: You may roast the khoya in a heavy bottom pan on low flame over stove too. But it will take more time than MW.
Make sure the khoya is lightly warm while adding sugar or else it will melt and will be messy to handle. It can be used up to 15 days under refrigeration.
Logo courtesy : Preeti
Check out the Blogging Marathon page for the other Blogging Marathoners doing BM# 32

Gujaratizaika"s 1st Anniversary Celebration
Gayathri's"Walk Through Memory Lane" event happening at Priya's Virundhu
Cook With White announced at Merry Tummy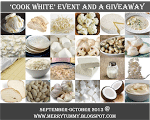 Best regards,
Sapana Behl