Eggless Danish Dream Cake
I am learning new ways to set my hands in eggless baking . There is one of my friend and fellow blogger who has got a number of wonderful eggless cakes. When I was searching her space I found this dream cake and just loved the texture of it. Yesterday I tried it and came out so perfect. Thanks
Gayathri
of
Gayathri's Cooking spot
for this wonderful recipe. So let's start the recipe .yum
Ingredients:
2 cup cake Flour
3 teaspoon Baking Powder
1/4 cup Butter
1 cup Milk
400 gm/1 tin Sweetened Condensed Milk
1/4 cup yoghurt
1 teaspoon Vanilla extract
Topping:
1/2 cup Butter
1/4 cup Milk
1 cup freshly Grated Coconut
1 cup Brown Sugar
Method:
Preheat oven to 200C.
Line and dust a baking tray or cake tin.
Mix all the ingredients given for the topping and keep it aside.
Sift flour and baking powder.
In a bowl add condensed milk and butter , beat until creamy.
Add yoghurt and vanilla and mix well.
Add flour and milk alternately and fold in the batter gently.
Pour the batter and bake for 20 minutes till brown in color and toothpick inserted in center comes out clean.
Spread the topping on the cake.
Set oven temperature to 225C.
Bake the cake for 10 more minutes and remove it from oven.
Cool and cut in pieces , serve and enjoy.
Serve-6. Baking time -30 minutes
Note: You may adjust sugar as per your taste for the topping.
Best regards,
Sapana Behl
Sending this entry to
Recipe Contest happening @ Enveetu Kitchen by CupoNation.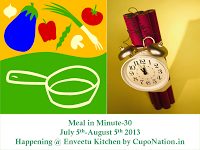 Cook Yellow Event announced at Merry Tummy.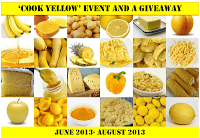 Guru's Cooking Giveaway Kids Party Special '13