Radhala Maani /Cooked Rotis /Flatbread
Another interesting recipe which attracts me from the famous Sindhi cuisine is this simple dish. This Dish is generally made from the left over rotis and is eaten for breakfast. Next time if you have leftover chapatis , you know what to do with them.:)Radhala Maani means Cooked Rotis or Chapatis or Indian Flatbread. So let's start the recipe.
Recipe source and Acknowledgment – Shobha's
Food Mazaa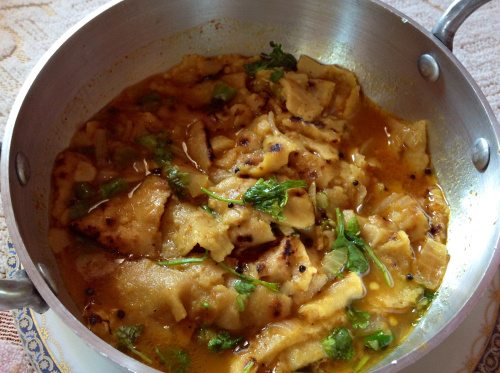 For Rotis/ or take 4-5 cooked rotis
1 cup wheat flour
1/2 cup water or as needed
1 tablespoon dry flour
For Curry
2 cloves garlic , finely chopped
1 Onion , chopped
2 Green chillies , finely chopped
1 teaspoon Mustard seeds
1/2 teaspoon Turmeric powder
1/2 teaspoon Red Chili powder
1/2 teaspoon cumin powder
Salt to taste
1 tablespoon vegetable Oil
1/4 cup Coriander leaves ,chopped
Method:
For making Roti's
Take wheat flour in a bowl , knead a smooth dough by adding appropriate amount of water. Cover with kitchen towel and set aside .
Make 4 small round balls from the dough . Dust one ball with dry flour from both sides.
With the help of rolling pin , roll it into a thin round on the flat board.
When little roasting is done from both sides , roast it over the flame directly for 20 seconds from both sides.Likewise prepare all the rotis and put them in casserole .
Cut the rotis into small pieces.
In a pan heat oil. Add the mustard seeds, when it started crackle add chopped garlic.
Saute till pink in color and add about 3 cups water.
When the water starts boiling add the rotis, green chillies,onion, salt, turmeric, red chilli powder and jeera powder.
Cook for 5-7 minutes, stirring occasionally until done.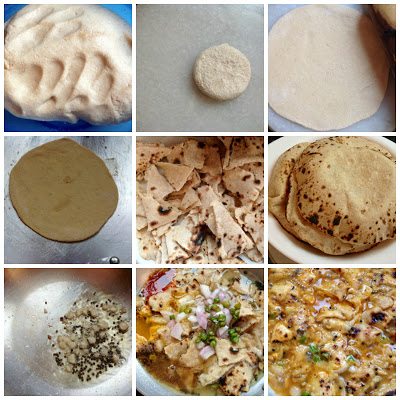 Garnish with chopped coriander leaves and serve hot.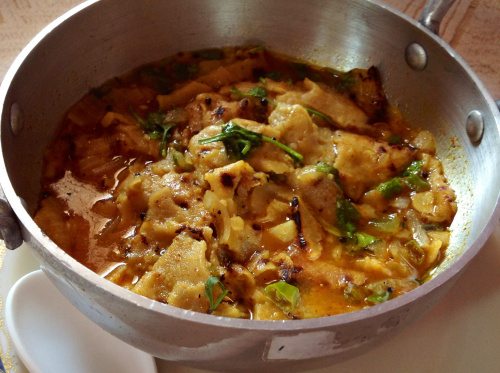 Serve-2. Cooking time -25 minutes
Check out the Blogging Marathon page for the other Blogging Marathoners doing BM#28