Lauki ke Kofte | Ghiya Kofte | Bottle Gourd Dumplings in Tomato Gravy
Lauki ke Kofte
,Koftas are fried savory dumplings usually made from a variety of vegetables like raw banana , yam , lotus stem ,bottle gourd and potato etc. I have already posted recipe of
Shahi Kofta
made from raw banana.
This is another famous kofta curry made from bottle gourd or dudhi /Ghiya and is a traditional Punjabi Cuisine .the recipe came from my mum's kitchen which I admire most.
Here is step wise recipe to make lauki kofta curry.
Lauki ke Kofte

By Sapana Behl
Lauki Koftas are fried savoury dumplings in tomato-onion based gravy and taste heavenly with hot roti or rice.
Prep time: 00:10, Cook time: 00:20, Total time: 00:30
Yield: 4 Servings
Ingredients:
250 gm bottle gourd, grated
2 tablespoon corn flour
2 tablespoon gram flour /Besan
2 green chillies, chopped
1/4 cup coriander, chopped
1 teaspoon cumin seeds
1 teaspoon garam masala
salt to taste
1 teaspoon red chilly powder

For Curry:
For Paste:
2 onions, roughly sliced
5-6 garlic cloves
1 " ginger, roughly sliced
4 green chillies
2 cup tomato purée
1 teaspoon dried fenugreek leaves/ Kasuri methi
Spices
1 teaspoon cumin seeds
1 teaspoon coriander powder
1 teaspoon turmeric powder
1 teaspoon garam masala
1 teaspoon red chilly powder
salt to taste
vegetable oil, for frying
1/4 cup coriander leaves, chopped
3 cups water or as required
Instructions:
Mix all the ingredients for Koftas in a bowl. Mix it gently without adding water.
Apply some oil on palms, make small round balls of equal size.
Heat oil in a wok, fry the Koftas made above from both sides on low to medium heat till golden from both sides.
Drain on paper towel and set aside.
Make a paste of ingredients mentioned under "For Paste" with the help of some water in food processor.
Remove excess oil from the wok and left around 2 tablespoon oil in it.
Add dried fenugreek leaves and cumin seeds. Sauté for 1 minute.
Add the paste made above and sauté for 10 minutes on low heat till golden brown in colour.
Add all spices and salt. Mix well
Now add tomato purée and sauté till oil comes out from edges.
Add 3 cups of water and let it boil for few minutes.
Now add the koftas made earlier in the curry. Cook for few minutes.
Remove from heat and add chopped coriander leaves.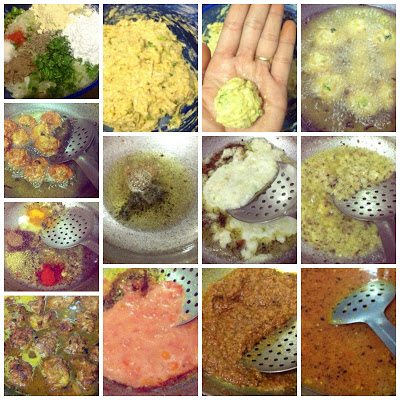 Serve hot with roti or rice.
Enjoy!!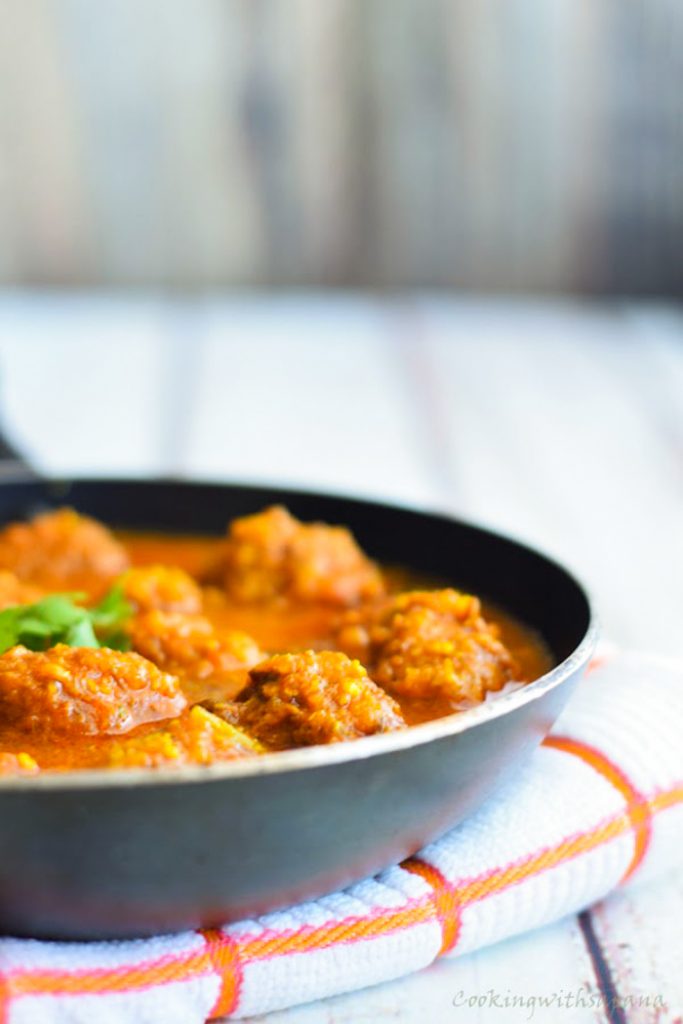 Note: You may use the Koftas as a snack with tea.
Add more corn flour if the kofta mixture seems a bit loose while making Koftas.
Best Regards
Sapana Behl