Dhaba Style Aloo Gobi | Potato Cauliflower Curry
When you have left nothing and unexpected guest arrives at doorstep then try this easy
Dhaba style Aloo gobi
and believe me your guest would lick their fingers. I usually make this on sudden arrival of guest at lunch and it's always a hit. Full of spices and aromatics make it really a special curry. Yesterday some guest arrived at our home without prior information.

We had cauliflower, peas and some Cottage cheese left in the fridge. So we decided to make Dhaba style Aloo gobi and matar paneer . It's a wonderful thing about being Indian that all family members work like a team on any occasion. And the guest is like God to us. I have to prepare Aloo Gobi , mum choose desert and father in law (FIL) opted for Matar Paneer. I was thinking of some kind of fun and asked for a competition with FIL that whose dish is much liked. We all started doing our jobs , there were supposed to be 7 or 8 guest and 7 members in our family.
We had to prepare food for 15 people. After 3-4 hours of work our lunch was prepared and after serving I asked everyone to give their votes on currie. And 🙂 guess what I won , I got 10 votes . I was so happy!! Since everybody in the family knows I am blogging about food but my Father in law is a great cook.So the competition was like quite tough. When I saw my FIL was adding cashew nuts and fox nuts in his curry, I was a bit hopeless that I might get loose this competition . But I won 🙂 of course two votes are from my husband and daughter but that too were given sincerely. It was a great day. I have given the amount and instructions for 4 serving but actually I made this for 15 people in a very big wok.I really did hard work and that was worth to hear nice comments.
Ingredients:
4 medium sized potatoes, peeled and cubed
1 medium sized Cauliflower , florets
2 onions , thinly sliced and separated
6-8 cloves Garlic , minced
3 tomatoes, thinly sliced
4 green chillies
2 teaspoon ginger, grated
1/2 teaspoon Asefetida
2 teaspoon cumin seeds
2 teaspoon dried fenugreek leaves ( Kasuri Methi)
Spices
2 teaspoon sabji masala ( Normally available in stores)
1 teaspoon turmeric powder
3 teaspoon coriander powder
2 teaspoon deggi mirch
1 tea on red chilly powder
Salt to taste
2 teaspoon garam masala
Vegetable oil for frying
1/2 cup coriander leaves , chopped
2 tablespoon Clarified butter
Method:
Heat oil for frying in a big wok. Add potatoes , fry till golden , drain on paper towel and keep aside.
In the same oil , fry cauliflower florets till golden , drain and keep aside.
Remove excess oil from wok and leave about 4 tablespoon oil .
Add asefetida , cumin seeds and dried fenugreek leaves. Turnoff the gas stove for 1 minute.
Turn on and keeping the heat low to medium , add minced garlic and grated ginger. Sauté till golden.
Add onion slices and sauté for 5 minute till dark brown in color.
To this add all spices and salt and 1 tablespoon garam masala , stir and add chopped tomatoes and green chillies.
Sauté till oil comes out from edges on medium to high heat with continuous stirring.
When tomatoes are done , add fried potatoes and cauliflower . Mix with spices and aromatics , cook for five minutes.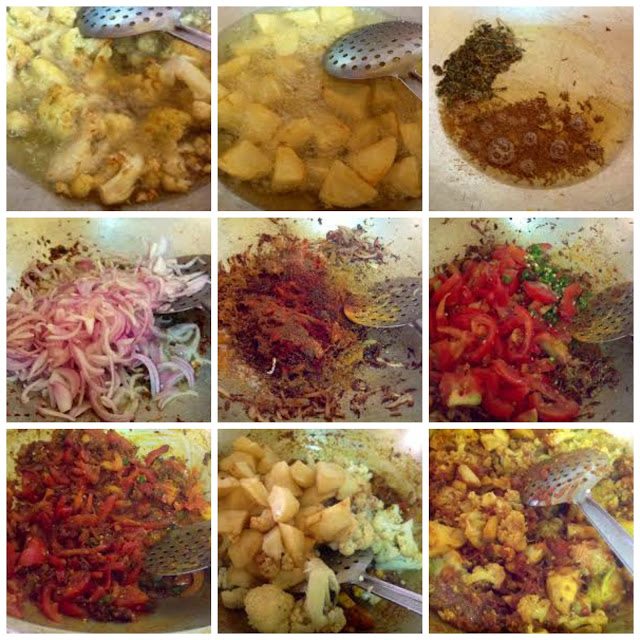 Remove from heat ,add garam masala , chopped coriander and Clarified butter.
Serve hot with Poori , Naan or Chapati.


Serve-4. Cooking time-45 minutes
Note: Use chillies as per your tastes.