Aloo Tikki Burger
Yesterday I went to super market to buy weekly bags of vegetables , bought some lettuce , cabbage and spring onions as I was thinking of making some sort of salad. When I saw some fresh burger buns in bakery section , I immediately bought them and decide to make burger. I used aloo tikki (potato patties) along with richness of fresh vegetables and butter spread.A dash of freshly cracked peppercorn powder enhances the flavor of veggies inside the burger. Burger os a kids friendly and easy to make , loved by everyone , like snack. We enjoyed it with cold drink . 🙂 . I think now is the time to start the recipe.yum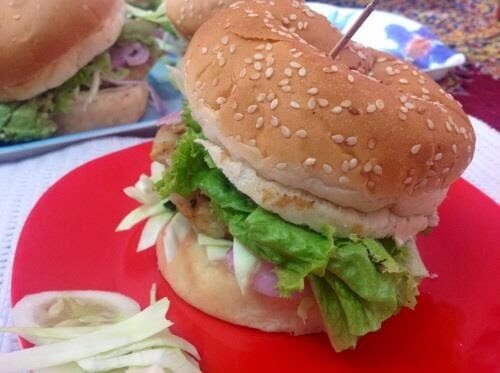 Ingredients:
For aloo tikki
2 boiled potatoes
1 chopped green chilly
Few chopped coriander leaves
1/2 teaspoon cumin seeds
1/2 teaspoon red chilly powder
1/2 teaspoon garam masala
Salt to taste
2 bread slices
1/2 teaspoon vegetable oil
4 burger buns
1 cup cucumber rounds
1/2 cup onion rounds
1/2 cup shredded cabbage
1/2 cup tomato rounds
Few lettuce leaves
2 teaspoon butter spread
1/2 cup tomato ketchup
1/2 teaspoon crushed peppercorn
1/2 teaspoon salt
Method:
For aloo tikki
Take all ingredients under" For Tikki" in a bowl , except oil , mix together to make a smooth dough like consistency.
Make 4 round balls , press in palms and make tikki.
Heat a non sick pan , spread oil and shallow fry the tikis made on low heat from both sides till golden crust appears.

For Burger
Cut the burger buns from middle , toast it with butter spread and tomato ketchup.Place cucumber ,tomato and onion rounds followed by aloo tikki , shredded cabbage and lettuce leaves .
Sprinkle salt and pepper corn powder and cover with other part of bun.
Pierce a toothpick inside the burger and cook it in microwave for 1 minute.
Serve with ketchup.
Serve-4 Prep time-15 minutes
Note: Make the aloo tikkis just 2 minutes before serving or else they become loose.