Sambhar
Sambhar ,a tasty and delicious preparation from South India .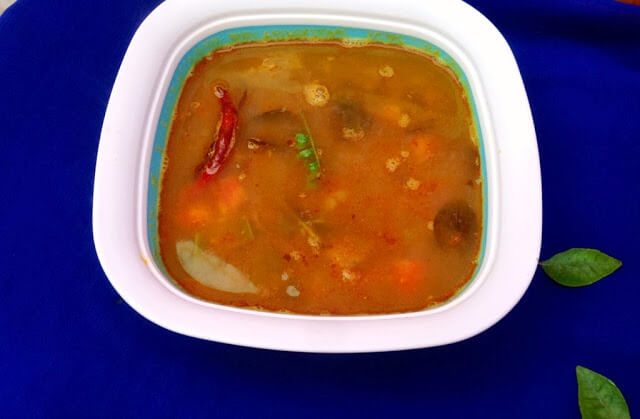 Ingredients:
1 1/2 cup pigeon pea/arhar dal/toor dal
3 cup of vegetables
(bottle gourd,spring onion,eggplant,pumpkin,carrot,lady finger,drumsticks,potato,tomato,red onion),chopped
1 teaspoon turmeric powder
salt to taste
2 teaspoon coriander powder
1 teaspoon red chilly powder
4 dried whole red chilly
2 pinchesasafetida
2 teaspoon mustard seeds
1 teaspoon cumin seeds
few sprigs curry leaves
4 tablespoon sambhar masala powder
1/2 cup tamarind pulp
1/4 cup coriander leaves,chopped
6 cup water or as required
Method:
Boil pigeon pea in two cups of water with a pinch of salt and turmeric powder in cooker for one whistle.
Open the lid and add the vegetables and 4 cup of water ,cook it on low flame until all the vegetables cooked.(app. 1/2 hour)
Now add tamarind pulp and cook for another 15 minutes.After that add sambhar masala ,remaining salt according to taste and cook for 10 minutes.
Heat ghee in a pan and add asafetida cumin and mustard seeds and dried whole red chillies.As they start crackling,add curry leaves,red chilly powder,coriander powder and turn off the heat.
Add this seasoning mixture to the boiling sambhar.Garnish with chopped coriander .
Serve with rice ,vada or idli.